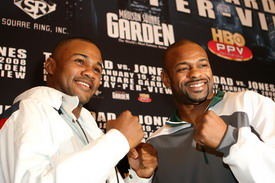 27.11.07 – Photos by: David Martin-Warr/DKP – ROY JONES JR.: "I haven't felt this excited about a fight in a very long time. You haven't seen me this pumped up in a long while. I have my fire and energy back. I don't know how I lost it, but I know I got it back.
"Some of the odds makers have me as a five-to-one favorite. They don't know what they're talking about. I should be a 50-to-one favorite. I'm revved up for this fight. How can I not be excited? I'm fighting Tito Trinidad. Tito says it won't last two rounds. I'm going to be nice and give him two more rounds and beat him in four.
"I can fight at practically any weight right now. I can drop down to 168 pounds and take on (Joe) Calzaghe. I'll fight him anywhere he wants. Jones Jr. is back and ready to fight.."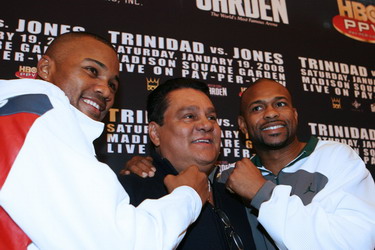 FELIX "TITO" TRINIDAD
"Jones and I were suppose to fight during the peaks of our careers. I believed back then that I could beat him and the same holds true today.
"I respect Jones and the great career that he has had. I know he thinks he can beat me, but that's not going to happen. This will be one of the biggest victories of my career.
"I'll be ready for whatever Jones brings to the table. I'm always in great shape for my fights so I'll be ready.
"Even though I've been out of boxing for two years, I still feel great. Anyone who knows me knows that I always stay in great shape regardless if I have a fight on the horizon or not.
"I don't think fighting at 170 pounds is going to be a big deal. The heaviest I've fought has been at 160 pounds. I'm a little older now so I carry my weight a lot better than I used to."
Two of the greatest boxers in history, Felix "Tito" Trinidad and Roy Jones Jr., will face each other in a battle boxing fans have been waiting for years to see at New York's famed Madison Square Garden on Saturday, Jan. 19, 2008, and will be produced and distributed live by HBO Pay-Per-View.
Trinidad (42-2, 35 KOs), from Puerto Rico, and Jones (51-4, 38 KOs) from Pensacola, Fla.,—both destined for the Hall of Fame—have built a staggering list of accomplishments and will enter the ring for this highly anticipated 12-round fight at or below the catch weight of 170 pounds. Jones is an eight-time world champion, winning belts in the middleweight, super middleweight, light heavyweight and heavyweight divisions, becoming the first former middleweight champion to win a world heavyweight crown in over 100 years.
Trinidad is a five-time world champion with a stunning career knockout ratio of 80 percent that has won titles in the welterweight, junior middleweight and middleweight classes. He also holds the distinction of having defeated three Olympic Games gold medalists: Pernell "Sweet Pea" Whitaker, "The Golden Boy" Oscar De La Hoya and David Reid.