27.11.07 – By Jason Peck: These fights are not imaginary. They are not pointless dreams. All these bouts were under negotiations at one point before being called off. No surprise there –many great fights suffer that fate. But to make my list, there must still exist a chance – however slight – of the fight in question actually happening..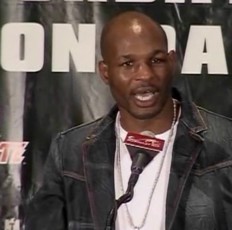 Those are the only fights worth considering, in my opinion. Prince Nassem Hamed will probably never have that dream match with Willie Pep – one's retired and the other's dead. And chances are pretty slim for a bout between Mike Tyson and Muhammad Ali, let alone one that bends the laws of time and space to have them fighting each other in their respective primes. So why bother?
On the other hand, we could have these…
Antonio Tarver Vs. Danny Green
Negotiations for this one were recently finished once and for all. Instead, Tarver has a match with Zsolt Erdei victim Danny Santiago, while Green will challenge Stipe Drews for the World Boxing Association light heavyweight title.
I smelled an upset in the making in Tarver-Green, and had my betting money ready. Tarver has a lot of thing going against him, and Green is the wrong person to have a bad day against.
Boiled down to a paragraph, the prognosis follows as such: Both men were good punchers, but can be out-boxed. Neither has the tactical prowess to do so. Therefore, the match boils down to power. And I've got a lot more confidence in Green's punch than I do in Tarver's, who hasn't scored a knockout in years.
Instead, Tarver is someone who has barely fought in the past few years, and who's on the verge of his 40th birthday. And while he started boxing later in his career, that just means he's fresher than if he had started at 18. But 40 is 40.
On the other hand, Green's fortunes changed since moving to light heavyweight. His only outstanding attribute – devastating knockout power – came with him.
I can't call this one, but it doubtless would have been far more difficult for Tarver that it was supposed to be – assuming he won at all.
Katsidis-Guzman
Now, I'm not going to assign blame for a failed fight. Boxers injure their hands in training all the time. So Joan Guzman is off the hook for backing out of his lightweight fight against Michael Katsidis a few days prior.
But then again, he did offer to fight Manny Pacquiao immediately a week afterward, and never mentioned Katsidis. Hmmm…
Regardless, the Katsidis fight would present challenges to the smaller Guzman, and offer the audiences a hell of a lot of excitement. Katsidis has slow, looping hooks that Guzman's speed could easily exploit. On the other hand, Katsidis also stands much larger than Guzman's prior opponents and has the brutal power to negate round after round of being out-boxed. Two-time champion Guzman would summon every trick in keeping Katsidis at bay.
Pure boxer versus brawler-puncher – this is the best kind of match-up. Now that Manny Pacquiao's team has ruled out a Guzman fight, the bout could still hear the first bell.
Marquez-Barrios
Juan Manuel Marquez is the kind of man who doesn't drive at breakneck speed when he could win the race in the cruising lane. When he's not challenged (Orlando Salido) he glides to victory. When challenged (Manny Pacquiao) he pulls out all the stops. And trust me, Jorge Rodrigo Barrios would challenge him.
Former WBO super featherweight champ Barrios has good boxing skills, a solid chin, tons of heart and savage power to boot. Sure, a prime Acelino Freitas knocked him out a few years back, but for God's sake – look at how many punches it took!
I'm not saying Barrios could beat Marquez, but he would have challenged him more than Rocky Juarez did. For starters, Barrios hits much harder and moves much faster. I give Juarez credit for his heart, but Barrios also has that.
The fight was called off when Barrios suffered an injury in training. Marquez won a lop-sided match with Juarez, but overall we all lost when Barrios was injured.
Arce-Darchinyan
After ruling the light flyweight division, Jorge Arce moved to flyweight and began ruling that as well. He scored the WBC interim title with ease, but World Boxing Council champ Pongsaklek Wonjongkam wouldn't fight him, for reasons unknown to me. (Isn't the champ supposed to fight the interim champ, or get stripped? Whatever…)
Fortunately, the flyweight division had one other name fighter: IBF champ Vic Darchinyan. With brutal power and proficient skills, Darchinyan had all but cleaned out his body's rankings. A fight between the two was allegedly in the works, presumably after Arce trashed Christian Mijares for the WBC super-flyweight title.
Oops. Arce lost badly, and Darchinyan gloated over Jorge "Farce" immediately afterward. But it wasn't long before Darchinyan got his own ass handed to him via 5th round KO.
Darchinyan today boxes at 115, while Arce campaigns as a bantamweight. A fight is still possible, but I haven't heard of any bites.
Hopkins-Wright (at 160)
I probably broke my own rules here – there's no way in hell Hopkins could lose the weight to campaign at middleweight again. But I can't help but wonder.
Yes, this fight did happen. Hopkins won by UD. But no, it didn't happen at its ideal weight. Four years ago Hopkins sat on the middleweight throne, and Wright was a nameless title-holder at 154 pounds, waiting in vain for Oscar to notice him. USA Today reported of a Hopkins-Wright bout; Wright would gain a few pounds and campaign at middleweight. Instead they fought at light heavyweight, far above Wright's ideal weight.
What could Wright have done to Hopkins at 160? You can't break boxing down to a science – if Frazier beats Ali, and Foreman beats Frazier, then it doesn't mean Foreman beats Ali.
But Wright gave Jermain Taylor hell after Taylor snagged the title from Hopkins, even though I had Wright losing to Taylor. Again, I won't make a prediction – I'll just say it could have been better.
***
The entries above are tragedies. A lot of wheeling and dealing happens in boxing, and sometimes we all lose when a good deal falls through.
I'm not pointing fingers, and I don't care why they didn't happen. The point is that they needed to happen.