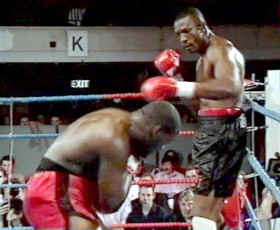 (James Oyebola pictured on right) 27.07.07 – The tragic death of former British heavyweight champion James Oyebola earlier today has sent shockwaves through the UK fight fraternity.
Having retired from the sport in 1996, the former fighter was making his mark as a manager, successfully steering fellow native Nigerian Ajose Olusegun to the Commonwealth welterweight title in June.
At 6 foot 9 inches tall, Oyebola was an imposing figure but was regarded by those who knew him as a "Jolly Giant".
In the early hours of this past Monday, Oyebola was shot at point blank range by a group of three young men in a crowded nightclub on Fulham Road in West London after politely asking them to stop smoking, following the nationwide ban England imposed upon the practice in public establishments on July 1.
At 12:39pm today, the brain dead Oyebola was taken off life support at Charing Cross Hospital in London where he expired from massive head injuries resulting from the shooting.
Scotland Yard has stepped up it's efforts to bring Oyebola's attackers to justice and has placed the investigation under the umbrella of it's larger campaign to combat gun crime.
Promoter Frank Maloney, who managed the fighting career of Oyebola, was to have today accompanied the former British champion to Ghana where they were to be awarded for their work with African boxers.
"This is a true and terrible shame," said Maloney. "And a real indictment of society in that you cannot go out and relax or uphold government laws. You end up getting shot.
"James was a genuine role model to the black community, achieving greatness against all odds, yet he was cut down in the prime of life."
Oyebola was born in Lagos, Nigeria on June 10, 1961 but had resided in England since the age of 12. As an amateur boxer, Oyebola won an ABA Championship and was a Bronze Medallist at the 1986 Commonwealth Games in Edinburgh.
Turning professional in 1987, Oyebola won the WBC International title in 1993 and the British heavyweight title in 1994 enroute to compiling
a record of 18 victories, 4 losses and 1 draw before retiring at the age of 35 in 1996.
Oyebola was currently managing Commonwealth light welterweight champion Ajose Olusegun and promising light heavyweight prospect Tony Salem, who had both joined Frank Maloney all week at Oyebola's bedside in hospital.
The 46 year old leaves behind a domestic partner, Malin Bergstrom, and two teenaged children.
Detective Chief Inspector Scott Wilson of the Metropolitan Police has urged anyone witnessing the shooting of James Oyebola to step forward and assist them in aprehending the three shooting suspects.