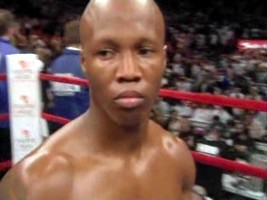 27.07.07 – By Scott Frake: Zab Judah (34-5, 25 KOs) the former light welterweight and welterweight champion of the world will return to boxing ring on September 7th against Edwin Vasquez (22-10-2, 8 KOs) at the Hard Rock resort in Biloxi, Mississippi. By selecting Vasquez, a fighter that has been beaten by the likes of Matthew Hatton, Ricardo Torres and Demetrius Hopkins, Judah's trying to rebuild his confidence, if at all possible.
Zudah, 29, is coming off a 11th round TKO loss to Miguel Cotto in June 2007, a but in which Judah was dominated after the early rounds and thoroughly punished in the second half of the fight by the hard body puncher Cotto.
However, in Judah's last nine fights since moving up to the welterweight division in April 2004, his record is 4-4-1 NC. Not exactly impressive, particularly when comparing his record while fighting in the light welterweight division (27-1, 21 KOs), which would indicate that Judah is perhaps too small to be an effective welterweight (140 lbs) and should seriously consider moving down as soon as he can.
Certainly, I'm aware of the fact that Judah won the welterweight title over Cory Spinks in 2005, yet he's also lost three times since them to Carlos Baldomir, Floyd Maywayweather Jr., and more recently to Miguel Cotto.
Of Judah's wins, aside from the knockout victory over Spinks, most of them are hardly anything to be impressed about, having beaten Rafael Pineda, Wayne Martell and Cosme Rivera, none of which are championship material in my book. Even worse, however, is the fact that Judah is now 29-years-old, and doesn't appear nearly big enough or strong enough to handle the top welterweights in the division, i.e., Kermit Cintron, Miguel Cotto, Floyd Mayweather, Paul Williams, Antonio Margarito, Shane Mosley, Joshua Clottey, Carlos Quintana, Carlos Baldomir and Andre Berto.
So where does that leave Judah? To put it bluntly, he's now been relegated to that of a gatekeeper in welterweight division, a fighter that the young lions use as a punching bag, as well as a yardstick of how good they are. Clearly, it's time for Judah to move back down to the light welterweight division, where he'd have an excellent chance at beating most of the current champions – Junior Witter, Ricky Hatton, Ricardo Torres, Pauli Malignaggi and Gavin Rees.
Obviously, it seems like a no-brainer for Judah, since he doesn't appear to remotely have the size or power to compete with the current bunch of welterweights, whereas at least in the junior welterweight division, he has a chance.
However, I have a sinking suspicion that Judah's hoping to land another title shot – how, I'm not sure – and with it another big payday. For that to happen, though, Judah will have knock off fighters like Joel Julio, Quintana, and Clottey, and I have seriously doubt he can beat any of them at this point.
Hopefully, Judah get's a clue after his bout with Vazquez, and comes to realize that his future is at junior welterweight, because I'd prefer not to see him take another beating like he did against Cotto, and believe me, there's more of them in store for Judah if he continues with his campaign at welterweight.