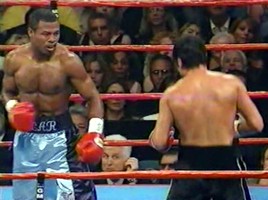 26.07.07 – By Eric R. Sloan: Every twenty years or so, the boxing gods provide us with potentially great contemporaries who must walk through one another to achieve boxing immortality. Today, the moons are in alignment once again for the welterweight division. A fighter today will be mentioned in the same breath as Sugar Ray Leonard, Thomas Hearns, and Roberto Duran. The candidates are or have been good champions. The opportunity will make one of them great.
The parallels are incredible. Playing the role of the body punching Roberto Duran is Miguel Cotto. With no losses on his record and a rabid fan base, Cotto never stops attacking. His throwback style of kill the body and then the head makes him dangerous and perhaps the betting favorite against any other welterweight fighting today. Cotto has not learned how to lose and he may well never.
The Motor City Cobra is now the black mamba known as Paul Williams. It's easy to dismiss Williams because of what appears to be a lack of power. Be careful with such analysis, however, because Williams has knocked out 24 of his 33 opponents. He also throws more punches per round than what appears to be humanly possible. With an endless supply of stamina and a 6'1" frame, he presents match up problems for everyone at 147.
Sugar Shane Mosley can be cast as Sugar Ray Leonard, but Floyd Mayweather, Jr. has lived his entire life for this part. As an aside, Mayweather's retirement in light of this opportunity for "greatness" is puzzling. He claims that he has nothing left to prove. The reality is that he has so far failed to prove the one thing he already believes—that he is an equal to Leonard. Leonard, as a starter, cleaned out the welterweight division. Mayweather appears to be running from it. Regardless, Mosley and Cotto are scheduled to clash in November. Don't expect a "no mas" or a knockout in what may well be fight of the year. Mosley is running out of time, but his skills remain sharp and he has the heart of a warrior. Cotto will have all that he can handle in his toughest test to date.
Kermit Cintron is an interesting consideration. He has been compared to Thomas Hearns and now uses Hearns' trainer—Emanuel Steward. Cintron demolished Walter Matthysse on July 14th. His next title fight is against Jesse Feliciano. Who? Apparently, Feliciano is the better alternative to taking the UFC challenge. Cintron also needs to avenge his loss against Antonio Margarito. Kermit's power is the great equalizer, but Manny may pull a Jermain Taylor on us whereby Cintron avoids the bigger names in the division for as long as possible. We can only hope that this doesn't happen because the yet unknown king of modern day welterweights must pass through Cintron or it is Cintron himself.
The aforementioned Margarito is not yet out of the picture. One way to get him out is for Williams to win a rematch. While Williams got the best of him, the fight was close on the scorecards. No fighter has ever beaten Margarito twice, and this fight would tell us a lot about both fighters. Finally, Ricky Hatton understands that there is much more to be had at 147 pounds, but after struggling at welterweight, he may well stay put. It is also not out of the question for Oscar De La Hoya to move down a weight class for a good payday. Mayweather will likely do what Mayweather always does, which is to take the marquee fight after someone else cleans up the division.
Good champions are belt holders. Great champions beat good champions—all of them. At the end of this era, one of these fighters will stand above the others. Whoever this man turns out to be, will unquestionably be considered one of the greatest welterweights of all time. Things are more crowded today than in the Leonard-Duran-Hearns era. If the sanctioning organizations and promoters don't ruin this for us, then boxing fans are in for something very special.