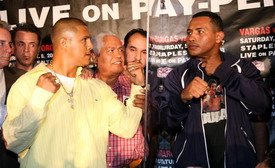 The following conversations with "El Feroz" Fernando Vargas and Ricardo "El Matador" Mayorga took place at their Wednesday, July 25 press conference in New York. This is a follow-up to their July 11 press conference at STAPLES Center in Los Angeles in which a brawl broke out. The fight release follows the conversations. The attached photos were taken with an 8′ x 4′ plexiglass barrier between them.
Fernando Vargas in response to the first press conference…
That's what happens when cats do stuff like that at a press conference. Did you think I was just going to sit there and take that? I was prepared for it. He's a bully and that's the way bullies act, when it is convenient for them to act like that. But I knew it was coming, so I took my glasses off. If I had them on when he tried to hit me, they would have gone to the side of my face and I would not have been able to react and everyone would have grabbed us and it would have been over. And it would have looked like he got the best of me. All of my fans would have been saying, "look at Fernando, he just got smacked silly by Mayorga.."
But it didn't work out that way. Look at Mayorga, as dark as he is, and he's darker than me, he turned completely white when I fought back. He felt my power…and I got him.
I am a professional, but if someone acts unprofessional towards me, I will act unprofessional right back. He felt the difference when someone is not going to take that. He knows that and I went and got him. The first overhand right missed, but then I got him with two good uppercuts.
And look at the plexiglas over there (set up for the face-off to keep the fighters clear from each other), he'll go up there to the glass and act all crazy. He's a cat that likes to put on a show. But you know what? My buddy saw Mayorga before the L.A. press conference in the hotel lobby. Mayorga then saw me coming then jumped, not walked, jumped into the elevator and started to push the buttons in a panic to shut the elevator before I got there.
But that is just the beginning. That was round one. Mayorga is a stupid fighter and I am an intelligent fighter and I'm going to pick my spots. I am going to knock him out. He already felt my power once. And it's going to be great to do that at the STAPLES Center in front of a lot of crazy Mexicans. All of my fans will be going ape. This fight is for pride and I will look good doing it.
When it's over? Remember after he fought Oscar and he was hugging and kissing him after Oscar knocked him out? He's going to do the same to me. That's his nature.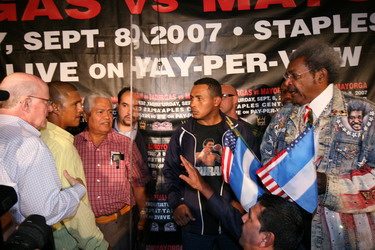 Ricardo Mayorga, after a rant against Vargas…
I am sorry if I have offended anyone. I have a great team with me for this fight. If you want to put money on the fight, I would bet two or three rounds. I predict I will knock him out in two rounds.
I had a dream last night that I threw a rotten orange at Fernando Vargas and hit him in the chin. And he went down. And he didn't get back up. That's what is going to happen on September 8th.
Fernando knows that this is his last fight and the reason he says that is because he knows he will lose. Lose in the worst way.
Roberto Duran's son is in my camp helping me prepare to destroy Vargas. Therefore, I dedicate this fight, and this win, to the great Roberto Duran.