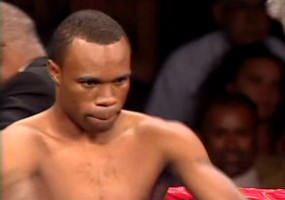 Junior Witter will be "living the dream" when he defends the WBC light-welterweight title against Vivian Harris in his home city of Doncaster on Friday, September 7. The former European, Commonwealth and British champion faces the New York-based mandatory challenger on a Hennessy Sports show to be televised live by Sky Sports at The Dome at Doncaster Lakeside, Yorkshire. Witter hopes victory over Harris will alert more people to his ability and set up even bigger fights against marquee names.
And in Harris, Witter gets the chance to show what he can do with another fighter at the top of the world rankings.
Harris is a former world champion who was linked with a fight against Witter's long-term rival Ricky Hatton three years ago.
"I've just got to thank my promoter Mick Hennessy for bringing this fight to Doncaster and I'm absolutely thrilled by the prospect of putting on a show for my local fans," said 'The Hitter.'
"Doncaster is my home and I only live five minutes away from the venue so it's convenient and will be handy on the night. It's also easy for my fans from Sheffield and Bradford to get here and it's a wonderful venue for boxing, so it will be a great night.
"I've had to box away from home to get where I am but this will be a chance for my friends, family and fans in Yorkshire to come and see me in the flesh.
"I'm from Bradford, but I've been living in Doncaster for a year a now. Fighting for the world title in Doncaster was something I had hoped to do for a while, and now I'm living the dream.
"This is a high quality fight against one of the biggest names in world boxing in recent years, so it has made me train just that little bit more for it.
"The noise from my supporters will give me a lift no doubt and it will help on the night and that will raise my performance. But I won't be taking anything for granted against him because he twice went to Germany to defend the WBA title and won, stopping Oktay Urkal the second time.
"He can also bang a bit, so it's going to be a great fight. In America he might even be seen as the favourite by some people, so this is a big fight for me and I have to do a good job.
"Beating Harris will make a few more people in the States sit up and take notice of me. He is dangerous – but this is my chance to stamp my authority on this division."
The fight was originally set for the St George's Concert Hall in Bradford, but promoter Mick Hennessy switched the event to The Dome at Doncaster Lakeside.
Witter and Hatton fought at the Doncaster Dome in 1999 and Witter will publicise his return to the venue with an appearance on the pitch at the Doncaster Rovers pre-season friendly against Manchester United on August 3.
"My girlfriend has got me into following Doncaster Rovers and it will be good to go out on the pitch at the game against Manchester United on August 3," said Junior.
Guyana-born Harris, 29, has just two defeats in 31 fights and made three defences of the WBA crown before he was stopped in a shock defeat to Carlos Maussa. Since then, he notched up three wins on the trot against the likes of top ten ranked Juan Lazcano and former world champion Stevie Johnston, who he stopped in seven.
Witter's promoter Mick Hennessy sees Harris as the perfect defence for his boxer to make the step up to super-fights.
"I know Junior is the best in this division and if he can do the job in style that will go some way to proving that," said Hennessy.
"Harris has mixed in world class for over five years and is a name well known to the American audience. We want to get Junior more well known in the States, and this fight is ideal for doing that. He can make a real global name for himself in this fight.
"Harris wasn't himself when he lost to Carlos Maussa and that is well documented but he has come back from that and he is a dangerous fighter when he's on top of his game.
"Junior deserves his chance to box in Doncaster. We were going to the St George's Concert Hall but a few complications made it impossible. It's worked out very well going to the Doncaster Dome because we now have a larger capacity, where they have had big title fights before.
"We wanted to show Junior off in Yorkshire and this is a rare chance for the boxing fans in Doncaster and surrounding areas to see a world title fight involving one their boys in their own back yard.
"We are certainly not underestimating Vivian Harris, he is a top drawer fighter, but I also have every faith in Junior to come through this and do the business. This is a huge fight for him, and hopefully there could be bigger ones to follow."