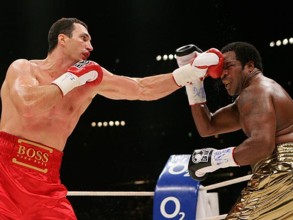 24.07.07 – By Carlos Acevedo: Every now and then Benito Mussolini would wrestle a young tiger in public to show off his vigor, and to display, symbolically, the power of Fascist Italy. At the time, not many people knew that the tiger had been declawed and defanged prior to its scheduled rumble with Il Duce. Inevitably, the poor tiger would go on to lose a unanimous decision. When Wladimir Klitschko pummeled the ghost of Lamon Brewster two weeks ago and the boxing mill began churning out a rumor that Klitschko might be facing Corrie Sanders soon, Benito Mussolini and his sacrificial tiger came to mind.
Wladimir Klitschko is rapidly becoming the asterisk heavyweight champion of the world. When the Ukrainian is not clubbing the prizefighting equivalent of baby seals (Ray Austin, Eliseo Castillo, Fabio Moli) he is looking ragged against mid-level opposition.
He was dreadful against a raw Samuel Peter, suffering three knockdowns and in the process employing, for the first time, the lessons he learned from the Emanuel Steward School of Heavyweight Boxing: clinch, hug, waltz, cuddle, clutch, repeat.
He was also floored by DeVarryl Williams (who was knocked out by Joe Mesi in 97 seconds a year before meeting Klitschko) in a curiously scored technical decision win, and before that, of course, was the fiasco against Brewster, where Klitschko claimed to have been knocked out by unseen forces beyond his control. His classless—and baseless—accusations offered a glimpse into the mindset of a fighter not used to seeing his welfare check (Signed, metaphorically of course, by Ross Greenberg) arrive a few days late. Klitschko may be IBF and IBO heavyweight champion, but these days he can just as easily pass as the HBO heavyweight champion.
From the beginning, the Klitschko-Brewster rematch was bad news wrapped in bad taste. HBO initially declined Brewster as a viable opponent. At first it appeared that HBO Sports president Ross Greenberg thought Brewster might be too shopworn, but now, looking back, perhaps he thought Brewster was not shopworn enough. Brewster is a tough fighter and a good man. At his best, he would have been a handful for any contender. His thunderous left hook, along with a stubborn resiliency, almost made up for poor footwork, the lack of a right hand, and a strange reluctance to throw punches consistently, but Brewster is no longer at his best, and it was sad to watch him, slack and gray when entered the ring, take such a beating. Before facing Klitschko, Brewster also received a brutal pasting—as well as a detached retina—at the hands of Sergei Lyakhovich. After undergoing eye surgery three times, Brewster was out of the ring for over a year. Reports also circulated that Brewster drained himself in training camp just trying to lose excess weight accrued through inactivity. Add to these elements tough scraps against Luan Krasniqi, Kali Meehan, Clifford Ettiene, etc., and you have all the makings of a fighter on the downside and of a potential disaster in the ring. What you will not have are the ingredients for a competitive match up. Brewster barely landed a blow en route to a seventh-round stoppage. The selling point for this fight was revenge for Klitschko over a fighter who had previously beaten him. But this angle, like his title reign itself, is purely smoke and mirror.
Klitschko is considered the "real" heavyweight champion by virtue of his win over Chris Byrd in 2005. Purists kvetch monotonously about splintered titles and "real" world champions, and yet, somehow, the general consensus at the time was that the winner of the Klitschko-Byrd fight would be the "true" heavyweight champion of the world despite the fact that Byrd won a vacant alphabet strap against 40 year-old Evander Holyfield and then defended his title in three dubiously scored fights (He also won a mercilessly dull decision against Davaryl Williamson in one of the most boring fights of the decade). To top it all off, Klitschko already defeated Byrd in a one-sided thrashing years before. Like Klitschko, with his tales of poisoned Vaseline, Byrd was not man enough to admit defeat and claimed that a mysterious ointment was rubbed into his eyes and prevented him from winning. Outside of David Tua, Chris Byrd has never clearly beaten a decent fighter in his career, and his claim to being a legitimate champion rests solely on his freakish victory over Vitali Klitschko, who retired on his stool with a shoulder injury after dominating the fight, for the WBO title.
So does Wladmir Klitschko really deserve to be considered the real heavyweight champion just because he whipped undersized Chris Byrd and because HBO says he is? He is clearly a talented fighter, one with a snappy jab, decent hand speed, a powerful right cross, and a quick left hook. On the other hand, Klitschko is a poor infighter, has little head movement, and, no matter what HBO shills say, has a ceramic jaw and a questionable psychological makeup. In fact, his recent octopus style seems derived partly to offset his inability to take punches or handle pressure: if a fighter gets too close to Klitschko, he ties him up to keep from getting hit, and to prevent his opponent from building offensive momentum. If he gets hit, seems to be the reasoning, he will get hurt; and if he gets hurt, poltergeists might send him into another sinister swoon. John Ruiz adopted a similar tactic after getting starched by David Tua in 19 seconds. Of course, the difference is that Ruiz is ridiculed for his style while Klitschko gets paid millions of dollars to do the fandango with Calvin Brock.
Klitschko could step into the ring with Ruslan Chagaev or Sultan Ibragimov, two other paper champions, but, incredibly, they are facing each other in a partial unification bout. While the "real" champion, Klitschko, maunders on about unifying titles, fighters with less corporate backing are getting into the ring to do something about it. (Oleg Maskaev, WBC champion, has been tied up with bureaucratic red tape lately, but will return shortly against Sam Peter.) Why are the other titleholders not in the picture? Will HBO claim that Chagaev, for example, does not have the name value of a Ray Austin or an Eliseo Castillo? Or will it be claimed that terms could not be reached? Whatever conspiracy theory they come up with should be taken with a healthy dose of skepticism. No one should be fooled by any talk about fighters being reluctant to face Klitschko.
Klitschko represents an astronomical pay raise for any boxer who steps through the ropes with him, and, the truth is, no fighter worth his salt will fear a man who quit against an ex-football player, was annihilated by a part-time golfer, and practically fainted in the ring in his last loss. Indeed, to some fighters in career doldrums, Klitschko may appear to be the equivalent of a walking lottery ticket. Sanders, Brewster, and Ross Puritty all have one thing in common: they never beat a good fighter before whipping Klitschko, and they never beat a good fighter after whipping Klitschko. To them, the Ukrainian giant was a one-way ticket out of Palookaville.
It is true that the heavyweight division is in shambles, but this is hardly an excuse for HBO to make Klitschko the benefactor of a unique entitlement program designed solely to maintain the illusion that the "real" heavyweight champion fights exclusively under its banner. Judging by some of the recent ratings Klitschko has garnered, perhaps HBO should rethink its policy. In considering Sanders as an opponent, however, it appears that they will go down the same tired road they have before, pitting Klitschko with an opponent with several handicaps against him.
Corrie Sanders, who wiped the ring with Klitschko in 2003, is a likeable fellow and, at one point, was a decent fighter as well as a semi-professional golfer. But his exciting slugfest with Hasim Rahman, in which he was knocked out, took place seven years ago, and in his last major fight, against Vitali Klitschko, he took the kind of beating that can turn a boxing enthusiast into a boxing abolitionist overnight. In other words, his ballroom days are over, and have been for a while. During his prime, Sanders had exceptional hand speed for a heavyweight (especially a chubby one), and devastating power in his straight left, but his dedication equaled his stamina in its meagerness. He was already in his mid-thirties before he ever fought any one of note, and the South African press often mourned an unrealized talent. But Sanders flourished elsewhere. For years he made more money swinging a club than a glove, and, in fact, Sanders may well be the most prominent boxer in history to dabble so seriously in golf.
Only Harry Jeffra, former bantamweight and featherweight champion in the 1930s and 1940s, compares. After making Wladimir Klitschko resemble Primo Carnera, recurrent back problems slowed Sanders down enough that he was nothing but a sitting target in his next fight, one year later, against Vitali Klitschko. He soon retired due to the chronic pain only to mount an aborted comeback a few years later. Again Sanders announced his retirement but, just as arbitrarily, returned to the ring this past June, winning a decision against Brazilian piñata Daniel Bispo. Sanders, who claimed he could not stop Bispo because of poor sparring in South Africa, broke his hand during the fight and now his attempt to parlay a dusty win against the current heavyweight champion into a financial windfall has been momentarily sidetracked.
Like most comebacks, this one is rooted in a fundamental need. His trainer, Harold Volbrecht, explained it succinctly to the Mail & Guardian of Johannesburg: "Corrie is broke, so he has to fight again at his age." It is easy, and understandable, to see what motivates Sanders, but what is the thinking in the Klitschko camp and at HBO? At 41 years old, with back problems, brittle hands, lack of quality sparring, and only eight fights in the last seven years, why, exactly, is Sanders considered worthy of stepping into the ring with Wladimir Klitschko? The answer is simple: he is 41 years old, with back problems, brittle hands, lack of quality sparring, and has had only eight fights in the last seven years.
Boxers are often protected by managers and promoters, but rarely does a television network get in on the act. By subsidizing exhibitions against the likes of Ray Austin and toothless Lamon Brewster, and eve considering a match with Corrie Sanders, HBO is undermining its lofty stated purpose in boxing, and, perhaps, at least in the eyes of the public, undermining Klitschko himself, the real heavyweight champion of the world.*