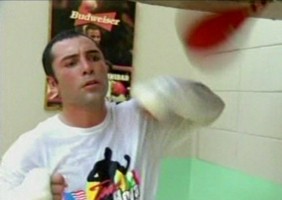 24.07.07 – By Richard Rodriguez: Light middleweight Oscar De La Hoya (38-5, 30 KOs) has reportedly expressed an interest in fighting Super lightweight Ricky Hatton (43-0, 31 KOs), reporting that he would he has respect for Hatton and going on further about how the fight fans around the world would be excited at the prospect. Hatton, in turn, gushed to Reuters, "It would be an honor to share a ring with a modern day legend like Oscar," obviously thinking of the huge payday in store for him if he were able to line up a bout with "The Golden Boy."
However, aside from this, a bout between De La Hoya, 34, a natural light middleweight, and the rather diminutive Hatton, whom has already proven that he is less than impressive awe inspiring as a welterweight, probably won't do much to increase De La Hoya's worth, in part because of the huge size disparity between him and Hatton.
If they were of near-equal weight, or if Hatton had proved that he was a capable welterweight, I could understand it. The bout, of course, would mean another multi-million dollar payday for De La Hoya, and at the same time give Hatton his biggest payday of his career.
If the fight does take place, chances are it would be on Hatton's home turf, perhaps taking place in a huge stadium where they could pack it to full capacity with over 50,000 screaming Hatton fans. In this case, the fans would have little effect on the outcome because De La Hoya would skillfully slice up Hatton and make him look like a rank amateur. Though, it's not that Hatton, 28, wouldn't have his moments in a fight with De La Hoya, of course, but he'd be much too little to deal with De La Hoya's long reach, fast hands, left hook and sharp jab. It's one thing beating a shorter fighter like Jose Luis Castillo or an older Kostya Tszyo, on his last leg, but quite another to take on one of the best Mexican fighters of all time such as De La Hoya.
Hopefully, Hatton comes to his senses and opts for another opponent other than De La Hoya. To be sure, Hatton has plenty of other options on the table, for example, there's the possibility of a bout with WBA welterweight champion Miguel Cotto and Floyd Mayweather Jr., both of which Hatton would have an excellent chance at beating, especially Mayweather who has historically had problems with high-pressure fighters. That said, neither fighter would bring the type of payday that De La Hoya would bring, so Hatton has to factor that in when he decides on his next opponent.
For me, I hope Hatton takes the easier bout because I'd hate to have his legacy tarnished by being brutally knocked out and made to look bad by De La Hoya. It's more than just the size that De La Hoya has going for him, it's his skills that would make this a mismatch. All of the primitive roughhouse tactics that Hatton customarily uses in his bouts, like wrestling, pushing, throwing elbows and holding & hitting, are all things that De La Hoya has seen many times before during his career. One fighter in particular, Arturo Gatti, comes very close to mimicking Hatton's style of fighting, using most of the same tactics. De La Hoya had no problems beating Gatti, easily picking him apart with jabs and hooks en route to stopping him by TKO in the 5th round in 2001. Hopefully, Hatton watches this bout and understands what's in store for him if he were to mix it up with one of the greatest Mexican fighters of all time.