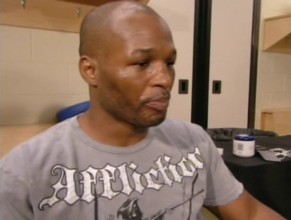 Unbeaten WBO and Ring Magazine Super-Middleweight champion of the World Joe Calzaghe has hit back at Bernard Hopkins – and told him he must get in the queue if he wants to fight him. Following his laboured points win over Ronald "Winky" Wright on Saturday night, Hopkins was vocal in calling out the hard-hitting Welshman. "I want Joe Calzaghe next," Hopkins said. "Tell him to come over here, and I'm going to beat him, too."
But Calzaghe, who faces undefeated WBC and WBA World Champion Mikkel Kessler in a massive unification clash on November 3 at the Millennium Stadium, Cardiff, says Hopkins has already had his chance – and passed it up.
"Hopkins can just get in the line and wait for me because of all the messing around he has caused me. I was all set to fight him a couple of years ago, and he doubled his financial demands after at first agreeing to the fight," said Calzaghe.
"If he was really that keen to fight me, he would have signed up there and then but he got cold feet and then tried to save face.
"It's convenient to call someone out when they already have a fight lined up, but right now I'm focusing on a real fight against Kessler. Once that is done I will look at Ol' Popkins but judging by his performance against Wright there isn't much competition there for me anyway,"
Hopkins said he wanted to fight Calzaghe in the Yankees Stadium, New York – but undefeated Calzaghe, 43-0, has questioned the level of support the American has.
"Why go to America and fight in front of a half empty arena? There's no atmosphere there. Hopkins and Wright are supposed to be two of the top pound-for-pound fighters yet their fight didn't even sell out the Mandalay Bay, it drew something like 9,000 people and the majority of them will be given away by the hotel and casinos. My fight with Kessler is on course to sell 60,000 tickets and my last fight against Peter Manfredo drew 35,000," added Calzaghe.
"Mind you, my fight against Kessler will be a real fight unlike the dancing and holding that the pair of them did on Saturday night. Hopkins is just a name that would look good on my record if we fought now,"
"The Americans go about me not fighting in the States but they have never questioned why Hopkins or Roy Jones have never left the comfort of their own backyard. Why should I go to America when if we do the fight in the UK we can make far more money in front of a bigger crowd?
"But I'm willing to go to the States if that is where the best deal is. I've defended my title in Denmark and Germany, and I even agreed to fight Kessler in his own backyard."
Tickets are on sale for the biggest boxing show ever staged in Britain on Saturday 3rd November at the Millennium Stadium in Cardiff.
Call See Tickets now on +44 (0) 870 060 3794
or visit www.seetickets.com and www.frankwarren.tv