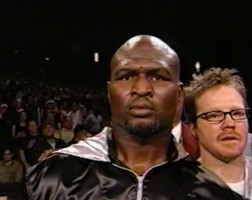 22.07.07 – By Tim Foley: The cruiserweight division isn't as glamorous as the weight classes above and below it, but certain fights have become classics. As proof, those who remember James Toney's days of glory in the '80s and '90s seem to forget his brief foray in the cruiserweight division. However, one fight stands out as a brilliant display of pugilistic excellence.
James Toney's excellence was on full display on April 26, 2003 in his classic bout with Vassiliy Jirov. Jirov was a 1996 Olympic Gold Medalist in the light heavyweight division who had amassed a perfect 31-0 record going into the fight. He was defending his IBF cruiserweight title for the 7th time against Toney, who had previously won an IBF elimination bout against Jason Robinson to get his title shot.
This was one of the final fights where James Toney showed his full array of talents. As his weight ventured northward, his footwork diminished and his conditioning was questioned, but this was a vintage performance. James started the fight by showing his evident handspeed advantage by connecting with blistering counter right hands in the early rounds. Jirov seemed to focus primarily on Toney's body by using both his right hook and straight left hand to try to wear James down. He did get penalized a point for low blows in the fight by allowing his hard shots to fall below the belt, but it would not be a factor for the majority of the fight. He was throwing at such a blistering pace, it seemed unlikely that he could keep it up for a full 12 rounds.
Vassiliy Jirov stayed competitive with James Toney for the majority of the fight giving as good as Toney, but seemed to get winded down the stretch. His fast pace to try to dictate the fight backfired as the fight reached the later rounds. The last three rounds of the fight were some of the most entertaining and exciting rounds ever seen in the cruiserweight division.
The 10th round showed the exhaustion of Vassiliy Jirov as he looked to be out on his feet after James Toney was connecting with solid combinations, but he came back strong in the 11th round and landed many hard shots, including some brilliant straight left hands to win the round. However, the 12th round put an exclamation point on James Toney's virtuoso performance. He came out determined and seemed to have an abundance of energy after Toney's trainer, Freddie Roach told him he had to put him on the canvas to win. Toney, determined to knockout Jirov, immediately began to throw power shots and after connecting with a hard right hand, knew he had Jirov hurt. He began to capitalize on Jirov's vulnerability and landed five straight power shots consisting of hard right hands, a vicious left hook to the body, before putting Jirov down with another solid right hand. Jirov beat the count, but since the knockdown happened with about 20 seconds left in the round, Toney was not able to finish him off.
It turned out that James Toney did not need to knock Jirov down to win as he won a convincing unanimous decision with scores of 117-109 (twice) and 116-110. By defeating Vassiliy Jirov, he claimed his IBF cruiserweight title and looked to bigger and better fights in the heavyweight division.
The fight was one of the few cruiserweight fights of the last 20 years that generated a considerable amount of interest. The constant give and take action solidified both fighters as exciting television fighters and even in defeat, Jirov's reputation was enhanced. This classic bout can't be missed as fight fans will enjoy this slugfest for 12 rounds.