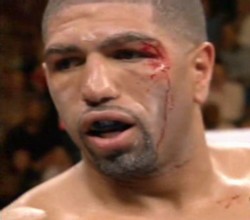 22.07.07 – By Taj Eubanks: It is not my custom to go on tangents about close fight outcomes. Usually there are enough gray areas involved where many would be happy with the decision of the judges. This was not one of them.
Winky Wright (ironically the most judge-paranoid fighter this side of Bernard Hopkins) was on the wrong end of horrible judging last night. In a fight that had the normally united HBO announcing team split until the bitter end, Emmanuel Steward going for Bernard Hopkins and Harold Lederman clearly scoring for Winky, it was more clear than in any other fight of recent years (that I can remember) that this fight was headed to a draw.
Those that saw the fights were treated to more activity from both pugilists than was predicted. Both pressed the action in spurts and were in great condition. The fight was marred early by an accidental Bernard Hopkins headbutt that left Winky's left brow dripping with blood. Despite this, Winky labored on.
He indeed seemed more confounded than usual by Hopkins' awkward style, which consisted of feints, Archie Moore-style spinning, and lots of holding. So much holding, in fact, that it was continuously commented on by not only the HBO team but also indirectly by the fans as well who erupted in boos several times throughout when the Hopkins' clinching got out of control. The referee warned Hopkins so many times that the HBO team commented that a point may be deducted at some point but was not likely to as it would have likely made the difference in the fight. His hit and hold strategy may have worked to an extent, but Winky would fire back on the break with crisp shots to the body and head. Despite there being the much-ballyhooed weight difference, Winky was not bullied by the larger man and instead walked Hopkins down with greater frequency than the opposite occurred.
Going into the final stanza, Lederman had Winky ahead. I (and literally everyone around me) had the fight dead even. It was that close.
Here lies the rub: if the fight had gone either way and was closely scored on the judges' cards, there would be no issue. But the judges' cards were so outrageously scored that they bordered on the insane. The official scores: 116-112 (once) and 117-111 (twice). Believe you me, this was the most preposterous scoring that I have seen since the Lennox Lewis-Evander Holyfield I or Bobby Pacquiao-Carlos Hernandez.
Now I'm not saying that Bernard getting the nod was wrong; I am simply saying that if ever there was a fight was a dead heat, this was it. The fight could have gone to either man but the scores needed to reflect how truly close it was and as sure as heaven is happy this fight was closer than sardines in a can.
In a twist of cruel irony, shadows of Fernando Vargas and Jermain Taylor abound. With Vargas, the vast majority of experts thought Wright clearly won but he lost the decision. Winky got a draw with Taylor when instead he should have gotten the win. Yet in a fight that was infinitely closer than even that fight, the judges saw a whitewash. Go figure. I suppose its part of the ridiculosity of boxing that we fans must accept. But make no mistake about it, this was no whitewash and Winky was no pushover. Winky was, as usual, on the wrong end of horrible ringside judging. Where the 35-year old fighter goes from here is anyone's guess. One thing is for sure: these judges need to get their cataracts checked as soon as possible.