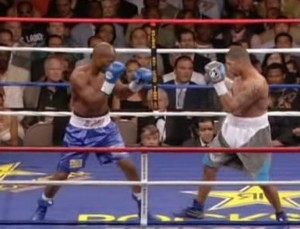 21.07.07 – By Vivek Wallace: Ok. So it wasn't the most eventful fight in the history of the sport but when it was all said and done, Bernard Hopkins (48-4, 32KO's) did everything that the so called 'experts' said he couldn't do.
'Winky' Wright (51-4, 25KO's) came to fight and did a great job all night pressing the action but apparently it was the 'weight' that broke the wagon as 'Winky' appeared slow and lethargic, not to mention very old right before our eye.
Two things were known well before coming into the fight. It would be very awkward – based on the styles involved – and there would be some questionable, if not down right foul play. The awkwardness was evident from the start, and the 'foul' affairs would culminate early on as well as Bernard Hopkins' head deeply pierced the eye brow of 'Winky' Wright.
This action came to the dismay of many but it should be duly noted that – as the fight tape shows – Hopkins was pushed against the ropes and as he bounced back forward, 'Winky' lunged forward while throwing a shot and they happened to connect heads.
For anyone who understands how tight those ropes are, there's no way a person can hit them and not bounce forward. Bearing that in mind it's safe to say that the 'artful technician', Mr. Hopkins was allowed to get away with one based on part legitimacy.
Where things go from here for both fighters remain to be seen. Winky is the younger fighter – and even if it was based on him having to carry the extra weight – looked much older. Hopkins was the older, but didn't necessarily look a whole lot younger.
Before the critics attempt to cast 'Winky' away, it should be noted that he was fighting a naturally bigger guy who's crafty and knows what to do when all the marbles are on the table. Some would say that 'Winky' should hang them up but I'd be the first to tell anyone that 'Winky' is far from bad. People just refuse to acknowledge that his opponent is one of the premiere fighters of our era and has been able to solve nearly every puzzle the promoters have put in front of him.
'Winky', I firmly believe is still a formidable opponent for most and could easily work his way to a points win against some of the best in the biz. If he can get his weight back down their are endless options for him between the light middleweight and super middleweight divisions.
Hopkins on the other hand has done all you can ask of him except consistently look his age. No he isn't the most exciting fighter, no he isn't some dazzling 25 year old with guns ablaze, but show me another athlete in the world of sports doing it at the highest level at his age and I'll show you a rare commodity.
The only true fight out there for Bernard Hopkins – ok fellas, no tomatoes please – is Roy Jones Jr.
If Hopkins can avenge that lost by defeating Roy I think he closes the chapter on his legacy which is not only framed by a hall of fame vote, but also cemented and enshrined as arguably one of the best middleweights of our era.
Calzaghe, Kessler, and those other young studs out there may indeed be a cut above and technically, it won't do a lot more for his legacy to fight them anyhow.
The operative phrase for Hopkins is to know 'when to say when'. In last night's fight he was able to side step the previously invisible 'Father-time' once again but to quote Oscar Dela Hoya when asked about Floyd Mayweather Jr.'s blinding speed: "It's the hit you don't see coming that hurts the most".
No, 'Father-time' hasn't quite entered his 'executioners chamber', but we'd all be guilty liars if we said we didn't see him approaching the door bell. Hopkins has to see this as well so perhaps now that he has 'set the table' by highlighting his career, maybe it's time for him to simply open up and shut it down.
He doesn't have to, but there's one thing that both his fans and skeptics would agree on. There's nothing like an untimely and unexpected guest.
(Got Feedback?: Write Vivek Wallace at vivexemail@yahoo.com or show some love at myspace.com/anonymouslyinvolved)