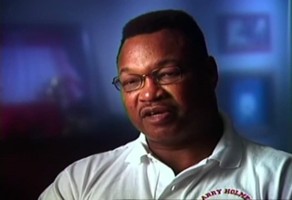 (Larry "The Easton Assassin" Holmes, pictured here) 23.07.07 – By Christopher Roche: Boxing nicknames have been around since before Major League Baseball players wore numbers on their backs. Boxers are known for their flamboyance and creativity, but ironically, the most flamboyant and creative fighter who ever lived has the simplest nickname: "The Greatest."
Thousands of fighters have stepped through the ropes sporting curious, funny and outrageous nicknames, and I want to recognize some of my favorites from the last thirty-years. I came up with over sixty fighters that are worthy of mention, and I loosely organized them into categories for convenience.
Originally I planned on writing about nicknames from the last 25 years, because 30 is really before my time, but I wanted to include the late Billy "Dynamite" Douglas, who has one of the coolest alliterative nicknames ever. His son, James "Buster" Douglas has a much less explosive name, but he did become heavyweight champ, and I am sure he busted a few hearts with his win over "Iron" Mike Tyson. Another alliterative nickname that was ahead of its time is that of Bobby "Boogaloo" Watts. "Boogaloo" became a household word in the 1980's classic film "Breakin 2: Electric Boogaloo" here in America, but Watts sported it many years before the film had its brief run on the silver screen.
Some fighters' nicknames are so unflattering that when I see them on paper I can only cringe. One such example is Carlos "The Shock Absorber" Monroe. I have no idea what that name is trying to portray. I only hope he received royalties from the shock and strut company that shares his surname.
One tactic fighters use is to fit their day job into their boxing moniker. Nick "The Fighting Bartender" DeLong is one such example. I actually saw DeLong fight I.V. Nalls on the old Sportschannel network here in the U.S. back in the 1980's, and he looked like his nickname would suggest. I can only wonder if he was tempted to break a beer mug over his opponent's head. Another example of this convention is Tony "The Punching Postman" Thornton. Thornton delivered a lot of leather in his time, as he sorted through 37 wins.
A nickname that needs no further introduction is that of "Smokin" Joe Frazier. "Smokin" not only sounds cool, but it immediately conjures up an image of a fighter who comes at you full steam ahead, and Frazier of course personified his ring alias. Others have tried to adopt "Smokin", i.e. "Smokin" Bert Cooper, but nobody will ever live up to the original.
Some nicknames are so catchy they actually replace a fighter's real name, and everyone forgets or never bothers to use the given name. A few examples of this are Luis Ramon "Yory Boy" Campas, Ray "Boom Boom" Mancini, James "Buddy" McGirt, Ronald "Winky" Wright and the aforementioned "Buster" Douglas. One fighter even went so far as to add his nickname to his real name, so he can sign his checks "Marvelous" Marvin Hagler.
Another device fighters use is to give props to their hometown. Larry "The Easton Assassin" Holmes and Thomas "The Motor City Cobra" Hearns (later changed to "The Hitman" now carried on by Ricky Hatton), are the most successful fighters to adopt this approach, in the last 30 years. Others who have also gone down that road are Chuck "The Bayonne Bleeder" Wepner and Kevin "Flushing Flash" Kelley.
Two categories that always puzzled me are insects and rodents. Willie "The Worm" Monroe and Vito "The Mosquito" Antuofermo were two great fighters who are synonymous with pesky critters. Actually, come to think of it, a worm might be an amphibian, but that will have to go to the judges. As for the rodent category, Bruce "The Mouse" Strauss represents that one pretty well, and judging from his record, he chose his name wisely.
Reptiles are not to be outdone by insects and rodents, however, and Donald "The Cobra" Curry, Roger "The Black Mamba" Mayweather, Sergio "The Latin Snake" Mora and Clifford "The Black Rhino" Etienne all represent the cold-blooded killer category. The aforementioned Hearns can also slide into this category and attain the much sought after dual citizenship, while Aaron "The Hawk" Pryor stands tall in the bird category.
Some fighters like to use word play and convey a message through a word or phrase that combines with their real name to form a catchy phrase. The quintessential example of that tactic is Michael "Second to" Nunn. Hector "Macho" Camacho sort of uses the same method, while Alfred "Ice" Cole uses both word play and a pun, however, the image he portrays is not necessarily flattering for a boxer. Boxers never want to be caught cold, especially not ice "Cole", unless he is referring to "Ice Coal", which would conjure up an image of a diamond.
Arturo "Thunder" Gatti, Bernard "The Executioner" Hopkins, and James "Lights Out" Toney are three fighters who chose extremely ambitious nicknames and completely lived up to them. Zab "Super" Judah's and Glenwood "The Real Beast" Brown's aliases are equally lofty, but they are a step below Gatti, Hopkins and Toney in personifying their monikers.
Calvin "Silky Smooth" Grove and Michael "The Silk" Olajide both either had very soft skin, or they had slick fighting styles. Since I saw both of them fight, I vote for the latter, and Jeff "Left Hook" Lacy narrows his nickname down to his best punch. I never favored the approach of naming yourself after your style, or your best punch, because that seems to give the opponent knowledge that they should not get so freely. If I fought a guy named "Left Hook", I would probably watch out for the left hook, unless of course, Lacy is trying to trick everyone, and he is really Jeff "Straight Right Hand" Lacy in disguise.
Other fighters choose simple nicknames that convey a sharp, no-nonsense image. Iran "The Blade" Barkley, Mitch "Blood" Green, Charles "The Natural" Murray and "Mercury" Mike Williams all go for the quick one image jab with their aliases. There are no double-entendres or images of pesky rodents when you hear those nicknames.
In the superhero category, we have Aaron "Superman" Davis, and in the "fallen superhero" category, Cliff "Twin Tyson" Couser. In the inexplicable category, we have Andrew "Six Heads" Lewis.
Some fighters like to accentuate their good looks. Oscar "The Golden Boy" De La Hoya (Donny "Golden Boy" LaLonde was first), "Pretty Boy" Floyd Mayweather and Bobby "The Matinee Idol" Czyz employ that tactic of self-promotion.
Finally, there are fighters who like to represent their heritage or home country. This is very typical amongst Irish fighters. "Irish" precedes Micky Ward and Andy Lee, while "Ireland's" precedes John Duddy. Everyone in the media seems to ignore the nuance in Duddy's nickname, however, and he is usually referred to as "Irish" John Duddy anyway. Steve "The Celtic Warrior" Collins and Chris "The Shamrock Express" Reid found creative ways to show their Irish lineage, while Wayne McCullough went his own way and opted for the somewhat unflattering "Pocket Rocket" moniker. As for the USA, Jason "The American Boy" Litzau is currently holding the Stars and Stripes along with his brother Allen.
One classic nickname that is making a comeback is "Kid". Peter "Kid Chocolate" Quillin and Gary "Kid" Stark are carrying the banner for that throwback name, while "Sugar" Ray Leonard and "Sugar" Shane Mosley treaded onto immortal ground in choosing their aliases. That is often not a wise move, but both Leonard and Mosley had great careers, thus excusing them from blasphemy.
Sometimes two prominent fighters have the same exact nickname at the same time. Antonio "Magic Man" Tarver and Paulie "Magic Man" Malignaggi split time with this mystical alias. It would be interesting to find out who chose the name first. Malignaggi has the alliterative battle won, but Tarver is the bigger man, so maybe they will have to call it a draw.
After thinking about this for an inordinate amount of time, I decided that no ring alias tops that of Darnell "Ding-a-Ling Man" Wilson. Wilson's alias is a headline writer's dream, and when he knocks a guy out, as he did Emmanuel "Chukwu" Nwodo, websites and newspapers explode with excessive clichés and headline zingers. In addition to setting off a media fracas every time he scores a knockout, "Ding-a-Ling Man" is also creative, alliterative and onomatopoetic, and "Ding-a-Ling Man" also uses the often underdog punctuation mark known as the hyphen, two times! "Ding-a-Ling Man" is the perfect nickname, and it will never be topped for its total completeness.
I am sure this list has some notable omissions, but the project was fun, and I hope it helped elevated you out of your summer doldrums, as there are only two or three big fights left until the fall. I have to thank Danny Serratelli of brickcityboxing.com for Bruce "The Mouse" Strauss. That is a classic.
For your convenience, I have attached the list of the names used in this story, and you can cut and paste it into a spreadsheet and sort it as you wish. The list is in no particular order. You can e-mail me the ones I missed at chrisrockk@hotmail.com.
Notable Boxing nicknames from fighters who fought in the last 30 years
1) "Marvelous" Marvin Hagler
2) Darnell "Ding-a-Ling-Man" Wilson
3) Ray "Boom Boom" Mancini
4) Billy "Dynamite" Douglas
5) "Smokin'" Joe Frazier
6) Roger "The Black Mamba" Mayweather
7) Willie "The Worm" Monroe
8) James "Lights Out" Toney
9) Glenwood "The Real Beast" Brown
10) Iran "The Blade" Barkley
11) Donald "The Cobra" Curry
12) Alfred "Ice" Cole
13) Clifford "The Black Rhino" Etienne
14) Peter "Kid Chocolate" Quillin
15) Calvin "Silky Smooth" Grove
16) Hector "Macho" Camacho
17) Arturo "Thunder" Gatti
18) Luis Ramon "Yory Boy" Campas
19) Cliff "Twin Tyson" Couser
20) "Mercury" Mike Williams
22) Aaron "Superman" Davis
23) James "Buddy" McGirt
24) Aaron "The Hawk" Pryor
25) Jeff "Left Hook" Lacy
26) Chris "The Shamrock Express" Reid
27) Bobby "The Matinee Idol" Czyz
28) Michael "The Silk" Olajide
29) Ronald "Winky" Wright
30) Charles "The Natural" Murray
31) Chuck "The Bayonne Bleeder" Wepner
32) Thomas "The Motor City Cobra" Hearns
33) Larry "The Easton Assassin" Holmes
34) Kevin "Flushing Flash" Kelly
35) Carlos "The Shock Absorber" Monroe
36) Nick "The Fighting Bartender" DeLong
37) Bobby "Boogaloo" Watts
38) Jason "The American Boy" Litzau
39) Mitch "Blood" Green
40) Oscar "The Golden Boy" De La Hoya
41) Donny "Golden Boy" Lalonde
42) "Irish" Micky Ward
43) "Irish" Andy Lee
44) "Ireland's" John Duddy
45) Steve "The Celtic Warrior" Collins
46) Wayne "Pocket Rocket" McCullough
47) Gary "Kid" Stark
48) "Sugar" Ray Leonard
49) "Sugar" Shane Mosley
50) Allen "The American Boy" Litzau
51) Andrew "Six Heads" Lewis
52) Ricky "The Hitman" Hatton
53) "Smokin" Bert Cooper
54) James "Buster" Douglas
55) Emmanuel "Chukwu" Nwodo
56) Vito "The Mosquito" Antuofermo
57) Michael "Second to" Nunn
58) "Iron" Mike Tyson
59) Muhammad Ali "The Greatest"
60) Tony "The Punching Postman" Thornton
61) Bernard "The Executioner" Hopkins
62) Zab "Super" Judah