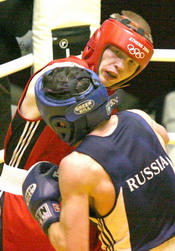 19.07.07 – By Artem Korolev: In recent years, professional boxing has witnessed an influx of talented fighters from the former USSR. What most of these fighters have in common is successful participation in the Soviet-style amateur program. The recent Russian Amateur Championships in Yakutsk have demonstrated that the Russian amateur scene is still very much alive. In the following article we will examine some of the talent.
Islam Timurziev is a 24 year old superheavyweight from Nazran', Ingushetia. At 186cm (6'1), Timurziev is a stocky, aggressive boxer, with plenty of physical strength and an outstanding punch. Timurziev has a style well suited to the professional game, holding his hands high and going to both the head and the body. He has a clubbing power in both hands, particularly his hooks and his straight right.
A European junior champion in 2001, Timurziev was initially kept back by amateur superstar Alexander Povetkin. However, with Povetkin going pro after the 2004 Olympics, the path was open for the 2003 world military champion, who won his first national championships as a senior in 2004.. Timurziev showcased his talent in the 2006 European amateur boxing championships, where he won two of his four fights by stoppage, and beat Italy's Roberto Camarelle, giving him a standing eight count and a KD, and Finish giant Robert Helenius to win the gold medal.
Timurziev missed the world championships in 2005 due to an alleged brain tumor, however, apparently the problem was taken care of and he returned to boxing. Whether or not this will be a problem for him in the future remains a question mark. Another problem for Timurziev is that he lacks the consistency of his predecessor Alexandr Povetkin. In the 2006 world cup, Timurziev faced Cuba's Odlanier Solis. In the first two rounds Timurziev was leading the match, his power and inside work beating the faster Solis, however, the necessity to cope with the much greater speed and mobility of his opponent lead Timurziev to tire, and a triple right hand from the Cuban at the end of the second round was the first of three standing eight counts before the referee stopped the match in the third. Timurziev did not look hurt by the Cuban's punching, and was indeed angry when the referee opened the count. He was however completely gassed and unable to catch Solis.
Timurziev's possible problem with tall, fast moving boxers reoccurred in this years nationals. Timurziev made the finals with several RSCO wins, one of them against the Pride fighter Sergei Kharitonov. However, in the finals he met Sergeev from the Vladimir region, and was defeated on points. Sergeev is a classical Russian amateur, who enjoyed a speed and height advantage. Again, Timurziev slowed down after the 2nd round, and was outpointed. Timurziev is definitely an exciting prospect; however, he needs to improve his stamina, and his ability to deal with classical boxers.
Roman Romanchuk is a 28 year old heavyweight who is known for his height, strong technical skills and outstanding punch, something he inherited from his father, who was also known for his KO power while boxing as an amateur. Romanchuk represents the "Warrior Brotherhood" club in Moscow, however, was born and raised in the Lvov region of Ukraine, which is where he started boxing. According to an interview with his father in "Soviet Sport", Romanchuk stopped boxing when he briefly went to Germany in search of a better life, having undergone an operation on his leg. In the year 2000, he moved to Moscow, looking for work after qualifying as an electrician and it is there that he restarted boxing to keep fit. Entering unattached into the Moscow championships, Romanchuk lost but attracted the interest of the coaches. By 2002 he was on the Russian national team.
Initially, Romanchuk could not overcome 91kg standout Alexandr Alexeev, however, before the 2005 World Championships, the Russian superheavyweight champion Islam Timurziev was forced to withdraw because of a tumor, and Romanchuk moved up to superheavyweight to take his place. There were doubts about Romanchuk's ability to beat the bigger opponents, however, Romanchuk carried the extra weight well, and his power remained in the higher weight class. Romanchuk reached the finals scoring several RSCOs, including an impressive first round victory against Uzbekistan's Rustam Saidov, and a 34-27 defeat of Italy's Roberto Camarelle, before losing a competitive 29-22 match against hot professional prospect Odlanier Solis-Fonte of Cuba.
After this win, Romanchuk's results were very unstable as he returned to the 91kg, which was left vacant by Alexeev going pro. In the 2006 European championships in Bulgaria, Romanchuk hammered his way to the finals winning many of his matches by stoppage before being upset by the hard punching Ukranian Denis Poyatsika, who caused the referee to stop the contest in the 3d round due to Romanchuk absorbing many headshots.
In the 2007 Russian championships, Romanchuk reached the finals, scoring several stoppages but was upset by the stocky slugger Rakhim Chakhiev 28-25. The two had previously met in the 2006 championships, but there Romanchuk had won via a 3d round stoppage. Again, Romanchuk was faced with a brawling, aggressive and shorter opponent, and was initially outboxing him via his superior reach, movement and technical skills. Unfortunately, Romanchuk, by his own admission, likes to fight, and in both upsets was drawn into a war. Although Romanchuk, despite his height, is an adept infighter, he throws away his advantages when warring with the shorter men. In the case of the Poyatsika bout, this opened him to a stoppage, while Chakhiev was lucky enough to score the last points of an even slugfest. It is unclear whether it will be Romanchuk or Chakhiev who will represent Russia at the upcoming world championships, however, Romanchuk has frequently threatened to go pro, and his adopted brother Eduard Romanchuk 3-1 (2) is already campaigning in the paid ranks as a welterweight. Despite his instability, Romanchuk remains an exciting prospect to look out for in the future. Incidentally, Chakhiev is also a boxer who shows potential. Only 24 years old, Chakhiev has taken bronze medals in 2005 and 2006, finally winning the national title in 2007. Although technically not as good as Romanchuk, he is very strong and is able to maintain a very high punch output throughout the entire match.
Artur Beterbiev is a 22 year old Light Heavyweight who lives in Moscow, but represents both Magnitogorsk and the Chechen Republic. Currently, a student of the Russian State Institute of Physical Culture, Beterbiev is 183cm (6'0) tall and powerfully built. He is a skilled swarmer, with a hard punch, and has won many matches by way of stoppage.
Throughout his career he has been steadily improving, coming third in the 2001 junior world championships, and fighting his way from bronze medalist in the Russian nationals in 2004, to finally becoming national champion in 2007. Previously, Beterbiev was in the shadow of the 8 time Russian, 2 time world and European champion Evgeniy Makarenko, and lost to him in the 2006 finals, however, with Makarenko injured in sparring, it was Beterbiev who got the chance to win the European Championships that year. Beterbiev won the tournament displaying both the power to score a stoppage and the skill to outclass an opponent by the 20 point rule. He defeated highly touted amateurs Keneth Egan of Ireland (RSCO 2) and Ismail Silakh of the Ukraine (34-23). The gathered momentum continued at the Russian nationals in 2007, where Beterbiev faced Makarenko in the finals. Makarenko's superior height and reach initially gave Beterbiev problems, however, Beterbiev lead the match in all of the rounds, eventually winning it (38-15). In my opinion the match was much closer than the score suggests, however, in the end it was Beterbiev's youth, strength and stamina that prevailed. Makarenko himself was very outspoken about his poor performance, and he still hopes to capture selection for the 2007 Amateur World Championship team, since that tournament is part of the selection for the Olympic Games – the only amateur tournament not yet won by Makarenko. Which one of these boxers will be given the nod by head coach Alexander Lebziak is as of yet unclear, and will be determined by the results of the two remaining selection match-sparring sessions, however, the youth and recent performances of Beterbiev put him in pole position.
Matvei Korobov is a standout in the Russian amateur boxing team. Although only 24 years of age, he has already accumulated an impressive 235-11 amateur record. His list of titles is also impressive: European junior champion (2001), 4 times Russian champion, 2 times world military champion, World and European champion. Boxing out of the CSKA club in Moscow, Korobov is a 179cm (5'9) southpaw and competes in the middleweight category.
Matvei Korobov is known for his work ethic, employing a varied training program which includes running, water polo, strength work at the gym, as well as his everyday boxing program. He is a very classy boxer with good ring generalship, fast hands and excellent movement, which allows him to frequently win his fights by the 20 point outclassed rule.
In this year's amateur boxing championships, Korobov progressed to the final with relative ease, however, was forced to give it his all against the up and coming 21-year old Dmitri Chudinov, who is certainly one to look out for in the future. The shorter Chudinov brought the fight to Korobov, pressuring him from the first gong to the last and throwing very hard punches that made the fight very difficult for him. In the end, Korobov's experience and class won him the fight 32-20, however, Chudinov will be a serious challenge to Korobov in future tournaments.
Alexei Tischenko is a boxer who needs no introduction for anyone following the amateur scene. At only 23 years of age, the 60kg, 165cm (5'4) boxer, from Omsk and representing the Armed Forces, has already won everything there is to win in amateur boxing. Tischenko is multiple times Russian national champion, European champion, World champion and 2004 Olympic champion, and rated by many as the best pound-for-pound amateur in the world.
Initially, it was not Tischenko who was supposed to represent Russia at the Olympics, but the veteran Raimkul' Malakhbekov, however, Malakhbekov unexpectedly lost early in the qualifying European championships, and Tischenko was given the chance to qualify for the Olympics. He not only did this, but confidently won the tournament. This triumph was then followed by World and European titles. Tischenko's dominance has not slipped this year, with his victory in the nationals, where he outclassed many of his opponents, including a third round RSCO against Ignatiev in the finals. If no injuries take place, Tischenko should be Russia's representative in the World Championships and Olympics, and he is definitely a favorite to double his gold medals.
For me, this Russian championship's revelation was the young boxer Sergei Vodopyanov, who was extremely impressive in his path to gold at 54kg, having previously taken silver in 2006. The 19 year old Moscovite has a very bright future ahead of him. Vodopyanov displayed excellent movement and lightening speed throughout the tournament, switching very effectively from orthodox to southpaw. He has a very entertaining style to watch, being effective both in counterpunching and attacking.
In the final, Vodopyanov faced 27-year-old Zinat Zhandibayev, an experienced and difficult boxer from Omsk who had been double Russian bronze medalist and world military champion. It was a very exciting and close match, perhaps the most exciting final, where the scores were equal until the final seconds of the fourth round. There, Vodopyanov showed will to win and initiative, switching from his normal counterpunching style, coming forward at Zhandibayev and winning the match 27-25. Again, it is not yet clear which one of these boxers will go to the world championships in Chicago, but Vodopyanov is definitely someone to look out for.
Other results of the nationals included the European Champion Georgiy Balakshin confirming his place as the best 51kg boxer in Russia, displaying his excellent reflexes and very fast hands in winning the tournament. Albert Selimov also kept his Beijing hopes up, beating Alexei Shaidulin at 57kg. David Airopetyan finally defeated the veteran 48kg boxer Sergei Kazakov to become champion, and Genadiy Kovalev overcame the veteran Alexander Maletin of Nizhnevartovsk. Kazakov built up a points advantage in the first round, and then wrestled and clinched Maletin to gain a dirty victory. Maletin's relentless pressure-fighting style would have made him an exciting pro, and his amateur achievements – medals at world, European and Olympic level, demonstrate his talent, however, at 32 years of age this is an unlikely prospect.
photo: rusboxing.ru