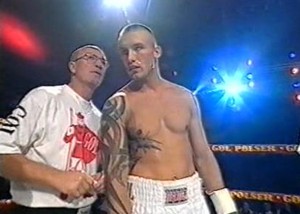 18.07.07 – By Ted Sares: Back in October 2006, I called for a super fight between Joe Calzaghe, W 43 (32 KOs)-0 vs. Mikkel Kessler, 39 (29 KOs)-0. Well, the fight has now been made for November 3 and someone's O must go (unless of course it ends in a draw which is certainly not out of the question.) Together, these two fine boxers have a combined professional record of 82-0 (61 KOs) and a combined 75% KO percentage. Their fight is already being called the biggest non-heavyweight title unification fight since Leonard-Hearns in 1981.
Off their respective fights with Peter Manfredo Jr (and earlier with Sakio Bika) and Librado Andrade (and Markus Beyer), Kessler must be given a solid chance to slow down the Welshman's express train.
Joe had to battle his way to the final bell after a hard night's work with the game Bika (who recently lost to Lucien Bute). On the other Hand, Kessler brutally destroyed WBC super middleweight champion Markus Beyer in three rounds and then pounded Andrade in a brilliant offensive display.
Though I am more impressed with the Pride of Wales' overall level of opposition, Kessler has never suffered anything less than a UD win. If you did a won-lost analysis of Joe's opponents (coming in) the result would be astoundingly impressive. Fighters like Jeff Lacey, Mario Veit, Miguel Angel Jimenez, Evans Ashira, Byron Mitchell, Richie Woodhall, Omar Sheika, Chris Eubank, Robin Reid and Mark Delaney came in with either unblemished records or just one or two defeats. But the fact he may have fought better opposition, combined with his age, might just have taken something out of him. Maybe.
The "Viking Warrior" is seven years younger than Calzaghe and that disparity seemed to show a bit against Bika. Against Manfredo, in a fight that clearly was stopped too soon, The Welshman showed super-fast hand speed, but many of his "blows" were more slap than punch. Moreover, the confused Manfredo simply stood there and covered up offering nothing in return. The unbeaten Dane knows full well that Calzaghe's high output of punches includes an inordinate amount of slaps. Kessler is no Manfredo.
Kessler's KO percentage is a handsome 74%, while Calzaghe's is just as impressive at 74%. Yet I keep coming back to age vs. youth and the possibility that Kessler may be peaking while Joe has already reached and perhaps passed his. If so, this could spell trouble for the "Italian Dragon." Still, he is a very difficult fighter to beat. He's got a great chin, great stamina, and, of course, that handspeed. He also has a high boxers's IQ
Whenever I see one elevator going down and one going up, I always go with the guy who is on the upward ride. That's not the case here. Calzaghe is not yet on a downward ride; in fact, he just might be at the top of his game, albeit at an unusually ripe age.
The Outcome
Calzaghe does not have the one-punch power of Kessler and this could prove pivotal for Mikkel. On balance, however, I see Calzaghe getting into his rhythm early and avoiding Kessler bombs with great ring movement and acumen. I see him peppering the Dane with enough punches, many in lightening combinations, to gain a close decision. That said, the fight has the potential to be overly strategic and cerebral and this could translate to something other than the exciting engagement most are expecting or at least hoping for. Heck, the odds on this fight going the distance have to be pretty darn good.
The bookmakers have made Calzaghe a 1/2 favorite coming in, likely influenced by the fact the bout's location is in Cardiff where some 70, 000 fans will be screaming their support at the Millennium Stadium. Reportedly, about 5,000 Danish fans will be making the journey, and I may be joining them as well (coming by way of Geneva).
My heart says Kessler; my brain says Calzaghe by close decision, though, as I said, a draw is a distinct possibility.
Let's get it on.
"I've been waiting all my life for this, a big fight on US television against a great champion…they've been talking about this fight in Denmark for years. I don't want to reveal my tactics, but I'll keep my distance as usual. I'm a more intelligent fighter than Calzaghe. Lacy was too slow to take him on, but I know that I'm number one in the division and I'm going to kick his ass." Kessler
"I can't knock Kessler, he is a very solid all round fighter, but he has not fought me yet….he has never been in with a southpaw with my handspeed….believe me, there is no way I am losing that fight. I'm going to be in the best shape of my life, I'm going to have the best training camp I've ever done. This will be fight of the year. I've been in boxing for 25 years now and it takes a lot to get me excited, but this fight has done that. Before the Jeff Lacy fight there was a lot of pressure on me, but I'm more relaxed about things now…I don't think that any super-middleweight or light-heavyweight in the world can beat me. Beating Kessler would go some way to cementing my legacy." Calzaghe