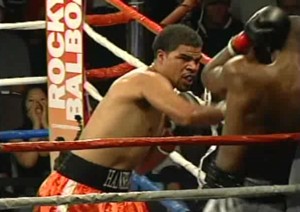 14.07.07 – By Ron Hansen: Boxing great Roy Jones Jr. (50-4, 38 KOs) will take on Anthony Hanshaw (21-0-1, 14 KOs) tonight at the Mississippi Coast Coliseum, in Biloxi, Mississippi. Though he was obviously picked because Jones thought he was a soft opponent, Hanshaw may actually turn out to be more than what the 38-year-old Jones expected, especially with Jones' history of knockouts in recent years.
It's been a year since Jones last fought, beating Prince Badi Ajamu last July. However, in choosing Hanshaw, 29, a fighter with an excellent jab, and combined with good power with both hands, I see another possible knockout loss for Jones.
In the weeks leading up to the fight, Jones has shown little respect for Hanshaw, essentially brushing him off as if he were a second rate journeyman. However, that image of Hanshaw is deeply at odds with the fighter that I've seen in several bouts, and I think this is going to be a very tough fight for Jones. Hanshaw, though he hasn't fought anyone that could be considered a true top level fighter such as Jones, he's got all the physical tool, power, aggression and most of, youth, to put Jones in serious trouble. More than that, Hanshaw is a very busy fighter, and generally throws lots of punches in his bouts, which could place Jones on the defensive early on.
If Hanshaw can keep the pressure on Jones similar to the way Glen Johnson and Antonio Tarver did, there's an excellent possibility that he can wear Jones out and catch him with something. One thing is for sure, Jones didn't take an easy fight to return with after his year-long absence away from the ring.
In his last bout, Hanshaw fought to a draw with the tough super middleweight Jean Paul Mendy in January 2007. The fight was very close, but I felt Hanshaw did more than enough to get the win.
It's unclear what Jones wants to accomplish at this point in his career. He's talked about wanting to fight a huge variety of fighters, yet instead of arranging for a shot at one of them, and assuring himself of another large payday, he instead has opted to fight lesser-known opponents like Hanshaw and Prince Badi Ajamu. At his age, Jones can ill-afford another loss, especially against a fighter as unknown as Hanshaw.
Prediction: Hanshaw by 8th round KO.