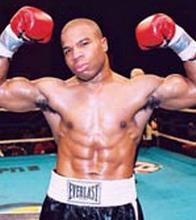 Duva Boxing will present Friday Night Fights: Staten Island Knockouts on Friday night, June 29, at the St. George Theater (34 Hyatt Street), in conjunction with the Dr. Theodore Atlas Foundation. Duva Boxing president Dino Duva announced today that part of the proceeds from event ticket sales will go to the Atlas Foundation, which assists the needy and less fortunate in the New York area and throughout the country. Staten Island native and renowned fight trainer Teddy Atlas will be in his customary position as ringside analyst on the ESPN2 Friday Night Fights broadcast, with Joe Tessatore delivering the blow by blow. The first bout of the evening is at 8:00 PM, and airtime for the broadcast is at 10:00 PM.
The main event will feature Nigerian import Emmanuel Nwodo against Darnell Wilson in 12-round USBA Cruiserweight Championship bout in a battle of knockout artists. Nwodo (21-3, 17 KO's) is ranked no. 8 by the WBO, and has reeled off 10 straight victories. Wilson is a winner of three in a row, and has a ring record of 21-5-2, including 18 triumphs by way of KO. There will also be a tremendous undercard featuring local attractions, rising stars, and a possible surprise exhibition..
"We are extremely excited about bringing a big time televised boxing card to Staten Island," said Duva, "and are proud to contribute part of the box office gate to the Dr. Theodore Atlas Foundation to assist in the great charitable works that it does. I hope everyone attends this historic event.
'It will be fun for Teddy to broadcast a fight card on his home turf," added Duva, "so we are looking forward to an extra special night featuring a pair of big hitters in the main event. We intend on this show being the start of regular cards on Staten Island."
"I am thrilled about this show for three reasons," said Atlas. "First, pro boxing hasn't been on Staten Island for quite a while, and bringing the Friday Night Fights here is going to be well received. Secondly, to celebrate the passion of Staten Island sports fans and help the foundation is important and gratifying to me. Thirdly, to work with an old friend like Dino Duva will make it that much more satisfying."
This event is presented by Duva Boxing in association with Final Forum and Sugar Han Promotions. Tickets are priced at $150, $50 and $30, and are available by calling Duva Boxing at 973-237- 0999. Staten Island locations for ticket purchases will also be announced shortly.