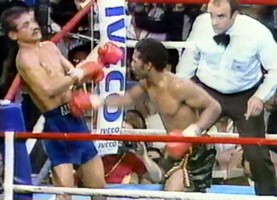 14.07.07 – By Jonny Oakley: All's fair in love and war, so the saying goes, and Alexis Arguello must have thought he was going to war when he fought Aaron Pryor for the first time in November 1982, because he brought with him a small army to the Miami Orange Bowl and with generalship of his battlefield, the square ring, he was their commandant.
Arguello's rise to prominence had been long and arduous, and like so many of boxing's true greats the interference of politics always presented him with his own personal struggles and a symbolic struggle for his followers. Political turmoil arrived at the peak of Arguello's powers to add fuel to a smoldering fire, to provide the backdraft to an oxygen starved career, and provide it with a war all of its own.
Arguello's 1979 defence of his WBC super featherweight title, against Rafael Limond, coincided with Sandinista revolutionary activity in his native Nicaragua. Enrobing his wiry, spent, post-fight form in the flag of the Sandinista National Liberation Front proved a false harbinger for Arguello's future extra curricular activities. The 'explosive thin man' had declared himself a Sandinista showpiece of immense domestic, and more significantly international, popular recognition. Eventually Arguello came to resent the role he had been strong-armed into by a group whose actions, but not necessarily their philosophies, contravened his own stringent morality. Eviction, exile and financial liquidation swiftly followed Arguello's non compliance and he and his family relocated to Miami, Florida, finding solace amongst the company of thieves. Cubans, exiled from their homeland by socialist political purging, had found their shining prince, a man with struggles mirroring their own, and with the volume of immigrants to Miami, Arguello could be assured of voluminous Latin American support.
A spectacular convergence of circumstances in Alexis Arguello's career belies an achievement of status that had its roots in something rather more meritorious. An alarming knockout ratio and a demeanour of renowned graciousness and talent punctuated the developing value of Alexis Arguello as a marquee name in the sport of boxing. Never more prominent were these virtues than in the wake of his fifteenth round knockout of Ray Mancini in 1981. With Mancini's infirm father seated at ringside, Arguello congratulated the young fighter and pledged his adoration of Mancini senior with a statement of great affection. And so with character and resistance the foundations were in place, and at the 1982 zenith of his fame Arguello staged a memorable world title clash with an all-American boy, in the form of perennially put-upon Aaron Pryor. US attentions in Nicaragua, typically covert, allowed that the reality of international politics appeared in microcosm in an eighteen foot square – sabre-rattling US powerhouse tactics directed at a Latin American curiosity wondrously catapulted to worldwide attention. Introduced as 'Mr. Alexis Arguello', the Nicaraguan had the under-nourished, sinewy appearance of man having spent his formative years in abject poverty, a physique of knotted string, the kind that repelled fat, a peculiarity next to the appropriately muscled Pryor. 'The Hawk's' desperate need to enjoy the attentions of stardom, dating back to his mystifying exclusion from the US Olympic boxing squad, found traction with the abysmal favoritism dictating that Pryor's introduction did not warrant the use of the 'Mr.' prefix. In an epic clash, Arguello and Pryor contrived to fulfill the demands of history and recognition, their respective pressures, meting out and absorbing tremendous punishment.
From the opening seconds to the brutal climax, punches were thrown with murderous intent. The brawling Pryor began to leave himself open to Arguello's ruthlessly scientific counter-punching, and in the mid rounds took on the form of a finessed boxer. Unable to avoid Arguello's punishing shots, Pryor ignored them with an extraordinary deference allowing him to land on a two-to-one ratio. Both continued to stand toe-to-toe. Finally in the thirteenth, Arguello looked close to justifying his reputation for killing off challengers in the championship rounds, with a straight right hand counter that resonated throughout the stadium, sent Pryor's head back to a right angle and had the brilliance of the ceiling lights flash like a white heat in his eyes. Harder than a coffin nail, Pryor shrugged off the blow, and Arguello's heart skipped a beat and then sunk. In the fourteenth, a Pryor combination had Arguello reeling back to the ropes. The Hawk swooped, unloading a furious volley. Three overhand rights landed flush, one after the other, and referee Stanley Christodolou leaped in with Arguello limp against the ropes.
Ring magazine's 1980s fight of the decade was not bereft of controversy. Periodically, Pryor's trainer Panama Lewis asked for the infamous black bottle, 'the one I mixed', for Pryor to drink from, prompting accusations that an illegal stimulant had been administered. One of the most frightening individuals in boxing, Lewis was later banned after stripping the padding from Luis Resto's gloves before a fight with Billy Collins. Resto went in and nearly killed the guy, landing Lewis with a six year jail term and lifetime ban from boxing. In retrospect it is hard to doubt that Lewis employed some kind of stimulant, but fortunately even harder to doubt that Pryor didn't need it anyway. Demand for a rematch saw one realized, ending in a swifter conclusion – Pryor knocked out Arguello in the tenth – but with his legacy secured, Arguello fought only a further four bouts.
Despite battling drugs and the absence of the limelight, a fate he shared with Pryor, the worst to be said for Alexis Arguello was that his modus operandi epitomized, at one time or another that, of the classic institution of Spanish American 'politics and guns' – the revolutionary Latin liberal – flitting between relevant political loyalties. He was elected vice-mayor of Managua in 2004, on a Sandinista card. Still giving a tremendous amount, Arguello has lost none of the grace or verve of that made him what he was.