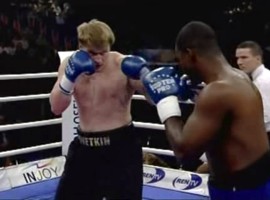 05.06.07 – By James Slater: Twenty-seven year old Alexander Povetkin is far from the finished article at the moment, and it is still way to early to tell if he is capable of one day going as far as reigning as a world champion. But so far, the Russian, who is currently 12-0 (10) has definitely looked like the real goods. Blessed with excellent balance, hand speed, power and the ability to throw a variety of shots, Povetkin looks like a guy who WANTS to fight.
His left jab – a punch he can hook off well also – is sharp and crisp, and sets up his other punches. These include a dangerous looking right uppercut, tasty looking lefts to the body and right and left hooks to the head. Versatility, variety and tenacity are attributes the former amateur star has indeed. The question is, how far can these qualities take him?
We all want to get excited about a young, up and coming heavyweight. A guy who will go on to be a star in the heavyweight division in the coming years. Povetkin reached the very top in his superb amateur career – a career that culminated with a gold medal win at super heavyweight in the 2004 Olympics held in Athens, Greece – can he now get his hands on some gold as a paid professional? He has already done enough, a mere twelve fights into his pro life, to get some people looking his way when searching for the next formidable fighter amongst the big guys.
The six foot, two, 225 pound Russian can certainly fight, in fact his combinations and killer instinct are even somewhat reminiscent of a young Mike Tyson's. And while many will no doubt jump right on such an assertion and claim it is one that is guilty of going overboard, ask yourself this – what other current heavyweight is capable of throwing around twenty or more punches at a time in a single burst? There aren't too many, that's undeniable. Yet Povetkin is able, both from a conditioning standpoint as well as a speed standpoint, to do so.
In his last fight, a two round stoppage of the huge Patrice L'Heureux on the under card of Arthur Abraham-Sebastian Demers, Alexander unleashed such a blistering combo of hurtful and accurate blows. The Russian's fire is without question something that is lacking in way too many of today's lumbering heavyweights. A title fight at the weekend, for instance, featured a huge and intimidating looking heavyweight, incapable of launching more than three or four punches A ROUND!. Clearly, we need some new blood to come along and obliterate any such fighter. It just might be that the non too formidable looking Povetkin is just what we are desperate for.
For while the pale skinned guy with the average appearance might not look like a fighter outside the ring, he is everything a fighter should look like when inside the ropes. This fact was not lost on the man who signed him up one year after he'd captured his gold medal. After waiting a year, time he spent looking for what he felt was the most beneficial deal with which to turn pro, Povetkin signed with Wilfried Saureland promotions and boxed his pro debut in June of 2005. A quite rapid pace has been in progress since.
Fighting on average once every two months, the aggressive minded Povetkin has yet to go beyond six rounds. And while he has yet to face any fighter who he or his handlers would have worried was capable of derailing him beforehand, he has fought some decent opposition – certainly more than respectable enough for a man with less that two years of pro experience under his belt at any rate.
Nigerian, Richard Bango, a second round KO victim in Alexander's sixth fight, had only lost once before – via a sixth round stoppage to "The beast From The East" himself, in Nicolay Valuev. Friday Ahunaya, also from Nigeria and beaten by UD6 in Povetkin's seventh fight, had previously held Dominick Guinn to a draw, had taken Serguei Lyakhovich twelve full rounds and had
lost a technical decision over nine rounds to new WBO champ Sultan Ibragimov. While David Bostice, beaten in two rounds in Povetkin's last but one fight, was good enough to have taken the trio that is Lou Savarese, Calvin Brock and Luan Krasniqi the distance.
Not bad opponents then, for a guy only just starting out. And Povetkin has looked good against these fighters. Seemingly wanting to carve out a reputation for himself as a crowd pleasing fighter, one who has a KO on his mind at all times, Alexander really wants to get in his opponents face and take them out. This is not to suggest he hasn't the boxing skills to come up with a plan B should the stoppage not come, though. For any boxer with the superb amateur credentials the twenty-seven year old possesses will clearly be happy to demonstrate his mastering of the sweet science whenever necessary. It's just that, like any heavyweight wannabe, he is much more impressive and appealing when scoring knockouts – something the Russian prospect seems proficient at.
At least he has done so far. He has yet to box anywhere other than either Russia or Germany, therefore a whole lot of work is still to be done before Povetkin can even think about being accepted by an American audience. I have a feeling bouts on U.S soil will be forthcoming shortly, however. If he fights as well as he has done so far, I'm sure he will be well received, too. Early days are still to be navigated through at the moment, though, of course.
Like I said at the beginning of this article, it's way to early to tell yet. But the future of the heavyweight division just might be in the hands of a twenty-seven year old, unassuming looking guy from Russia.