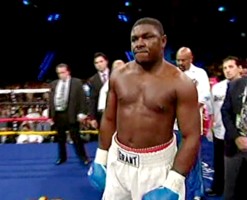 31.05.07 – By James Slater: Everyone loves a big puncher. We boxing fans may appreciate a super-stylish boxer, but a huge, all-out aggression minded banger is something we can admire in an altogether different way. There is nothing like a spectacular KO, the site of one man completely and utterly mastering another by way of a single, crushing blow.
It can happen any second at all when two brave gladiators are in the ring, and both they and us know this all too well. Yet when a recognized puncher, a man known for his ability at landing lots of lethal punches throughout his career is in the ring, this possibility is much more likely. That's why, as a general rule of thumb, history's big punchers have been the biggest money earners/fan favorites. We simply love to see knockouts!
In this article, I give my eight choices for the best punchers in the game today. Why eight choices? Because, in a little touch of daydreaming, I'm going back in time to when there were only eight weight classes in the sport. In other words, the good – non alphabet organization, multi-title, ultra-confusing – old days. From heavyweight to flyweight. Here are my choices for today's hardest hitters.
Heavyweight: Samuel Peter: KO's Scored In career: 22. Most eye-catching KO: KO 2 Jeremy Williams
Light-heavyweight: Antonio Tarver: KO's scored In career: 18. Most Eye-catching KO: KO 2 Roy Jones Junior
Middleweight: Kelly Pavlik: KO's scored In career: 28. Most Eye-catching KO: KO 7 Edison Miranda
Welterweight: Paul Williams: KO's Scored In career: 24. Most eye-catching KO: KO 4 Sharmba Mitchell
Lightweight: Michael Katsidis: KO's Scored In career: 20. Most eye-catching KO: KO 5 Graham Earl (actually a retirement by Earl's corner, but Katsidis' punching power was truly responsible)
Featherweight: Choi Tseveenpurev: KO's Scored In Career: 17. Most eye-catching KO: KO 3 David Kiilu
Bantamweight: Jhonny Gonzalez: KO's Scored In Career: 29. Most Eye-catching KO: KO 8 Mark Johnson
Flyweight: Vic Darchinyan: KO's Scored In Career: 22 Most Eye-catching KO: KO 8 Luis Maldonado