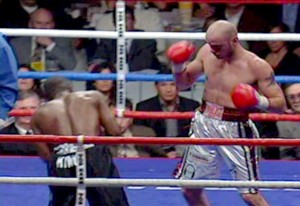 30.05.07 – By Christopher Roche: Brickcityboxing.com – If Jermain Taylor does not fight Kelly Pavlik next, would we want to see Pavlik take on Edison Miranda again? While Pavlik's victory over Miranda was somewhat lopsided, the action was so riveting that a rematch is not out of the realm of possibility. Miranda said he had trouble losing weight for the bout, and he has documented problems with wildness in the ring. If Miranda studies the tapes and makes a few adjustments, he could close the gap on Pavlik. Miranda has a lot of upside, and he always has a puncher's chance and a huge heart.
Pavlik had a distinguished amateur background and is very technically sound. What surprised viewers on HBO was his great chin and extraordinary punching power, even though he has had those attributes his whole career.
Pavlik sort of flies below the radar, and HBO did not help his cause by making their pre-fight telecast "The Edison Miranda Show". After the pre-fight biography, I expected Miranda to be named Time Magazine's "Person of the Year", and Miranda's getting past Pavlik seemed a mere formality, according to HBO. While I did not relish seeing Miranda go down in flames, I was glad to see Pavlik get some overdue respect. Pavlik's name is picking up momentum, and I note that ESPN had him on as an analyst this past Friday for "Friday Night Fights."
Despite his momentum, Pavlik is definitely getting the long end of the lacrosse stick right now from boxing. He has fought two eliminators and is still twisting in the wind with an empty lunch pale. If Pavlik does not get an immediate title shot, I would like to see him flip the middle digit to the sanctioning bodies and secure a rematch with Miranda at a contracted weight. Pavlik would make a lot of money, and Miranda could not complain about his weight. With the right undercard, Pavlik vs. Miranda II could be a moderately successful pay per view event, and I would definitely buy it.
In the last column, I asked why I was so lonely on the Jermain Taylor Bandwagon. I thought I had hit rock bottom…before the Spinks bout.
Well, our bandwagon indeed hit rock bottom, and now we are now digging. I think the only one left with me is my wife, and that is because she is bound to me by the laws of the state of New Jersey and the blessings of Monsignor Frank at Saints Peter and Paul Church. For the record, I am not abandoning ship. I am doubling down on Taylor, in hopes of a superfight (and a good performance) against either Kelly Pavlik or Joe Calzaghe.
Over the years, I have seen some dismal fights. Calzaghe vs. Manfredo, Cotto vs. Urkal and Mayweather vs. Baldomir are three high profile duds that HBO dropped on us in the last year. In the barren heavyweight division, anytime Chris Byrd fights I reach for the duct tape to fasten my eyelids open.
On my all-time list of bombs, Tyson vs. Spinks and Holyfield vs. Douglas were two debacles where one man showed up to fight and the other came in for his paycheck. As far as fights with huge boredom quotients, I rate Pinklon Thomas vs. Trevor Berbick very highly. That title fight, back in the 1980's, was bad enough that my older brother took the remote from me and changed the channel.
Amazingly, on the night of the Taylor fight, the same dynamic happened. I was visiting a friend, who is 100% Irish, and his mother hails from the Emerald Isle. Since the replay of the John Duddy vs. Dupre Strickland bout was being shown locally for the first time, opposite Taylor vs. Spinks, my friend pre-empted the Taylor vs. Spinks love fest after a few awful minutes. I watched the Duddy fight for the second time in two days. The first time I was ringside, and the second time I caught glimpses of myself on Television watching the fight in person. I do not look that great in HD, by the way.
I am probably the only person in America who watched parts of the Taylor fight twice. I watched the recording the next day, although I think I closed my eyes during rounds 8, 9 and 10. After Spinks' ring walk and Taylor's bull rush imitation, HBO should have cut to "Lucky Louie" reruns. I am not sure what is wrong with Taylor, but he looked like his shoelaces were tied together. His trainer, Emmanuel Steward, turned into an HBO commentator in the later rounds, and chaos erupted in Taylor's corner.
"Bad Intentions" had no intentions of knocking Spinks out. Fortunately, the under card was thrilling, and the fans walked away with something for their trouble.
2) Will Miguel Cotto and Zab Judah top last year's thrilling Cotto vs. Paulie Malignaggi bout?
Top Rank is bringing Miguel Cotto back to New York on the Eve of the Puerto Rican Day Parade for a mega fight with Zab Judah. Last year, on the Eve of the Parade, Brooklyn warrior Paulie Malignaggi left everything he had in the ring against Cotto. That fight was one of the best matches of the year.
This year's edition is more highly anticipated. When Judah is right, he is one of the best pound for pound fighters in the world. He has loads of talent, but he has tons of baggage. If we see the Judah who fought the first six rounds against Floyd Mayweather, then we might see Cotto suffer his first loss. If we see the Judah who fought the last six rounds against Mayweather, then we might see Judah expelled from boxing. There is almost no middle ground here.
Cotto is quickly becoming a People's Champion. He is already a hero in Puerto Rico, and he is definitely catching on here in the United States. He won universal praise after he conducted one of his first nationally televised interviews in English, and ESPN turned Judah loose on him, after Judah's appearance on "Friday Night Fights" back in April. Judah talked so much trash at such a rapid rate of speed that I had a hard time understanding him. Cotto appeared to struggle with his response, but he remained calm and cool, and he got his point across that his fists will do the talking. Cotto earned a lot respect for branching out in that interview, and he will undoubtedly earn loads of extra money because he is bi-lingual. His marketability will be increased as he reaches mainstream American audiences.
As for the fight, Cotto is a classic stalker who throws a nasty left hook to the body. Judah is a prolific boxer who has very good power. Originally, when the fight was announced, I felt that Judah would win going away, but you never know how he will react if he faces adversity. I still like Judah in this bout, but as Art Rust, Jr. used to say, "We shall see what we shall see my friends."
Fight I Would NEVER Like to See and Why
Floyd Mayweather, Jr. vs. Cory Spinks
Unless the promoters promised a one million dollar bonus for each punch landed, this fight would break a record for the lowest compubox output.
Fight I Would Like to See and Why
James Moore vs. Pawel Wolak
Pawel Wolak
This would be a New York City barnburner with international appeal. Irish vs. Polish, right here in America. Both men have great fan bases, and they are both undefeated. Two straight-ahead fighters with maximum intensity would please any crowd, and Moore and Wolak have the chops to deliver.
James Moore
I interviewed Moore a few weeks ago, and he specifically called for this fight. I am sure Wolak would accept the challenge, as he does not back down from anything.
Quote of the Week
"No problem man."-Roger Mayweather
That is about the only sentence without a swear word that I can quote from an entertaining, but expletive riddled interview that "The Black Mamba" gave to John Martinez of boxingrealm.com , boxing247.com and brickcityboxing.com.
The full interview appeared on May 21. If you are over 18, or accompanied by an adult, you should check it out.
Injustice of the Week
Former contender John Brown being a last minute replacement on ESPN's latest edition of "Friday Night Fights" against Lamont Peterson. Brown got a call on Wednesday for the fight, two days after his mother died. He had to go to his mother's funeral on Thursday and then make the drive to Washington D.C. for the fight the next day. Brown obviously had no chance of winning, and he fought at the heaviest weight in his eighteen-year career.
It is stories like those that make one wonder why boxing cannot streamline its matchmaking process. Pointless fights like that one should be avoided, especially when they are on national television.
Non Boxing Thoughts
One of my favorite days of the year is the Sunday before Memorial Day. On that day, nearly 1,100 miles of auto racing are always scheduled, in the form of the Indy 500 and Nascar's Coca-Cola 600, and unlike the Monaco Grand Prix, which is a premier event in its own right; there were no allegations of team orders.
The drama of the Indy 500 is incredible, and this year was no exception. The race suffered a long rain delay, and then when they got going again, strategy came into play. Ultimately, Scotland's Dario Franchitti won the race by staying out on the track until the rain came down again. The race was shortened, and Franchitti was awarded his first Indy 500 victory.
The Coca-Cola 600 came down to crashes and fuel mileage. Top contenders such as Jeff Gordon were taken out early, and others such as Dale Earnhardt, Jr., Jimmy Johnson and Tony Stewart had to stop for gas a few laps short of the finish. Casey Mears stretched his fuel for his first win. Sentimental favorite Kyle Petty brought his car home third in the Charlotte classic.
It was great day of racing, and I cannot wait until next year.
Non Boxing Thoughts II
Chuck Liddell, UFC Light-Heavyweight champion and recent guest star on "Entourage", was knocked out cold by a running right hook from Quinton Jackson. I have to believe this match was a letdown for the UFC, considering all of the hype and money that went into this bout. I hear a lot about how UFC is very action-packed, and unlike boxing, there are no bad matches. If that bout were my measuring stick for watching UFC, I would never watch it again. Liddell did not want to engage, and when he did, he was knocked out by one punch.
Can anyone say "Tyson vs. Spinks"?
Non Boxing Thoughts III
Memorial Day Weekend is marked by Fleet Week in New York City. Sailors and Marines converge on the City. They are seen in bars, restaurants and all over the streets. Last Friday, a friend relayed a great story about a colleague of his who was out at a bar in the Sutton Place area of Manhattan Thursday night. The colleague began drinking with some U.S. Marines, and when it came time for him to leave, he left his credit card with the bartender and said he would return the next day for the tab. He instructed the bartender to leave the tab open until the Marines were finished.
One of my younger brothers is a former Marine, and when I told him the story, the first words he said were, "Obviously that guy never drank with Marines before!"
We are very proud of our men and women in uniform, especially given everything that transpired in New York nearly six years ago.
Reader Submissions
Brickcityboxing.com will be taking reader submissions and answering them in this space. Please e-mail me at chrisrockk@hotmail.com with questions and commentary, and we will include as many as we can. Please include your first name and hometown for publication and type the word "Column" in the subject line; otherwise, we will not publish it. Also, please no attachments or pictures, as we will have to delete them.
*The title of this column alludes to the premier novel of the twentieth century, and it is written by Ernest Hemingway. Hemingway often spoke highly of the sport of boxing, and he participated as both a fighter and a referee. Every other week this column will humbly pay homage to the man who helped glorify the fight game back in its early stages. With a little hard work, the Sun Will Rise Again for Boxing, as together we can restore the sport to the top, one fan at a time. Thank You for reading our column.
The next edition will appear on June 12, 2007.