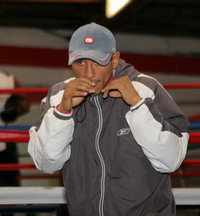 28.02.07 – Photos: Joe Miranda – IBF/IBO champions Rafael Marquez (bantamweight) and Vic Darchinyan (flyweight) participated in open media workouts Tuesday as they finalized preparations for their upcoming world title fights Saturday, March 3, at The Home Depot Center in Carson, Calif. In one of the most highly anticipated match-ups in years, Marquez will step up a notch in weight and challenge WBC and The Ring 122-pound champion Israel Vazquez in the main event on SHOWTIME CHAMPIONSHIP BOXING (9 p.m. ET/PT delayed on the west coast).
The showdown between two of boxing's most exceptionally talented and exciting warriors at the peaks of their games will be promoted by Gary Shaw Productions, LLC, and Romanza Productions, and Sycuan Ringside Promotions and Golden Boy Promotions. In an excellent co-feature, undefeated hard-hitting Darchinyan defends against former IBF champion and current top contender Victor Burgos.
Tickets, priced at $25, $50, $75, $100, $150 and $200, are on sale at TicketMaster outlets and on-line at TicketMaster.com. They also may be purchased at The Home Depot Center box office from 10 a.m. to 6 p.m. Monday through Friday and on Fight Day beginning at 10 a.m..
RAFAEL MARQUEZ
"I wish it was Saturday because I am ready to fight now. I am really calm but very excited.
"People are making too much out of the fact that there is a four-pound difference between us. Everyone has known for a long time that I was moving up to 122. Vazquez may be a natural 122-pounder, but right now I feel very strong. I may be stronger than Vazquez.
"But because he is naturally bigger I know that I will have to fight very intelligently.
(more)
2-2-2
Marquez-Darchinyan Open Media Workout Quotes – Feb. 27, 2007
"Pressure wise, there is none. What you have are two great warriors in the ring. I know this will be a very exciting fight for the fans.
"I am very confident, but this will not be an easy fight.
"I cannot concern myself with what is going on with Vazquez and his trainers. It doesn't matter to me who trains him. What I have to do is take care of business in the ring.
"I have the greatest respect for Vazquez and what he has accomplished. He is a true world champion. But I am fighting for his title March 3 and I will take it from him."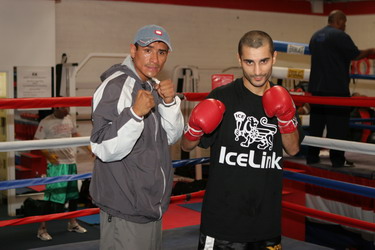 VIC DARCHINYAN
"I am still very upset about the way my last fight ended. It should have been a knockout victory for me, not a victory by technical decision. I still want to get that changed.
"After I knock out (Victor) Burgos, I am going to continue to pursue getting the result changed to a knockout.
"Knockouts are very important to me. I don't want to win decisions.
"I know I have the kind of power and strength to fight my style from the first round to the last. No one in my weight class comes close to having the kind of power I have.
"When Burgos goes down he better stay down or he is going to take a beating."