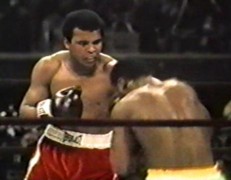 26.02.07 – By Bob Webb: The whole world knows the name, Muhammad Ali, the self-styled boxing Greatest. But even Ali himself acknowledged that the title he awarded himself was not the real thing and that the accolade, The Greatest of All Time, belonged to another. In this short series of articles I will put forward arguments for both sides, attempt to reach a conclusion and then leave it to the readers to draw their own.
As ever, when comparing fighters of different eras to decide who was the better who never faced each other in the ring and, in fact, had no opponents in common, it is an impossibility to be absolutely sure one way or the other, but it doesn't stop us all trying. One thing is certain; I will only briefly touch on the possible result of a mythical boxing match-up between these two Heavyweights with their giant reputations. Whether the hypothetical result tells us anything meaningful about their relative merits – which I dispute – we will, anyway, simply never know.
To illustrate the irrelevance of such a contest, I point to "Frazier beats Ali beats Foreman beats Frazier beats Ali, ad nauseum" chain of events.
Instead, the only sure-fire analysis is that of their respective records, the quality of heir opponents, their longevity, their punch ability, their chin and conditioning and a further look at their skills. And it would be a hollow verdict if I didn't look closely at their heart and mental strength, inside and outside the ring.
I have selected these two fighters above all else for their dominance during long title reigns. Therefore, I have relegated Rocky Marciano and his unimpeachable record below Ali and Louis simply based on his relatively short reign. In selecting these final two, I have also ignored anyone from the latest eras of Heavyweights who could gain admission, some would argue, on the strength of their relative size compared to these two gentlemen. That they could or should be considered on that basis alone, that Vitali Klitschko would have beaten any Heavyweight in history, for example, simply because he'd have outweighed them, is a weak and self-defeating argument: if Sugar Ray Robinson were judged on that basis, he would never be considered the greatest fighter in history, Pound-For-Pound. Conversely, on a Pound-For-Pound basis, Jimmy Wilde would have knocked out Vitali Klitschko in less than a minute. I'll let that one sink in.
So, having tossed a coin for corners, to speak, the first up is the inimitable "Brown Bomber", Joe Louis Barrow. Here we go, round 1.
Joe's record
69 wins, 55 KO's, Lost 3, 2 by KO.
It's a remarkable record by any standards. Two of his losses occurred after the come-back from his initial retirement.
Longevity
A simple matter of checking the record books: Joe Louis was World Heavyweight Champion from June 1937 when he beat Jim Braddock, to March 1949 when he announced his first retirement, three months shy of a 12 year reign. Due to his war service, from his March 1942 defense against Abe Simon to his June 1946 meeting with Billy Conn, he defended just once against one Johnny Davis, but the defense was not universally recognized as being for his World title. So, he had pretty much a 4 year total of inactivity during the (U.S) war years.
Of course, you can't keep a good man down, especially when the IRS demands every penny you've got left, and after retiring and seeing his old title go to Ezzard Charles, he returned after a two year absence to challenge Charles, losing by a wide unanimous decision to the Cincinnati Cobra in Yankee Stadium, New York in September of 1950. Still in debt to Uncle Sam and noticeably not the fighter he once was, he continued to fight through 1950 and 1951, racking up wins against, amongst others, Jimmy Bivins and Lee Savold until his date with destiny at Madison Square Garden and the man they called the Brockton Blockbuster, Rocky Marciano, in October 1951. I was born 12 days earlier but I managed to miss the fight. Following this crushing loss to the young Rocky, Joe retired for good. He'd been wrecked
Class of Opponents
I've heard it said, so it must be true. Joe Louis fought and defeated the following former or future Heavyweight World Champions: Primo Carnera, Max Schmeling, Max Baer, Jim Braddock, Jersey Joe Walcott (twice) and Jack Sharkey. In addition he lost to future champion Marciano and reigning champ Ezzard Charles. So, there are plenty of them there but the quality is exceedingly mixed with only The Rock making it into a top 5 of all time. Prior to Louis's title reign and following the Tunney and Dempsey era, I contend that the 1930s was just about as weak as it got so Joe's defences against World Champions doesn't qualify by itself as a particularly outstanding record. Where Joe scores highly is his dominance throughout his career and his incredible total of successful defenses, 26 in all including the 1944 one against Jimmy Johnson mentioned above.
Notable other opponents included Welshman Tommy Farr in his first defence; Lou Nova; Jimmy Bivins; Billy Conn (twice); Buddy Baer; Abe Simon (twice); Arturo Godoy (twice); "Two Ton" Tony Galento; Bob Pastor (also twice); and Tami Mauriello. All of them were contenders of sorts; none of them were expected to trouble Louis. Several did, the most remembered being Light-Heavyweight, Billy Conn, who was leading Louis on points going into the 13th when he decided to forget the boxing and movement that had served him so well for the previous 12 rounds and started to trade with Louis. The result was a shattering stoppage by the Champion, a feat he repeated in much easier fashion in a return 5 years and one day later.
And that was the Joe Louis strength. He was one of the great return fight artists. Never made the same mistake nor let an opponent fool him twice.
Incidentally, the fight against Tommy Farr was not as close as the good folk back home in the valleys of South Wales thought it was as they heard it streaming from their radios in the early hours. A certain patriotic edge to the commentary colored their judgment that night but Tommy's performance against the all-conquering Champion from Detroit was outstanding.
And let's not forget the Louis 'Bum-of-the-Month' campaign. I'm told it was a myth. I've read that it was a hop across America and that is partly true. What is certain is that between December 1940 and June 1941, Joe fought and defended his title 7 times, one a month. Were they 'bums'? No-one's a 'bum' who gets in the ring, as far as I'm concerned, but it made good copy and helped cement his legacy. They were no worse than Ali's defenses against Jurgen Blin, Al Lewis, Richard Dunn nor Brian London. They were the remains of the Heavyweight picture once the top contenders had been summarily (mostly) dealt with.
Chin
Chin, whiskers, beard, punch resistance, call it what you like, it might appear at first sight that Joe Louis had one of the worst in Heavyweight history. But he was KO'd only twice: by crafty old Max Schmeling in 1936 at Yankee Stadium when Louis was the up and coming fighter and by Rocky Marciano as mentioned above. Yet Joe Louis was on more than kissing terms with the canvas throughout his career. I have a total of 14 documented knockdowns against the Brown Bomber between and including the Schmeling and Marciano defeats. There's only one other Champion who compares in those stakes and that's Floyd Patterson with 20 documented knockdowns against him. Floyd was reckoned to have a glass jaw to end all glass jaws: Joe Louis managed to get away with it. Go figure.
Punch
Joe Louis was most famous for his jab, short hard and accurate. Everyone since who has an outstanding jab is considered against Joe Louis's. It broke up opponents and allowed him his fearsome combinations. His left hook was lethal and he was equally effective with his right. He was a punching machine. Ring Magazine ranked him as Number One Puncher of all time. Whether he deserves that accolade, he certainly qualifies for the most economical puncher ever.
Knockouts
55 KO wins, the most famous being the return against Max Schmeling, a short, vicious beating of the former champ in 2 minutes, 4 seconds of the first round. Having lost in humiliating fashion to Max two years earlier, Joe had then claimed the title from the Cinderella Man, James J Braddock. But true to his nature, he had to beat Schmeling before he considered himself the champion.
Like Ali, Joe's KOs were often achieved after several knockdowns of his opponents, which doesn't suggest pulverizing power, but more accuracy, timing and speed. Out of 27 fights for the World title, he scored 23 KOs.
Stamina and Conditioning
Strange, isn't it, that one hardly ever hears discussions regarding this part of a fighter's make-up in reference to the old-time guys, even Heavyweights. Its lack is primarily a modern phenomenon – so much for so-called improvements in training and nutrition. On the other side, some had it in spades, such as Rocky Marciano. Some just had it, and there was never a question mark over Joe Louis.
Defense
To be totally honest, there's no safe conclusion regarding Joe's defense but consider his trips to the canvas. Was it a lack of defense or a lack of chin? After all, even Ali got hit. It's up to you. The fact is that he spent a lot of time on the canvas and his first KO loss to Schmeling was due to Joe's habitual dropping of his left hand following his jab.
Mental Strength
To overcome the natural disadvantages at that time of his color and background, Joe had to have an over-riding resolve to make it to the top of the hardest profession. As the first black contender and champion since the infamous days of Jack Johnson, Joe Louis had a mountain to climb. With an iron determination, he swallowed any resentment of the white dominated society and sport he found himself in; refused to let his race be an issue and he overcame society's prejudices with a steely dignity and a public show of humility – I just can't wait to compare Ali! And to cap it all, he prepared himself single-mindedly for his revenge against the first man to beat him and he destroyed – there's no other way to describe it – Max Schmeling in the return. Joe Louis was not a man to lie down.
Speed and Reflexes
"Shufflin'" Joe Louis was neither quicksilver nor close to it. His hand speed was very good for a big man but he was no dancer in the Ali mold. The speed of his combinations though was impressive and once a man was hurt he would land his punches with a devastating accuracy from close range. However, once again, his numerous trips to the canvas might indicate a man whose defensive reflexes weren't one hundred percent perfect by a long shot. As I've said, either his chin or defensive technique or reflexes were suspect, and that is a big question mark over this particular finalist for the title Greatest Heavyweight of All Time.
Next time it's Ali.
If you'd like to contact the author of this piece, email: raw999@tiscali.co.uk