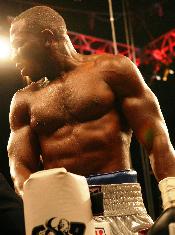 24.10.05 – By Wray Edwards, Photo (copyright) Wray Edwards — The last time we saw Jeff Lacy was in Tampa at the Jones-Tarver posing contest which was strangely held in a boxing ring. He was out front signing autographs and hanging with his homies. He had a ready smile and plenty of time to spend with his friends and fans. The talk then was of hunting down Joe Calzaghe and his fans in England. Since then Jeff's management has been working to keep their champion busy and tuned up. The current target of opportunity is Scotty Pemberton. The following quotes from the two fighters are courtesy of Shannon Johnson of Caesars Tahoe:
STATELINE, NV. — The long and winding path to superstardom is quickly approaching its zenith for talented, undefeated Jeff "Left Hook" Lacy, who will defend his IBF and 1B0 super middleweight titles against IBF No. 5 contender Scott "The Sandman" Pemberton on SHOWTIME CHAMPIONSHIP BOXING Saturday, Nov. 5, 2005, at 9 p.m. ET/PT (delayed on the west coast). Gary Shaw Productions, LLC will promote the event from Caesars Tahoe in Lake Tahoe, Nev.
"I go into every fight with the same mindset and that is to put on a good show and, most importantly, to win," Lacy (20-0, 16 KOs), of St. Petersburg, Fla., said. "For me, it is all about winning."
One of the best and most feared pound-for-pound fighters today, Lacy will make his 14th SHOWTIME appearance and fourth defense of the IBF belt he won with an impressive eighth-round TKO over Syd Vanderpool Oct. 2, 2004. Most, including Lacy, thought his next fight would be against fellow unbeaten Joe Calzaghe in a world title 168-pound unification bout. However, Calzaghe reportedly suffered a broken hand during his unanimous decision win over Evans Ashira on Sept. 10, putting that fight on hold.
"I am concentrating on Pemberton and nobody else," Lacy said. "This is going to be a great fight. There is no way I will underestimate him, or anybody who wants what I have. He is a really good fighter. We both fought Omar Sheika. He stopped him. I did not. The fans are going to be treated to a tremendous action fight."
The first 2000 Olympian to capture a world title, Lacy successfully defended his crown in smashing fashion in his last start and his first before the hometown fans in Tampa/St. Petersburg, Fla. In perhaps a career-best performance, Lacy dropped Reid twice in the fifth and once in the sixth and seventh rounds. He was ahead, 70-57, on all the scorecards at the time the bout was stopped. In Lacy's other title defenses, he registered a hard-fought 12-round unanimous decision over Sheika (117-111 and 115-113 twice) on Dec. 2, 2004, and an exciting seventh-round TKO over Rubin Williams in a fast-paced, terrific skirmish on March 5, 2005.
One of nine children, Lacy and three of his siblings were raised in St. Petersburg by their father, Hydra. A former boxer, Hydra competed in the 1968 U.S. Olympic Trials and went 13-4-1 in the pros. Jeff, who went 209-12 in the amateurs himself, won numerous competitions and made it to the second round of the 2000 Olympics.
Pemberton (29-3-1, 24 KOs), of Fair Haven, Mass., will enter the ring as the International Boxing Union (IBU) and North American Boxing Federation (NABF) 168-pound titleholder. This will be his first appearance in a world title bout.
"I welcome a fight with Lacy," Pemberton said. "He is a warrior and I am a warrior. It will be great. I have been to two training camps this year, one for a proposed third bout with Sheika earlier in the year and one recently for a proposed fight with Danny Green. So, I know I am sharp and will be ready. I personally do not think Lacy has fought anyone that can hit as hard as I can."
"This is not only a boxing match, it is an event," said Pemberton's promoter, Jimmy Burchfield. "We have so much respect for the champ for taking this because they could have taken an easier one. Pemberton is the hottest puncher in boxing. Lacy has never been in with anyone who can hit as hard. Styles make fights, and if they fight to their full potential, it could be the fight of the year in 2005."
Pemberton captured the IBU crown on March 21, 2003. The following July 25, he claimed the NABF belt with a 12-round split decision over Sheika (scored 114-113 twice and 111-116). He followed that performance with a stunning 10thround TKO of Sheika in a rematch on Jan. 23, 2004. Both slugfests were "Fight of the Year" candidates.
"I do not go into a fight thinking I am going to knock anyone out," Pemberton said. "I get into the best shape possible and do the best I can. I never go looking for the knockout. I never thought I would knock out Sheika."
A winner of five in a row, including the last three by TKO, Pemberton will not be in with a total stranger on Nov. 5.
"I sparred with Lacy in Big Bear, Calif., a few years ago," Pemberton said. "He is a great fighter and a dynamite guy. I like him, but that will not affect the fight. You can be best friends, but when you step into the ring, it is all business."
Before turning pro, Pemberton was in the United States Army stationed in Fort Bragg, N.C. While serving, he was a stinger, a gunner, and part of the 82 airborne. Pemberton made his professional debut in Providence, R.I., on Oct. 26, 1994, with a first-round TKO over Manuel Feliz.
In the co-feature, LBF Bantamweight Champion Rafael Marquez will defend his belt for the sixth time when he takes on International Boxing Organization (180) 118-pound Champion/IBF No. 1 contender, Silence Mabuza. Originally scheduled for Oct. 1, this title bout was postponed on Monday, Sept. 26, when promoter Gary Shaw reported that Marquez became ill during fight week.
East Side Boxing will be at the ringside for this contest. As the altitude is above six-thousand feet, it will be a greater than normal test of conditioning. Though Jeff appears to give some deference to Scotty regarding their respective performances against Sheika, he has gained in confidence and ability since those contests. His defeat of Reid, who was in great condition, was good prep for the Pemberton fight. Scott is also older also, but still has more shocking power than Reid.
With a six inch reach advantage, and some four or five inches advantage in height, Scott might play his Corrales against Lacy's Castillo. With ten years of age over Lacy one wonders whether maturity may help with the raw inclinations of Lacy. Jeff's defenses are a bit thin at times, but his recent sparring with his friend Winky in or near the ring, is rumored to have been somewhat inclusive of more attention to not getting hit.
Beyer and Kessler might be able to run interference for Calzaghe long enough for him to retire. Jeff's potential certainly would cover any bets he might want to make at Light Heavy…should Joe continue to rabbit. Tarver would not get the tentative pass from Jeff that he recently enjoyed from Roy. In fact Pemberton makes a good metaphor for a fight with Antonio, and the bucks for a Tarver-Lacy match would be considerable.
Jeff has not lost, and is motivated to win as well as to defend the goose-egg. For his weight division he is right on track to establish a solid career for the next five years. Scott has his first solid shot at a title, which is the biggest carrot of his career. Pemberton's wars with Sheika are harbingers of caution which Jeff would do well to pay heed. Both men are honorable and dedicated fighters with the fire edge to Jeff and the finesse edge to Scott. Both are powerful should leave it all in the ring. See you at the fights.