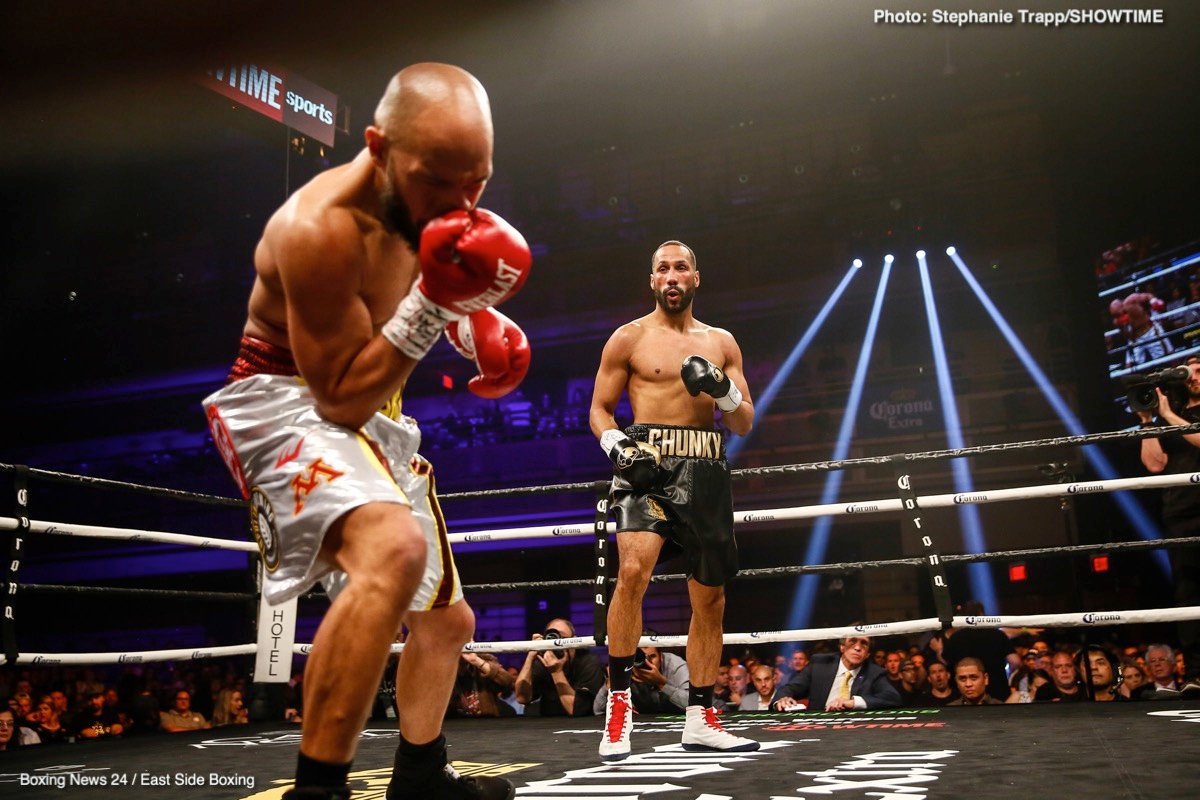 Twice now, super-middleweight warriors James DeGale and Caleb Truax have battled it out. Upset king Truax scored first blood, winning a wholly unexpected decision back in December, while last night in the return, a bloody DeGale scored a revenge win. The action last night was somewhat messy, with far too much holding and wrestling going on.
There were, too, some quite nasty-looking head-clashes (some might say deliberate head-butts – two from DeGale, one from Truax). It was a hard clash of skulls that opened a terrible cut above DeGale's right eye (a cut that DeGale said post-fight robbed him of his vision from the third-round on), while Truax, who was cracked by DeGale's nut earlier in the fight, twice, was lucky not to have lost some teeth. Truax, however, spilt some blood of his own later in the fight when he too was cut, above both eyes.
Referee Robert Byrd didn't have a great night, being far too slow in breaking the two men up and then, quite surprisingly, taking a point of DeGale for "illegal use of the shoulder" in round-ten. This point deduction could have proved crucial, but thankfully it did not. In terms of the official scoring, one of the judges had a bad night, too: 117-110 being far, far, far too wide; the two scores of 114-113 being more realistic.
Still, at the end of the fight both men felt they had done enough to have won the gruelling, tough and ageing war.
What next for both men? A third fight is a distinct possibility, as DeGale, 24-2-1(14) said post-fight – "If you want to see it again, we can do it," the now two-time IBF 168 pound champ said.
Truax, 29-4-2(18), who again pushed DeGale hard, hard, hard, said afterwards how he felt "flat," and the older man by a couple of years would no doubt jump at the opportunity of a third fight with the 32 year old southpaw. How much has DeGale got left? How much has Truax got left? Chances are, if these two do rumble in a rubber-match, the two will pretty much finish each other off.
Maybe DeGale, a fighter who, though accomplished, promised much more after winning Olympic gold all those years ago (at least it seems a long time ago; DeGale really having had a long, eventful, hard and up and down pro career since) wwould be better off targeting the July winner between countrymen George Groves and Callum Smith.
For now, both DeGale and Truax deserve a nice break.