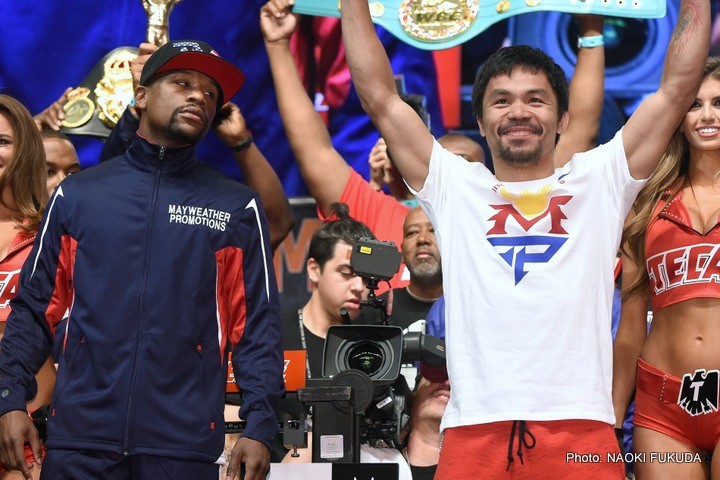 Today's the day! Greater than 5 years in the making, hundreds of thousands of articles dedicated to this one topic during the length of that time, and millions of social media comments posted to critique each one of them. At long last, the day of reckoning is finally upon us!​ With only a few hours before the bell sounds, we take a look at keys to victory, a few critical elements which will inevitably tilt the scales one way or the other, and an official prediction:
FLOYD MAYWEATHER – KEYS TO VICTORY
Many will look at the height and reach advantage and automatically assume that Mayweather can dictate the spacing. With Pacquiao being incredible at pouncing and closing the distance, and Mayweather no longer moving as much as he once did, it's conceivable to see Pacquiao being overly aggressive to exploit this part of the matchup. That said, Mayweather will need to have a sharp jab, and a sharp mind. If Mayweather can control spacing and avoid combinations – which have an effect on the judges – he can make this fight easier than many think. Swift jab, swift decisions, swift reactions, and it's just another day for 'Money' May.
MANNY PACQUIAO – KEYS TO VICTORY
Intelligent aggression. Those two words can single-handily change the dynamics of this fight in a way that Mayweather may not be able to overcome. Standing at a modest 5'6″ with a limited 67inch reach, Pacquiao is used to facing opponents with greater length and height. That said, none have possessed the level of skill and accuracy of the man he'll stand across from tonight. Pacquiao will have to look for those brief pauses or moments of positional vulnerability and attempt to land as much as possible. He won't land many jabs and he won't find his target as easy as he normally does. He will have to know this coming and fight with patience and intelligence to find a path to victory.
FOUR TO EXPLORE (CRITICAL THOUGHTS TO PONDER)
(STYLES MAKE FIGHTS): Both men have been so dominant, neither has ever really lost multiple rounds at one time. In the case of Mayweather, ring intelligence combined with other amazing attributes have rarely allowed him to fall behind on the cards. In the case of Pacquiao, speed of hand and feet have made many nights complete, as few opponents have had the answer to compete. Two dominant styles, but only one chance to impose their will. Will it be the heavy work rate, or the unlimited skills?
(ROPE-A-DOPE)?: Conventional wisdom says Mayweather is the ultimate counter puncher, while Pacquiao is the ultimate aggressor. Preparation will make it hard to see a situation where either is able to use those great strengths of the past to find a path to domination in the present. When we consider this, it becomes very interesting to know which man will be able to find a way to win doing something that isn't as comfortable for them. Pacquiao can be very dangerous as a counter-puncher, but most feel Mayweather can't win on the ropes. Could Mayweather shift this thought process by lying on the ropes to make Pacquiao a more stationary target and actually hurting him from that position?
(7th HEAVEN): It's very difficult to build a lead against either man on the score cards because of their dominant natures. Pacquiao has been out-boxed by a hand full of opponents, only to balance things out with his ultimate equalizer (the knockdown). To win, one of these men will need to score the edge in 7 rounds or more. Few have considered that Pacquiao can again be out-boxed, yet tip the scales on the cards at the hands of a timely knockdown or two. Does Mayweather touch the deck? And if he does, can he still win and earn our respect?
("MOMENT OF IRONY" or "MOMENT OF TRUTH"?): Many of life's messages present a level of irony that most will never understand. On the evening of May 7th, 2005, Diego Corrales stole victory from the jaws of defeat by winning arguably the best fight in the history of the sport against Jose Luis Castillo. Two years later on the same night (May 7th) his life would be tragically ended in a motorcycle accident. Then there's the case of NBA Hall of Famer Alonzo Mourning who was stricken with a life threatening kidney ailment. On December 19th, 2003 he received the best gift of his life when he received a new kidney from a cousin who was a match. Fours years later on the same date he would be carried off the court after tearing his patellar tendon in his right knee. An injury that prevented him from ever being the same.
In the case of Manny Pacquiao, 6 years ago on May 2nd, he earned one of his greatest victories ever by stopping Ricky Hatton in the 2nd round. The trainer in Hatton's corner? Floyd Mayweather Sr., who was rendered helpless at the hands of Pacquiao's wrath. 6 years later, tonight on May 2nd, Mayweather Sr. will again be in the opposite corner. The common thread is not only the date, but the fact that it was against the same fighter whom Mayweather stripped of perfection, giving him his first loss. Does this trend shift like the other examples of Corrales and Mourning? Or will Pacquiao's dominance repeat itself?
OFFICIAL PREDICTION (UPSET BAROMETER: 1 – 5)
The moment of truth is here. All the talk, the accusations, all the buzz, has culminated to this very moment. Once the bell rings, contrary to what most believe, this fight will actually live up to the hype. Ebbs and flows are inevitable, as both men will do everything possible to keep it as close as possible, giving themselves a chance in the end. There will be a moment of shock. What that moment will be remains unknown. Mayweather could touch the deck and be forced to fight Pacquiao's fight, or Pacquiao could taste enough right hands early to take the fight out of him late. But something will not go as planned.
The greatness in this epic battle all lies in the question relative to which man will go further to prove their greatness. We've never seen Pacquiao do anything fight til the bitter end. We've never seen Mayweather do anything but try to dominate from the beginning. It's safe to say we've seen the best of Pacquiao. But in Mayweather lies an elevator that reaches many levels, some in which many think we've never seen. There's always been a train of thought that says Mayweather has more tools in that proverbial 'tool belt' than he'd ever have to use. If he needs the hammer, he uses the hammer. When he needs the wrench, he grabs the wrench.
The greatest moment of his career has to be the precise moment where all of those skills, as well as a few previously unseen find a way to surface. Mosley gave us a glimpse into Mayweather's toughness. Cotto showed us a glimpse of Mayweather's resolve. A cut over the eye against Maidana (first fight) presented us a glimpse into will. And the speed of Judah once gave us a view of Mayweather's patience to overcome. The danger in Pacquiao will summon Mayweather's absolute greatness in its totality. And similar to Canelo and Cotto, he could very well fight the fight no one ever imagined by stepping into the lions den and gunning straight from the hip, right from the pocket.
MAYWEATHER VIA UD – 7rds to 5rds (UPSET BAROMETER: Peaks at 5 of 5, as a knockdown could tip the scales)
(Tune in to "Left-Hook Lounge Radio" at 530ET for the final radio broadcast prior to the first bell. Vivek "Vito" Wallace can be reached at 754.307.7747, Twitter (@lefthooklounge1), and Instagram (ViveksView).