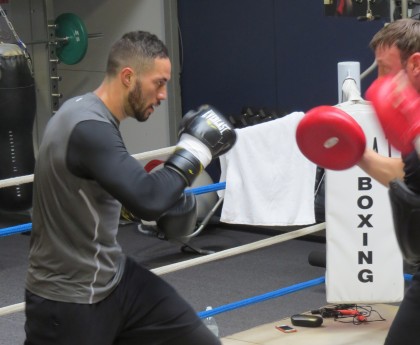 Eastside Boxing gets an invite into Joseph Parker's training camp as he prepares for his October 16th fight with Sherman 'The Tank' Williams.
Driving through this low key industrial estate in East Auckland there are no neon signs or flashing lights that scream out boxing gym and that is just how Coach Kevin Barry prefers it. Like a mirage in the desert, housed out the back of contracting company is a small purpose-built boxing gym built by the company's owner and personal friend of Barry.
It is a place free of distractions and allows Team Parker to get down to the business of work uninterrupted. However if anyone were to walk through the doors the exertion being put in is obvious. You can see it as the young fighters are put through their paces watched intently by their trainer. You can hear it with every thud of the heavy bag or crack of the mitts and you can definitely sense it as the air vibrates around them.
Although it has been somewhat trivialised by Floyd Mayweather in recent All Access episodes, where the boxing gym is made to seem more like a hangout spot akin to a recreational club, it would be foolish to assume that this is the case. Floyd is known to put in longer and more arduous amounts of training than any fighter in the business, but like a world class illusionist he is at pains not show you that part, not to show you how me actually performs the trick lest it ruin the illusion.
We are lucky enough to have been invited by Joseph Parker and trainer Kevin Barry to come and witness the last stretch of Joseph's training routine as he leads into his fight with Sherman 'The Tank' Williams on October 16th. And also of course to chat to the fighter himself, to capture a sense of what goes through a fighter's mind as they wind down camp in preparation for the fight proper.
However just before training starts in earnest there is time for a practical joke. Coach Barry instructs Joseph and chief sparring partner Izu Ugonoh to don black plastic bin liners over their heads for a drill Kevin refers to as 'sweat boxing.' Knowing Kevin studied under the late great George Benton I wonder if this is some long forgotten old old school technique that was passed down to him. I even wonder if he is experiencing his own Karate Kid, 'Mr Mayagi moment' as he barks out instructions to the fighters such as "listen to the footwork" as they punch away in darkness.
Perplexed and blank faced I am on the verge of referring to him as Sensei Barry when both fighters remove the bin liner's from their heads and dissolve into laughter, as I realize I am on the receiving end of a pretty funny practical joke. It seems 'sweat boxing' won't be taking off anytime soon.
And this is the predominant mood in the gym. The team around Parker look relaxed the vibe one of quiet confidence. Yes technically fights are won in the ring, but we also know they are won in the preparation put in beforehand, that the physical and mental aspects have been honed through countless hours in the more secular and solitary environment of the gym.
When one thinks of the preparation a fighter endures a couple of quotes can't help but pop into my head. One comes from the great Bruce Lee, "I fear not the man who has practiced 10,000 kicks once, but I fear the man who has practiced one kick 10,000 times." And perhaps surprisingly the second quote comes from none other than the Fresh Prince of Bel Air himself, Will Smith. "Skill is only developed by hours and hours and hours of beating on your craft."
One gets the sense looking around this most primitive of work places that this a happy team because they know they've put in the work. I ask Joseph how camp has gone for this fight and how hard is it to push yourself when there is only you and your trainer for company. No bright lights, no cheering audience. What goes through a fighter's mind as the trainer is pushing them harder for another set of drills or another round of sparring that the fighter doesn't think he has in him?
The answer is only one word yet an illuminating one.
"Family."
As we continue to chat he does expand a little further about the challenges of training to fight but family and home are the predominant themes that punctuate our conversation. One gets the feeling talking to him that there is a bigger picture in play.
His upcoming opponent Sherman Williams is one of boxing's wittier and more irascible characters. He was originally slated to fight Parker in April of this year on the undercard Wladimir Klitschko/Alex Leapai title fight. Williams at the time was one of Klitschko's chief sparring partners and was thrown out of camp by Team Klitschko for allegedly turning up out of shape. However it wouldn't be boxing if Williams didn't have his own conflicting narrative for the events that unfolded, claiming his dismissal was due to over performing and giving the champ too many hard rounds. Either way as collateral damage Williams walked away from the fight with Parker, prickly at the treatment from Klitschko and with a chip on his shoulder. Having the opportunity for a second crack at Parker and more time to prepare he has vowed not to waste it and likes his chances as a live underdog to tip over the young contender and spoil the storyline.
The obvious goal for Parker and his team is the win, but what else? Clearly in such a short career the other primary objective will be to also get in some rounds, something Parker's camp hoped to achieve in the past when fighting durable veterans Frans Botha and Brian Minto. Botha only lasted two rounds while Minto although going seven hardly fired a shot in protest, so dominant was Parker's performance. This time around Parker will be looking for someone who fights back, who will test his will and resolve as well as his fitness and stamina. Someone who can extract a professional performance from a professional athlete.
Williams is nothing if not durable, a fighter who has only been stopped once (in 1999) in a 51 fight career that stretches all the way back to 1997. Having fought and sparred with fighters that possess all of the size and power that Parker does I ask Coach Barry what is the one thing that Parker brings that Williams won't have seen in his long career. He points out the obvious, Parker's speed but also adds, without wanting to give too much away that "we hope to show the old a dog a few tricks that he hasn't seen yet."
Aside from those few tricks though, looking at Parker hit the bags the speed is an attribute amongst many attributes that clearly shines through. As we know some things in boxing can be trained and cultivated: Footwork, endurance, punch selection and even to some extent power. However speed is God given. Like the lone gunslinger standing after a shootout at the OK Corral, speed is all about whose hands move the quickest. As any fighter will tell you the punch that hurts the most is the one they don't see coming.
Taking one last look around the gym before the session winds up I see the excitement and anticipation of a team on the homeward stretch. The hundreds of hours of hard work have been done, the lonely miles now exchanged for the familiar surroundings of home; home turf where the mood is light but the focus remains intense. This is the fun part where all of the arduous training pays off, where a young fighter gets to showcase his burgeoning skills, his developing craft in front of a partisan crowd.
And yet somewhere across town an older wily veteran plots one last upset with equal intensity, dreaming of taking a young fighter into deep waters and dark places with career changing punches, fighting in a division where one well timed shot can instantly change the trajectory of a decade's long career and where redemption is only ever a millisecond away.
Let the hostilities commence.
You can follow Joseph on his Twitter account: www.twitter.com/joeboxerparker