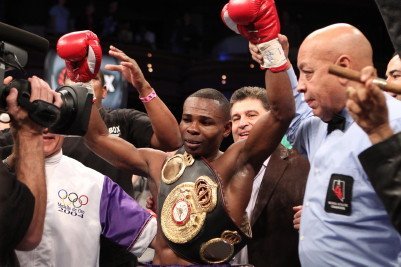 (Note: In the fourth installment of a week long breakdown, boxing scribe Vivek "Vito" Wallace analyzes where today's top fighters stand, and whether or not 2015 could be the year many of them fall. This week long analysis will cover over 30 top fighters from around the world)
GUILLERMO RIGONDEAUX
For the best boxer of this era to rise from the Cuban ranks, 2014 was far from eventful. After a stunning 2013 that saw him defeat both Donaire and Agbeko, 2014 saw him destroy an unknown fighter in China, and forcibly scrape himself off the canvas twice against an unknown fighter in Japan. Definitely not the level of competition you'd like to see from a fighter none as "boring".
In 2015, Rigondeaux is going to have to find a way to get a better group of fighters in the ring. Recently, he called out Leo Santa Cruz and made it clear that it's a fight he wants. Santa Cruz appeared to be interested, yet no indications point to a potential clash between the two. We can stop short of calling 2015 a "make or break" type year for him, but no question, the time has come to prove that he is what many think he is.
Nicholas Walters, Lomachenko, Santa Cruz, and a few other credible names are all in similar positions as solid talents looking for dancing partners. One can only hope that these fights can be made. Unlike the bitter cold war between marquee promoters of the past, there's nothing within the sports current political landscape that serves as a valid reason not to. Rigo will need to bounce back strong to avoid being blackballed any further than we've already seen.
NICHOLAS WALTERS
Similar to Terrance Crawford, Nicholas Walters was that 'dark horse' who no one saw coming. Under the radar, yet above the rim, Walters has continued to get stronger and stronger, elevating his game every step of the way. In 2014, Walters took a fight against the highly regarded Vic Darchinyan. No question Darchinyan is no longer the fighter he was, but clearly he was the biggest test of Walters' young career. After figuring out the awkward style of Darch, Walters picked him apart, calling out the best in the division, Nonito Donaire in exchange.
Outside of Guillermo Rigondeaux, Donaire had never been outclassed, and rarely ever looked bad. Walters seemed to struggle to figure Donaire out early, but overcame a vicious powershot early to change the dynamics of the fight entirely. For those who questioned Walters' true worth, all questions were answered when he took Donaire into waters deeper than he'd ever gone before. It took Walters only 6 rounds to dispatch a fighter who had recently been viewed as the best of the best (within his weight range).
It'll be very difficult for Walters to perform any better than he did in 2014, but with Lomachenko, Gonzalez, Santa Cruz and Rigondeaux within striking range, finding worthy talent definitely won't be a task. Fight fans can expect him to face at least two of those names during 2015. With his rugged, power punching style, placing two victories over either of those men could easily solidify him as a "Fighter of the Year". He has the talent, he has the opposition, and he now has the big stage. It'll be fun to see if he can continue his rise.
LEO SANTA CRUZ
2014 was decent year for Cruz, but nothing compared to what some had hoped. Similar to many of his contemporaries, more time was spent facing average talent, when the fans and media have been clamoring for them to face one another. The Super Bantamweight & Featherweight range (122lbs-126lbs) is amongst the deepest talent pool in the sport today.
What's great about that range is that it encompasses nothing but young, credible talent, most of which still has quite a bit left to prove. An ideal situation would be a tournament, similar to the Super 6 Super Middleweight Tournament that we saw a few years ago. Although it's very difficult to see it come into fruition, quietly, there has been discussion of making it happen.
For Santa Cruz, with or without the tourney coming into fruition, he will have to elevate his level of competition this year to remain at the top of the conversation when his opposition is meant. His vintage Mexican style would be quite interesting to see against a tactician like Rigondeaux. Sources have confirmed that this fight could happen as early as Summer 2015. All eyes will be on him until it does!
VASYL LOMACHENKO
Of the smaller men in the sport, most would agree that Lomachenko is probably the most talented fighter not named Rigondeaux. His skill level is greatly present, and despite the loss to Salido to start the year, he clearly has an upside that can't go unnoticed. In his loss to Salido, one thing was evident. As solid as his talent is, there's no way to mistake the need for quality rounds.
There lies the question with Lomachenko. When you see him execute, you feel there's very little which could actually trouble him once the bell rings. It isn't until you place a salty veteran in front of him that you see some of the common errors found in inexperienced fighters. The good thing is that most of the top fighters he would be paired against in this era are also short on true veteran experience.
What does that mean? You could probably place him with any of the top dawgs in his weight range and expect fairly good results. Not many possess the skill level of Salido, and none have really demonstrated his rugged toughness. 2015 should be very interesting for Lomachenko. How the year closes out will all come down to his continued evolution, and whether or not he overcomes some very minor deficiencies.
SERGEY KOVALEV
Had it not been for the incredible year of Terrance Crawford, Sergey Kovalev would have definitely been the "Fighter of the Year" for 2014. He was able to carve out two solid victories early in the year, but his performance over Bernard Hopkins was as dynamic as it gets, and it took place on the world stage!
Critics tried to pin his performance on the age of Hopkins. Reality tells us that Hopkins was just as dangerous against Kovalev as he was against Pascal, Tarver and others. The only difference this time around was the fact that he had a man in front of him with good size and reach, and incredible execution.
The way Kovalev was able to perform on the biggest stage of his career cleared any questions relative to whether or not he is in fact the best of the rest (at Light Heavyweight). 2015 should be interesting, and the first major question will come on March 14th, when he travels to Canada to face Jean Pascal. A stoppage or clean victory here will send a major message for those who didn't get the first one! It'll be great to watch this rising star evolve.
ADONIS STEVENSON
Stevenson remains one of the biggest question marks in the light heavyweight division. We see speed, we see power, we see a certain level of execution, and we see dominance. What we haven't seen is any of those things against credible opposition that can test him by promising the same.
2014 was a year of unfulfilled promises, and unfulfilled results for Adonis. He looked good in both victories, but neither did anything for him, but pad an already impressive resume with names that mean very little. In 2015, Stevenson will have no room for error, and no space for missteps. Every move he makes will need to be in the direction of quality opposition, namely one of the men he "avoided" in 2014.
Kovalev and Pascal are tied up, but an attempt to put Hopkins on the resume won't be ill-received. Beyond that, an effort to get Ward in the ring certainly won't hurt. For Stevenson, it's time to put up or shut up! No one questions his talent, yet sadly, many have began to question his heart. There's only one way to solve that. The mission to do so starts now….
JEAN PASCAL
How good is Jean Pascal? This is a question that never really seems to fade away, despite the fact that his only two career losses were to Froch and Hopkins. 2014 allowed him to add Lucien Bute to his resume, but there were few fireworks outside of that victory that gave us a glimpse into the million dollar question.
2015 will provide clarity, and we may not have to wait long to get some. In the Spring of this year, Kovalev will take on Pascal in his own backyard. The early buzz on the fight is that Pascal is in over his head. Problem is, he will also present problems that Kovalev has yet to encounter as well.
Kovalev handled Hopkins better, but Pascal was able to floor Hopkins twice. Kovalev, for all his brute strength, failed to do so. How he handles the relatively fast, powerful hands of Pascal will possibly tell the tale. Not a bad way to start 2015, but if he falls short or gets stopped, the year could be over as quick as it starts. For Pascal, 2015 could very well define his career.
(Vivek "Vito" Wallace can be reached at 754.307.7747. He can also be reached on Tuesday night's live broadcast of "Left-Hook Lounge Radio", Instagram (ViveksView), Twitter (@lefthooklounge1), and Facebook).