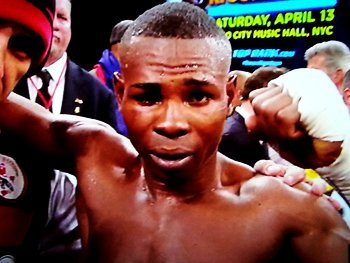 Anyone who stayed awake through the encounter between boxing's most avoided robot, Guillermo Rigondeaux, and mere human, Hisashi Amagasa, would have been delighted to see Rigondeaux get knocked down twice and visibly hurt in round 7.
The start of the fight was typical Rigondeaux, an incredible display of balance, poise and posturing that would be heralded by the Royal Ballet School, but had everyone else nodding off more then a room full of junkies. There's only so much "sweet science" I could marvel at before my mind wondered and started thinking about why the Japanese decided to count up to 3 minutes instead of down, and why so many in the crowd were wearing respiratory face masks.
There were a few highlights where Amagasa was pummeled with straight lefts, enhanced by the excitable Japanese commentators, that do for a Rigondeaux fight the equivalent of a laugh track for the Big Bang Theory, but the action was far and few between. As per most Rigondeaux fights, the systematic boxing mixed with a lack of risk and emotions left it unexciting.
In round 7, Amagasa scored a knocked down with a straight right while Rigondeaux was circling around him, reminiscent of Rigondeaux's knockdown from Donaire. Rigondeaux was visibly shaken and Amagasa punched and pushed him down again as Rigondeaux desperately tried to hold and tie Amagasa up. Unfortunately for Amagasa, the bell sounded for the end of the round, which gave Rigondeaux a chance to reboot and come back more viciously.
In round 10, Rigondeaux exacted revenge with a knockdown and a follow up beating that left Amagasa's face so swollen that it resembled the exaggerations made in Japanese anime. The beating continued in round 11 and Amagasa's corner decided the fruit sized swellings on his face didn't look "berry" good and they'd be "coco-nuts" to let him enter round 12.
A "sub-lime" fighter having to fight in Japan, a day before New Years Eve is a sign of the times. The knockdowns proved that the robot is not invincible and that every system can be hacked. Even so, the other super-bantamweight champions will most likely avoid him and either way; clinical and easy wins over any one of them would further his negative reputation. I'd like to see Rigondeaux go up in weight and fight a top-notch powerhouse like Nicholas Walters, in the hopes that we can watch him prevail under "grape" duress while displaying human qualities and therefore garnering the empathy and admiration of the fans.