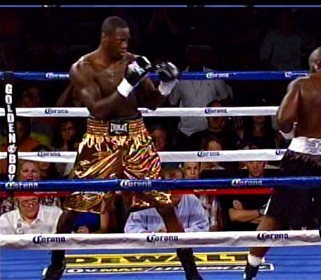 By Michael Collins: It's unclear whether his promoters at Golden Boy Promotions wants to move him up yet against better opposition, but 6'7″ heavyweight prospect Deontay Wilder (24-0, 24 KO's) says he's ready to start facing the best fighters in the heavyweight division finally after obliterating 35-year-old Kertson Manswell (22-6, 17 KO's) in a 1st round TKO last Saturday night at the Exposition Hall in Mobile, Alabama. Wilder's power was too much for Manswell, as he was knocked down three times before the referee gave Manswell the hook to spare him another knockdown.
Wilder told RingTV after the fight "It's just about telling Golden Boy, 'let's do it.' Tell Golden Boy that I'm ready to fight anybody and everybody that's out there. I'm ready. I'm ready for the world, and my time is coming."
Wilder wasn't ready a year ago, because he was still pretty much a fighter completely dependent on his right hand do everything for him. But in the last year, Wilder has vastly improved his left hook and jab and now he's an all around threat to anyone in the division.