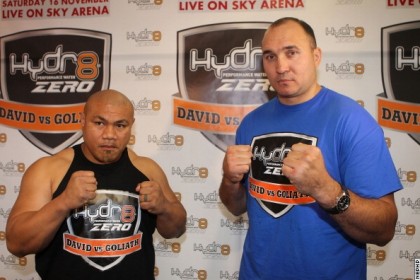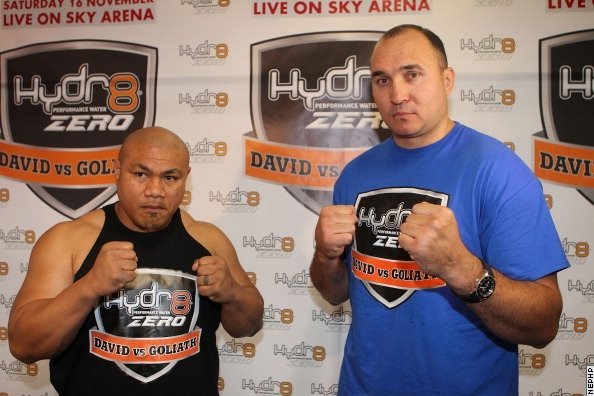 David Tua ( 52-4-2) and world ranked Alexander Ustinov (28-1) clash on Saturday 16th November at Mystery Creek, Hamilton, New Zealand.
David Tua whose latter career has been punctuated with weight problems had reportedly blown out to 348 pounds before starting to train for this fight.
Originally the pair were meant to meet on August 31st but a grade one calf tear sustained by Tua in training caused promoters to amend the fight to its current date.
The extra training time has served Tua well. Tua's appearance in August is remarkably different to the physical constitution he is sporting in the lead up to this weekend's fight.
Under the heat of well regarded 'personalized health engineer' (fitness trainer) Lee Parore Tua has dropped 110 pounds.
Gone is the extra padding Tua fans have come used to seeing around his midriff and a David Tua in this shape hasn't being seen since his 2009 two round destruction of fellow New Zealand heavyweight Shane Cameron.
Tua dropping 110 pounds is a monumental physical undertaking and it shows he is serious about getting into contention shape.
Tua will carry some ring rust into this bout having not fought in two years and only five times in the last six years and the only way to deal with inactivity is proactivity.
David Tua is looking to get back on the horse and fighting more consistently.
That for a motivated Tua who knows his career is on last change Lane starts on Saturday and questions about where Tua is at is a fighter will be answered. Can Tua at 40 years of age still pull the trigger on his vaunted left hook? Are the reflexes still there? Has his best being used in having to shed 110 pounds?
In terms of professional resumes Ustinov is comparatively a novice. Stopped in 2012 by Kubrat Pulev Ustinov has fought a smattering of journeyman and fringe contenders – the undefeated Pulev being his most notable opponent to date.
Tua on the other hand has fought a who's who of the 1990s heavyweight division – his most notable bout his year 2000 World title loss to then heavyweight kingpin Lennox Lewis.
The numbers that do work in favour of Ustinov are he is the younger man by four years and far more active in fighting 10 times since 2010. His other numeric advantage and most notable – particularly when standing next to Tua – is his stature.
Ustinov standing at 202cm, weighting 291 pounds and with the wing span of a Pterodactyl and Tua at 1.78 cm and 231 pounds are physically poles apart as athletes.
Ustinov with is not a skilled fighter, he paws with his left in looking to set up his right and in keeping Tua off he will have to jab with absolute authority. If he doesn't sit down on his jab he becomes touchable and for a power puncher of Tuas exceptional quality that means trouble.
Conversely if Ustinov does enough with his jab to nullify Tua in keeping him at length he will pot shot Tua with the right and win by fighting at length. If Ustinov has watched any old Tua fights he will employ exactly that as his fight template.
As with all of Tuas fights the game plan when all is boiled down is based around him being able to get under his opponents punches and unload. If David Tua lands and consistently his chances of winning are greatly increased.
Tua is confident he wins this fight and wins it big and moves on to fight another day. If he doesn't win it's hard to see where the Samoan slugger goes from here.