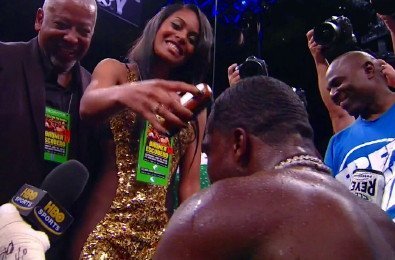 By Rob Smith: Former WBO super featherweight champion Adrien Broner (24-0, 20 KO's) mentioned wanting to fight guys like Juan Manuel Marquez and Antonio DeMarco next after he laid waste to Vicente Escobedo last month in a fine performance in Cincinnati. Broner couldn't make weight for the super featherweight fight and will now be moving up to 135 to campaign in the lightweight division. However, the division is lacking in a big way any real names for Broner to fight apart from DeMarco, Ricky Burns and Yuriorkis Gamboa.
Gamboa would be an ideal fight for Broner, but given Gamboa's recent reluctance to fight former WBA World lightweight champion Brandon Rios, it's probable that Gamboa would pass on a fight against the equally big Broner.
One opponent that would be absolutely perfect for Broner is 38-year-old Juan Manuel Marquez, the WBO light welterweight champion. To face him, Broner would be required to move up in weight to 140, which shouldn't be a problem for him because he fought Escobedo last month while weighing 146.