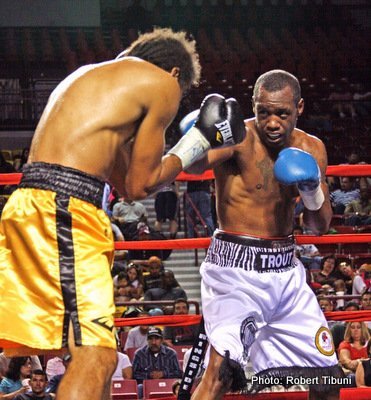 By Joseph Herron – With less than two months until the highly anticipated face-off between three division world champion Miguel Angel Cotto (37-3, 30 KOs) and Austin "No Doubt" Trout (25-0, 14 KOs), many fight scribes and boxing fans are concerned that the Caguas warrior picked on the wrong Junior Middleweight title holder.
The current WBA Junior Middleweight Champ is quite certain the future Hall of Famer made a miscalculated decision in selecting him as an "opponent".
"First of all, Miguel Cotto is a warrior who has never backed away from any challenge, and I've always had the utmost respect for him as one of the best representatives of the sport," admits Austin Trout. "I am very grateful for the opportunity to fight him on December 1st at Madison Square Garden. But with that said…he messed up."
"He shouldn't have done it, because I'm going to win this fight. I honestly don't see how I can lose against Miguel Cotto."
Although the Las Cruces, New Mexico resident is always confident before a big fight, Austin seems eerily self-assured that he will indeed be successful on December 1st.
"Without taking anything away from Miguel Cotto, I just feel that I will be the faster, stronger, taller, and better technical fighter on fight night. I believe that I have better attributes on many different levels. I know he is a very good puncher and a smart fighter with a lot of experience in the ring, but he's also 5'7" with a short reach."