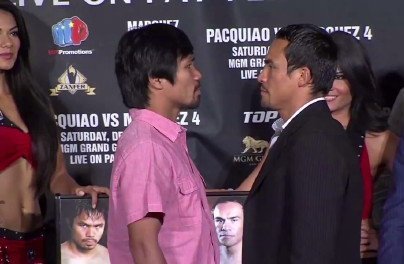 By Rob Smith: While the hardcore boxing fans might be incredibly sick of seeing Manny Pacquiao and Juan Manuel Marquez fight endlessly, the casual boxing fans are clearly not bored as they've purchased nearly all of the 16,800 tickets for the Pacquiao-Marquez scheduled for December 8th at the MGM Grand in Las Vegas, Nevada. As of Monday morning there were only 3000 tickets left with 13,00 having been sold over the weekend. By now the 3000 remaining tickets are probably reduced to even lower numbers.
Pacquiao's promoter Bob Arum is pretty excited about this, saying to ESPN "We are ecstatic with the response."
I bet Arum is. The last Pacquiao fight was against Tim Bradley and it reportedly didn't do well on pay per view. This is one of the reasons why Bradley didn't get a second chance to beat Pacquiao again.