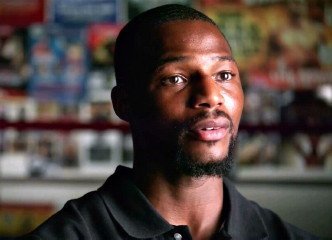 By Jeff Sorby: WBC light heavyweight champion Chad Dawson (31-2, 17 KO's) has reportedly left trainer John Scully and is now back with his old trainer Eddie Mustafa Muhammad, according to RingTV. Dawson lost his last fight against Andre Ward last April in a 10th round TKO loss while being trained by Scully, and it's unclear why Dawson has decided to go back to being trained by Muhammad.
Dawson's loss to Ward seemed to have been caused by a combination of things, starting with his questionable decision to move down from 175 lbs to fight Ward at 168 lbs without a catchweight. Dawson had problems taking off all the weight and he looked drained against Ward. That still wasn't the entire reason for the loss, but it couldn't have helped Dawson.
Ward was simply the faster guy with the better skills. There's little doubt watching that fight that Ward was just too good for Dawson. Ward would have likely dominated Dawson even if he moved up in weight and fought Dawson at 175. It was a case of Ward having too much talent.
Dawson can go back to Eddie Muhammad but I doubt he'll be able to help Dawson get past his next opponent Jean Pascal on March 23rd in Montreal. Dawson has problems with speed, and the only way he can beat a fighter like Pascal is jump on him to take him out.