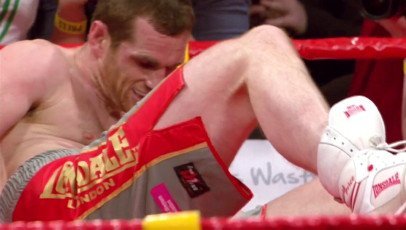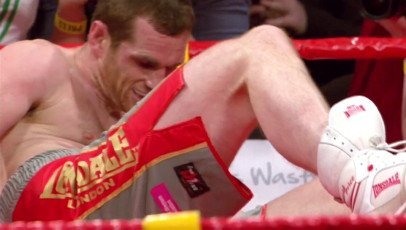 By Kevin Chittenden: British heavyweight David Price's once promising career is in tatters tonight after he was stopped in the 2nd round by 41-year-old Tony Thompson (37-3, 25 KO's) in Liverpool, England.
This was a fight that the 6'8" Price was supposed to win with ease, but instead he ended up getting clipped by a right hand by Thompson and put down on the canvas in the 2nd round. Price got up but his legs failed him as he walked around on Bambi legs while the referee checked him over.
The referee stopped the fight without letting Price get a chance to see if he could survive the round. While some boxing fans might feel that Price deserved a chance, the truth it he wouldn't have lasted more long with Thompson teeing off on him.
Price did everything he was supposed to do in the first round of the fight. He mostly his jab as he stalked the out of shape looking Thompson around the ring, hitting him with ease, Thompson didn't look like he really wanted to mix it up with the bigger and stronger Price. He wasn't taking any chances in the first round as he fought defensively throughout.
In the 2nd, Price trapped Thompson against the ropes in the opening seconds of the round and he landed some really nice shots, but Thompson did a good job of taking them. Thompson still wasn't throwing any punches back, and it looked like it was going to be only a matter of time before Price got to him and took him out.
Thompson suddenly changed the fight completely when he nailed Price with a right hand that put him down for the knockout. It could be that Price wasn't ready for the shot because Thompson was fighting timidly much in the same way that Price's recent opponent Audley Harrison had fought in losing to him by a 1st round knockout.
Harrison maybe threw two punches in the fight before Price knocked him out, and Thompson was fighting in the same cautious manner up until the time he finally let his hands go and knocked Price out.