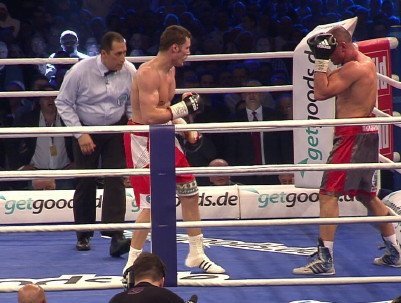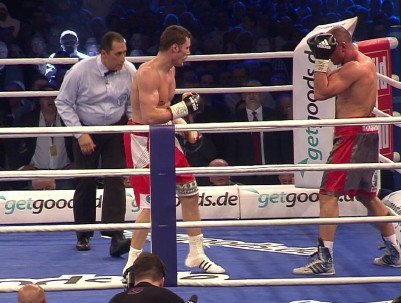 By Vladimir S: Robert Stieglitz (44-3, 25 KO's) came out on fire tonight blasting away at WBO super middleweight champion Arthur Abraham (36-4, 28 KO's) with punch after punch for the first three rounds, and it paid off by Stieglitz getting a 4th round TKO win after the fight was halted by the advice of the ringside doctor due to Abraham's left eye closing on Saturday night at the GETEC Arena, Magdeburg, Sachsen-Anhalt, Allemagne, Germany.
Stieglitz looked like he'd put on a lot of muscle and strength from the last time they fought in August of last year when Abraham was the bigger guy. Stieglitz just looked on fire out there. He took the fight to Abraham in a calculated risk that he'd be able to score a knockout before he gassed out and it definitely paid off as Abraham was stopped.
Abraham was like a broken man out there. He wasn't throwing punches and looked in shock in all three rounds of action. He wasn't there mentally tonight. In fairness to Abraham, there was no way of predicting anything like this because Stieglitz was like Gerald McClellan tonight the way he tore into Abraham. There's not too many fighters that would have been able to handle the nonstop punching from Stieglitz.
Abraham's left eye swelled up after the 2nd round. He was clearly bothered by his swelling eye in between rounds, as he pushed away his trainer's hand as he was attempting to put ice on the eye.
In the 3rd round, Abraham lost a point because of a rabbit punch he landed in the clinch. The referee had warned Abraham repeatedly to stop throwing rabbit punches but he failed to listen.
***
Unbeaten super middleweight contender George Groves 18-0, 14 KO's) defeated Baker Barakat (37-14-4, 25 KO's) by a 2nd round knockout. The referee stepped in to stop the fight after Groves hit Barakat with a series of heavy shots to the head.
Moments before that, Groves had knocked Barakat down with a hard right to the back of the head after Barakat turned his back to him while trying to move away after getting hurt. Groves was able to hit the journeyman Barakat at will, and had him badly hurt in the 1st round as well. It was one-way traffic in the fight, as Groves had his way with the over-matched Barakat.
Groves will now be fighting on May 25th on the undercard of the Carl Froch vs. Mikkel Kessler rematch at the O2 Arena in London, UK. Groves is expected to fight a top contender for this fight. There's talk of him fighting once more in September before possibly challenging for the title against the WBO super middleweight champion in 2014.
***
Unbeaten #1 WBO heavyweight contender Robert Helenius (19-0, 11 KO's) kept on course for a future title shot against IBF/IBO/WBA/WBO heavyweight champion Wladimir Klitschko by defeating Britain's Michael Sprott (37-20, 17 KO's) by a lopsided 10 round unanimous decision. The final judges' scores were 98-93, 97-93, 98-93, all for Helenius. The fight looked more like a sparring session than an actual fight, as Sprott seemed content to stay on the outside all night look to keep out of harm's way.
Sprott did swell up Helenius' eyes with hard jabs, but he failed let his hands go in any real way despite having the blueprint in how to best him from fellow countryman Dereck Chisora. Each time Sprott would get close enough to land anything on the inside, Helenius would grab him in a clinch, and Sprott would just let him grab hitting him in the clinch like Chisora had done in his fight with Helenius two years ago.
Helenius was able to control the action with his jab and left hook from the distance. He had nothing coming back at him to dominate the action.
In the 10th round, Sprott was able to land a hard right-left combination that got Helenius' attention briefly, but Sprott fell back into the sparring partner mode for the remainder of the round.
Helenius was there to be beaten tonight, but Helenius' promoters did a good job of picking out a heavyweight flawed enough for him to beat. Helenius is nothing special and he has no chance against a heavyweight like Wladimir or even against the other heavyweights in the division like Kubrat Pulev.
***
German-based heavyweight prospect Edmund Gerber (23-1, 14 KO's) defeated journeyman Gbenga Oloukun (18-9, 11 KO's) by an unimpressive eight round unanimous decision by the judges' scores of 77-76, 77-76, and 77-75. Oloukun had Gerber hurt in the 7th round, but the referee pulling them apart during a crucial period seemed to save Gerber from getting knocked out.
Gerber was in control of the fight in the first six rounds with his hard shots. However, he was hurt in the 7th and took punishment from that point on. He was able to dodge enough of Oloukun's shots in the 8th round to finish the fight on his feet, but there's little doubt that had the fight been a 10 or 12 round fight, he'd have likely been knocked out.
Oloukun has now lost 9 out of his last 11 fights.
Other results:
Melissa McMorrow W 10 Nadia Raoui
Robert Helenius W 10 Michael Sprott
Lukas Konecny W 12 Karim Achour
Enrico Koelling UD 6 Josef Obeslo
Moritz Stahl UD 4 Jozsef Orsos