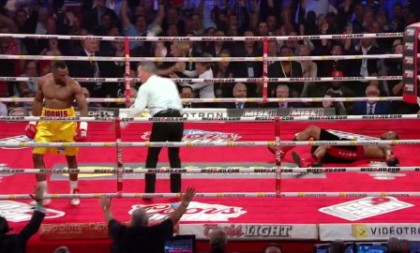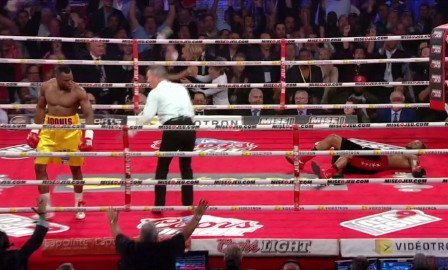 Adonis Stevenson (21-1, 18 KO's) snatched the title from WBC light heavyweight champion Chad Dawson (31-3, 17 KO's) tonight by knocking him out in the 1st round with a vicious left hand to the head in the 1st round at the Bell Centre, in Montreal, Canada.
Although Dawson got back to his feet after the knockdown, there was no way he was going to be able to survive the round. The referee stopped the fight after noticing that Dawson wasn't all there.
It was a miracle that Dawson got up from the knockdown because he was really tagged by that shot. He was trying to land a punch of his own and he leaned into a big left hand from Stevenson.
Before the knockout, Dawson was fighting aggressively, which is unusual for him. It looked out of character to the way he normally fights and he seemed to be playing into Stevenson's hands by fighting so recklessly.
With this win, Stevenson will now likely be defending his title against #1 WBC challenger Tony Bellew next. That should be an interesting fight because Bellew has a lot of power too and he's good chin. If he can take Stevenson's power shots it could be an interesting fight.
***
In a rather dull fight, former two division world champion Yuriorkis Gamboa (23-0, 16 KO's) made a smooth transition into the lightweight division in defeating the hard hitting Darley Perez (28-1, 19 KO's) by a 12 round unanimous decision by the scores of 116-111, 116-111 and 115-112. In winning the fight, Gamboa captured the interim WBA lightweight title, which puts him on course for a fight against WBA lightweight champion Richard Abril.
Gamboa knocked Perez down in the 1st round after nailing him with a hard shot and then cuffing him on top of the head with a shot that kind of pulled Perez down. The referee appeared to blow the call. However, that's not Perez lost this fight. He lost it because he failed to let his hands go in any real way. Perez was just looking to jab and throw an occasional counter shot, and that wasn't enough to do the job.
Perez was the harder puncher of the two and nearly as fast as Gamboa, but he made the mistake of just throwing one punch at a time instead of letting his hands go the way he needed to do.
Gamboa fought well in the first six rounds. However, after that he seemed to tire and focus on just pot shotting Perez. That was more than enough because Perez was only pot shotting himself but he was only rarely throwing meaningful punches.
***
Canadian middleweight David Lemieux (29-2, 28 KO's) destroyed Robert Swierzbinski (11-2, 3 KO's) in the 1st round. Lemieux knocked Swierzbinski down three times before the fight was halted at 2:21 of the round. Lemieux finished Swierzbinski off with a left to the head.
For Lemieux this was his fourth quick knockout since he suffered back to back defeats to Marco Antonio Rubio and Joachim Alcine in 2011. In his last four fights, Lemieux has registered two 1st round knockouts and two 2nd round knockouts.
***
Jose Pedraza TKO 7 Sergio Villanueva
Didier Bence KO 5 Eric Barrak
Artur Beterbiev TKO 2 Christian Cruz