Trainer Joel Diaz is excited about his fighter Avni Yildirim's chances of pulling a big upset against WBA/WBC super middleweight champion Canelo Alvarez this Saturday night at the Hard Rock Stadium in Miami, Florida.
Diaz believes Yildirim (21-2, 12 KOs) has a chance of scoring a knockout of Canelo (54-1-2, 36 KOs) if he can catch him while he's trading shots.
Canelo will be trying to use this opportunity to showcase his talent, as this is a huge, huge mismatch on paper. In a fight with the lopsided betting odds as this one, Alvarez, 30, will be looking to showcase his talent by battering Yildirim.
This is such a poor fight in terms of the mismatch in talent and the lack of interest from boxing fans; it puts pressure on Canelo to score a fast KO to raise his profile.
This fight is happening because the World Boxing Council made Yildirim mandatory at 168 despite him losing his last fight.
Diaz is excited for Yildirim
"This is the biggest task of my life. I've been in some big fights before with Bradley-Pacquiao and Bradley-Pacquiao," said Yildirim's trainer Joel Diaz to iFL TV. "This is, for me, the biggest task.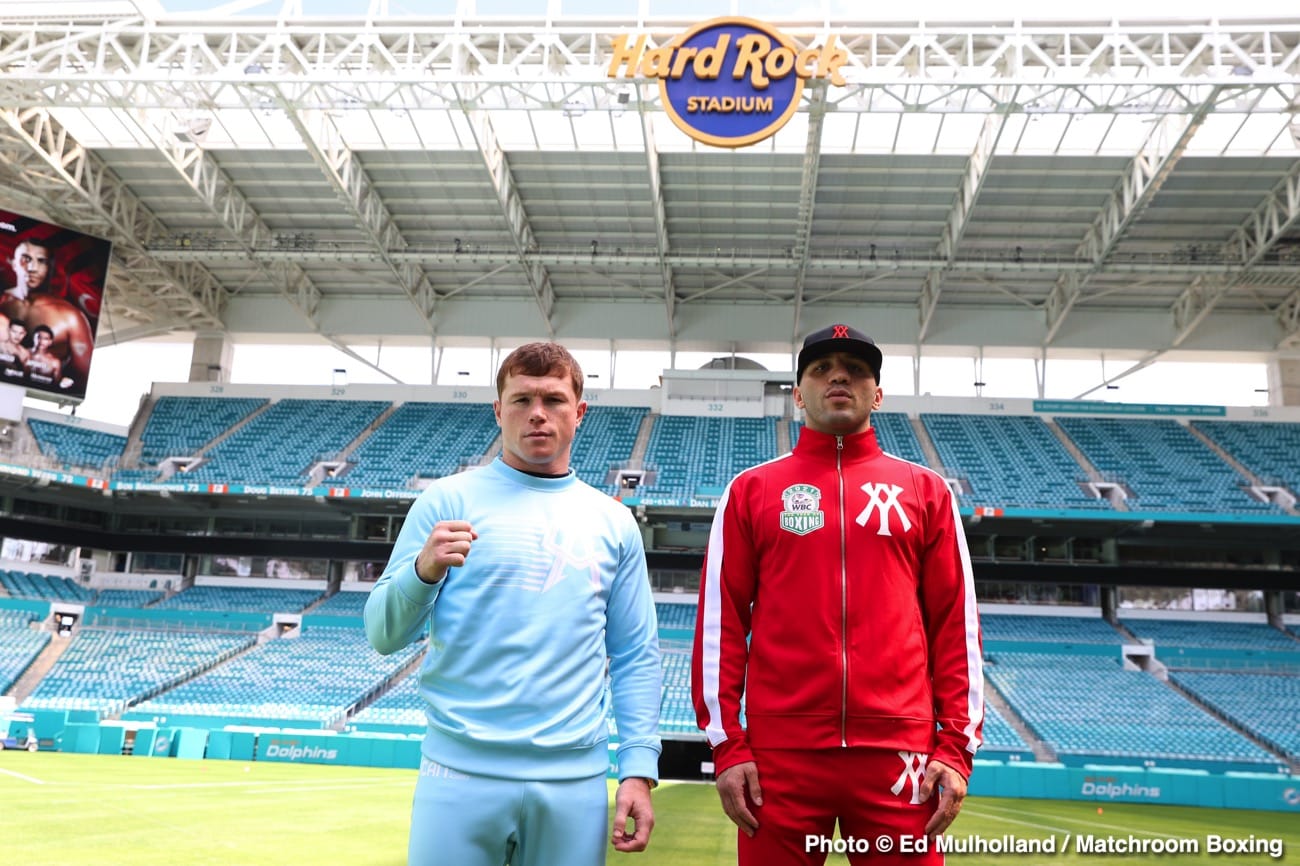 "I'm the type of person that is a risk-taker, and we are here. We're taking on the best pound-for-pound fighter in the division, with much respect, Canelo Alvarez. He's a great fighter.
"Obviously, we put in the work in the gym with the mentality of going in and giving the best for a good outcome. He's motivated.
"Who would not be motivated to fight Canelo and take the risk to make history. He is the first fighter from his country to be at this level and this stage," said Diaz about Avni.
"So with that to show his country that he's earned the spot, he's taking advantage of it. It's all common sense.
"In Turkey, there's never been a fighter that has made it this far. With that being said, he's taking the risk, and he's very excited to be here. So for his country, it means a lot," said Diaz.
It's not only the biggest fight of coach Diaz's life but obviously the top for Yildirim, and he's the one that will be taking the shots on Saturday night from Alvarez.
It's 50-50 if Canelo trades with Yildirim
"Yes, sir," Diaz said when asked if he thinks Yildirim can pull off the win. "If there are exchanges based on his power and ability, I said that from the beginning, if Canelo decides to exchange with Avni in a good exchange, it's a 50-50.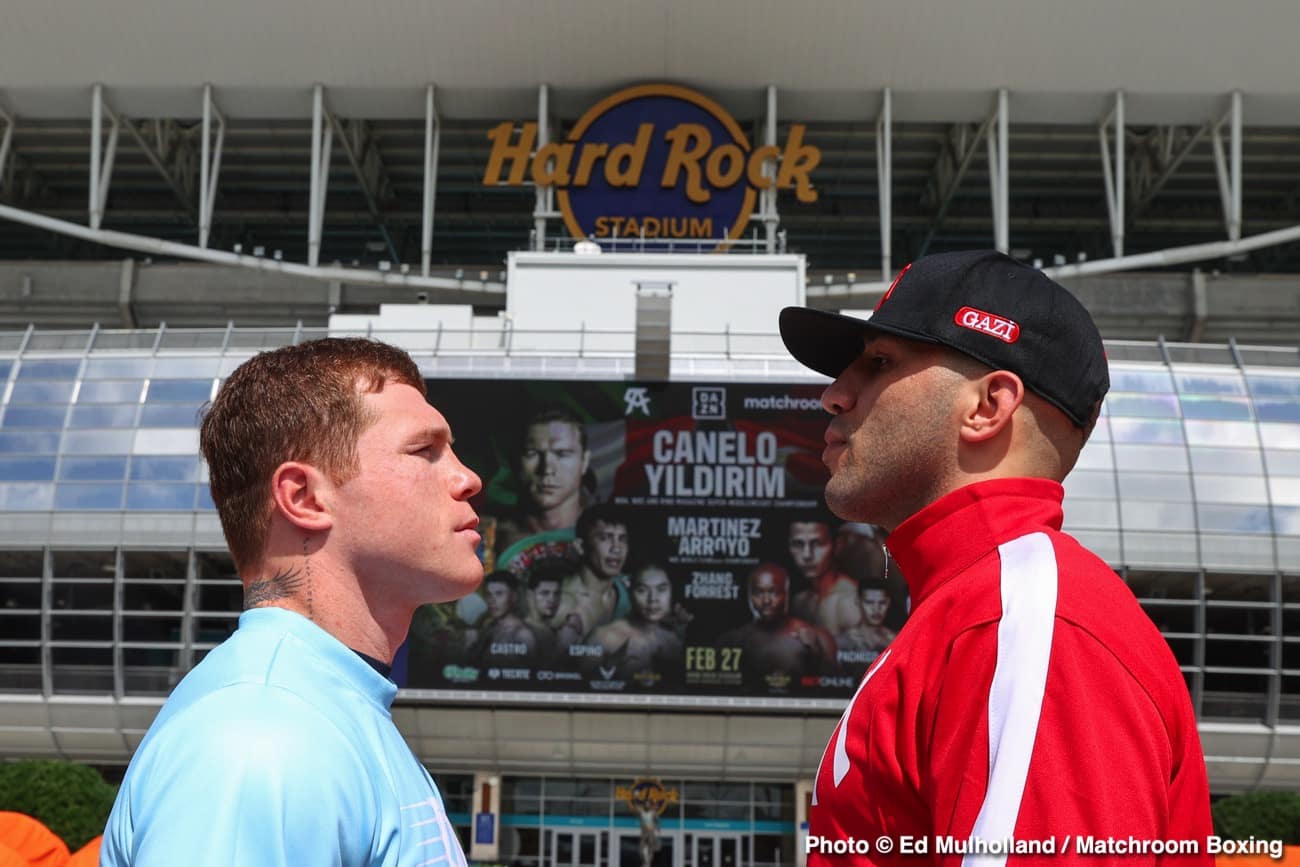 Either or can go down, I can tell you that. I give Avni Yildirim a 50% chance in one exchange because he has power and very strong.
"If Canelo decides to exchange with him and decides to exchange combinations if he gets hurt, he'll get hurt as well.
"I give him a chance because we put in the work," said Diaz about Yildirim. "I'm a true believer of my work, and I take pride in what
"I do. So we put in a great work ethic in him, and the preparation was great. Now, all we need to do is put in play on Saturday," said Diaz Jr about Yildirim.
If Canelo gets sloppy while throwing his own shots, he could get nailed in theory, but the chances are higher. Yildirim will be the one getting clipped.
Canelo is careful when he throws his shots, and he's more of a counter-puncher. If Yildirim can fire back when Canelo is in mid-counter, he could land something big.
It's been a while since Canelo was hurt in a fight. Gennady Golovkin had Canelo hurt twice with uppercuts later in their rematch in 2018, and James Kirkland stunned him with a big shot early in their match in 2015.
If Canelo had stayed at 175 long enough to face champions Artur Beterbiev and Dimitry Bivol, we likely would have seen him hurt by those guys.
Canelo was smart to leave the light heavyweight division without fighting either of those guys, which tells you that he didn't like the idea of facing them.
Yildirim moving down to 160
"He spoke to me before and said after this fight, whatever the outcome is, he's moving to middleweight," said Diaz about Yildirim moving down to 160 after the Canelo match.
"He said he could make middleweight no problem. He woke up two or three pounds over [the middleweight limit of 160], and we still got a week. He said after this fight, regardless of the outcome, he's moving down to middleweight.
"So I believe he can be a world champion. If it's not super middleweight, he'll be world champion at middleweight.
"Definitely, right away, I started noticing the changes," said Diaz about how Yildirim's fighting style has changed since he took over as his trainer. "I saw a straightforward robot that took everything.
"Now he's got defense, and he's a smarter fighter; he moves. He's not just an angry Turkish fighter from now on and taking 10 to get two or three, you know?
"And now he's a smarter fighter. I made some changes with him, and eventually, you guys will see it this Saturday night," said Diaz Jr.
Things might not get any better for Yildirim when he moves down to 160, as he would have to deal with fighters like Gennadiy Golovkin, Jaimie Munguia, and Jermall Charlo.
But if Demetrius Andrade vacates his WBO middleweight title, that would open up that belt for Yildirim to fight for against potentially Liam Smith.
There is a chance that Yildirim can win a world title at 160, as long as he fights for the right belt. He's not going to have much of a shot at beating Golovkin or Charlo, but Ryota Murata would be a winnable fight for him.
Diaz looking forward to Yildirim winning
"His record speaks for itself. Canelo is the best fighter of the era, and that's why he's pound-for-pound the best," said Diaz about Canelo.
"He's dominated with great fashion in his last fights. I'm a great fan of Canelo, much respect to him, and we appreciate the opportunity to share the ring with him on Saturday night.
"He and his team are professionals. They're a great team, and that's why for us, it's a big challenge. It's by far the toughest challenge of my life, and Canelo is the real deal.
"That's why for us, the motivation to take the risk and get in there and look for the victory, it'll be big. Just imagine pulling the upset; it'll be something that I'll never forget for the rest of my life.
"It'll be something that I'll leave in my legacy, and it'll speak for itself even in my absence," said Diaz.
Diaz is talking, and it sounds like this fight is more about him than it is for Yildirim. Hopefully, Diaz will keep his feet on the ground and give Yildirim the right instructions during the match.
If things get out of hand, it would be great if Diaz pulls Yildirim out rather than leaving him in there to take a systematic beating, in the same way Canelo's last opponent Callum Smith took.
Yildirim doesn't have much of a chance in this fight, and if he can't knock out Canelo, it's going to get out of hand quickly.