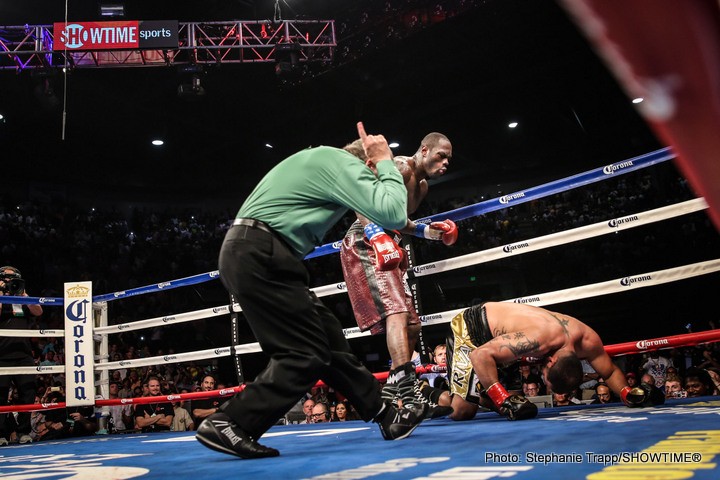 I was off the grid at the weekend so had to catch up on all the action that I had missed on Monday, including Deontay Wilder's hometown 1st defence of his WBC heavyweight title against Texan, Eric Molina.
And boy, words failed me as those 9 rounds unfolded. Who expected it to last that long?
The dust has settled on the fight and as far as I can see, a few things are pretty apparent. And they are sentiments shared by a majority of the boxing press.
Wilder was shocking, seemingly hesitant, gun shy. There was little variety in his shots. His defence was extremely poor. He struggled on the back foot. He seemed almost over-awed by the homecoming. He was lethargic. And he can clearly be rocked – that's definitely true after Saturday.
Oh, and part-timer Eric Molina, game as he was, did not belong in that ring fighting for the heavyweight championship of the world.
It was a performance that will have inspired no fear whatsoever in Deontay's mandatory challenger Alexander Povetkin, a man quite rightly considered by most to be the #2 heavyweight in the world behind Wladimir.
And it seems it hasn't inspired any fear in anybody else in the division either, with Tyson Fury, David Price, Lucas Browne and Mark de Mori among those tweeting and speaking out to say they would fancy winning the fight on that showing.
And with big hitting British prospect Anthony Joshua just installed as WBC #2, large swathes of the British press are already suggesting that the Watford fighter could go in and do the business against Wilder tomorrow.
While it is important to retain some perspective – particularly regarding Joshua – it is certainly fair to say it would not have taken him – or many of the others speaking out – 9 rounds to get the limited "Drummer Boy" out of there. I'd bet my house on that.
Up and down the rankings the heavyweights are circling Wilder and his prized belt like sharks scenting blood in the water – seemingly everyone fancies the job.
David Price said to Sky Sports;
"He looked like he has gone backwards but we're all allowed a bad day at the office. Maybe it was difficult to get up for Molina because he was so much better against Stiverne."
"I've got something to work towards but there was nothing I saw there tonight that would make me think I'd avoid fighting him. I believe that in a fight between me and Deontay Wilder that I would come out on top."
Australian contender Lucas Browne, who is aiming to be the first heavyweight champion of the world from the country, was a little less diplomatic.
He told thewest.com.au;
"I think he was a sad champion. He looked gun shy and didn't know what to do when his right hand wasn't landing. He also got rocked with little nothing shots that I would have killed him with. He's always open. He has a jab and a straight right – that's it. It won't be long before his time is up. I'd love to get in the ring with both of them and show them how it's done."
British #1 Tyson Fury, soon to fight Wladimir Klitschko, tweeted;
"@bronzebomber please don't fight Povetkin. Just hold off until I dethrone @klitschko then we can unify the division. An all western union."
And those are just a couple of those who chose to speak out. Many have retained a dignified but confident silence, including NZ prospect Joseph Parker who got his 14th straight knockout at the weekend also.
Whether we choose to give Deontay a pass on that showing or not, what is pretty clear is that he isn't looking like the next great American heavyweight champion he is being sold as. When you have built a padded record in the fashion that Deontay has – it is only going to be so long before you get completely found out.
I mean, you could be forgiven for thinking he was lucky to win the title against an out-of-sorts Stiverne in the first place.
And even without the benefit of a crystal ball, I feel many would agree that time is coming for that belt to be ripped away from the colourful Alabama fighter – probably by Alexander Povetkin as soon as that fight is made.
Wilder's 'advisor', Al Haymon is going to struggle to satisfy the pockets of the wealthy Russian's. In essence they ain't gonna "step-aside" to let a lower ranked fighter in first ahead of Povetkin.
It's only going to get tougher for Deontay. Sadly, I feel the American's are still looking for the next big heavyweight saviour. Deontay ain't it. That WBC belt could well be heading to Eastern Europe very, very soon.
Twitter @Undilutedpoison