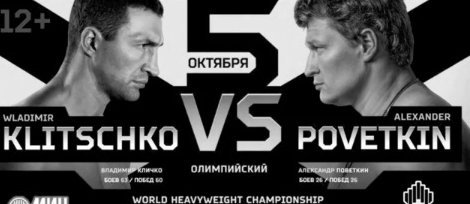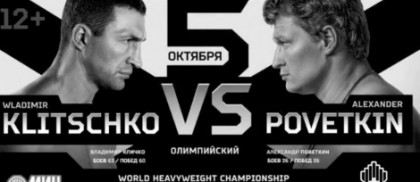 IBF/IBO/WBA/WBO heavyweight champion Wladimir Klitachko (60-3, 51 KO's) isn't doing much to try and ruffle the feathers of his Russian opponent WBA heavyweight champion Alexander Povetkin (26-0, 18 KO's) ahead of their fight tomorrow night at the Olimpiyskiy, in Moscow, Russia.
Wladimir has been very complimentary of the 34-year-old Povetkin throughout the build-up to this fight to the point where it's probably worked against both of them in generating interest in the fight.
It's a slightly interesting bout in the eyes of a lot of fans, but not much more than Wladimir's recent fights against over-matched opponents like Francesco Pianeta and Mariusz Wach. That's not to say that Povetkin is the bum of the month, because he's a decent fighter with good skills and power. But in looking at Povetkin's resume, it's pretty clear that his promoters have kept him out of harm's way since he turned pro in 2005 by matching him against mostly weak opposition.
When the best guy on Povetkin's resume is a cruiserweight in Marco Huck, then that doesn't say too much about him.
Wladimir said "He's the best opponent I've ever had. He has a great record, he is undefeated and I expect him to give everything he has."
I doubt that Povetkin is even close to being as good as the 6'4" South African Corrie Sanders was when he destroyed Wladimir in 2 rounds in 2003.
Sanders was a far more dangerous than Povetkin, and I think the 2003 version of Sanders would have annihilated tomorrow night's version of Povetkin.
Sanders was too quick, too big and too powerful for someone like Povetkin. I think the 1998 version of Ross Puritty would have given Povetkin a ton of problems with his power, pressure and excellent defense.
That would be a very tough fight for him. You can add the 2005 version of Samuel Peter that knocked Wladimir down 3 times en route to losing a close 12 round decision to him.
Povetkin is a good fighter, but you have to put him behind the following Wladimir opponents in terms of talent: Sanders, Puritty, Lamon Brewster, David Haye, Ray Mercer and Tony Thompson. I believe that all 6 of those fighters would have beaten Povetkin. Haye and Thompson would beat him today if given the chance.
Tomorrow night's fight will very likely be a one-sided affair with Wladimir jabbing, grabbing and leaning all over Povetkin to wear him down. Povetkin doesn't move his head very much and he's very easy to hit with right hands.
Cruiserweight Marco Huck had him hurt a couple times in their fight last year and a lot of people think that Povetkin deserved to lose that fight.