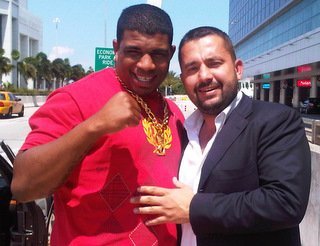 By Michael Collins: Kalle Sauerland, the promoter for WBA World heavyweight champion Alexander Povetkin, believes IBF/IBO/WBA/WBO heavyweight champion Wladimir Klitschko (59-3, 50 KO's) will be ducking Povetkin and instead facing former 2004 Olympic Gold medalist Odlanier Solis (18-1, 12 KO's) next on April 6th instead of his mandatory defense against Povetkin.
It's no secret that Wladimir would like to put the Povetkin fight off so that he can get an optional defense in before taking the fight, but it looks like Sauerland badly wants Povetkin to be next.
Sauerland said on his twitter "Klitschko is trying to dodge his Povetkin mandatory to fight [Odlanier] Solis (he lost KO 1 v Vitali), 1 fight since then, not even ranked [Konstantin Airich]. Still can't get over it. SOLIS! Daylight robbery of boxing fans time & $. Since when d'ya lose by KO, then almost directly [get] another chance."
I honestly like the Wladimir-Solis fight. Solis isn't a bad fighter when he's in shape, and he could give Wladimir problems if his surgically repaired leg doesn't give him problems. Solis, 32, was giving Vitali big problems in the 1st round two years before Solis' leg collapsed out from under him. He reportedly went into the fight with a knee problem, so it's not surprising that he ended up hurting it.
I rate Solis as a better fighter than Povetkin when he's in shape. I wouldn't blame Wladimir at all for taking the fight with him first before facing Povetkin because Solis is already well known in Germany from his fight with Vitali, and he deserves a second chance at a title due to the injury. It's as if the Solis-Vitali fight never happened because of the quick injury. Since Solis won his last fight over Airich, he deserves a title shot against Wladimir.
Sauerland should relax about Povetkin. He'll get his title shot if and when Wladimir gets Solis. It's not as if Wladimir is going anywhere.
Like I said, I rate Solis as a better heavyweight than Povetkin, and I think Wladimir can't go wrong in taking the Solis fight before the easier one against Povetkin.