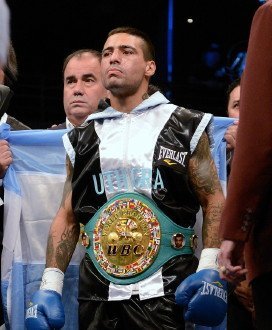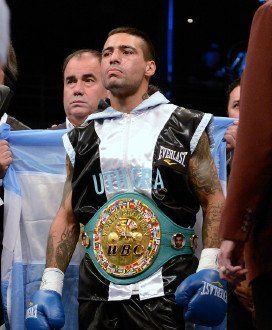 (Photo credit: Tom Casino/Showtime) By Marc Livitz: Ah, the weekend that was. Gratitude in multitudes should graciously be passed along to Showtime for offering the boxing public such a memorable top to bottom highly pleasing telecast.
In stark contrast to their three letter cable network rival in sports, the job from the SHO group was one to be commended. The knowledgeable triumvirate of International Boxing Hall of Fame member Al Bernstein, Canuck import Mauro Ranallo, and Brooklyn's own Paulie "Magic Man" Malignaggi have managed to serve a most delectable dish of the sweet science and its proper explanation to the viewing public.
Three fights were shown in primetime slots in addition to preliminary bouts being shown on a sister station. However, without any confusion to be had the evening almost wholly belonged to Lucas Matthysse. Of course, all due respect must be shown to the victorious Jermell Charlo and Jesus Soto Karass.
In the eyes of many, and not surprisingly in and of the opinion of those in the boxing know, the light welterweight division belongs to Mr. Juan Manuel Marquez. The giant wave of a foe conquered won't soon meet its crest for "Dinamita". However, although it's not the biggest contributing factor, Marquez is nearing forty years of age. Much to his credit and partially to his undeserved detriment, he has become a "twice a year" fighter, much like Floyd Mayweather, Jr. and Manny Pacquiao.
Matthysse is not yet to the point where his evenings in the ring are just as much events as they are actual bouts. He's a joy to watch and he fights visually in a "pissed off" state of revolt.
Lucas to date is (33-2, 31 KOs) and his two defeats were seen by many as pugilistic stink bombs. Respective losses in a span of seven months or so to Zab Judah (2010) and Devon Alexander (2011) rightfully did more to enhance Matthysse's stock than to solidify the winning fighter's image. Lucas fought on and perhaps his greatest revenge at the moment would be the mere fact that many wish to see him fight lineal champion Danny Garcia now and not later.
Garcia was of course scheduled to fight the aforementioned Judah in a few weeks' time at the brand new and often used Barclays Center in Brooklyn. Although it's now been pushed to late April due to an injury to Garcia's ribs…just picture the scene if you will.
Would Garcia's ever chatty mouthpiece father have the stones to badmouth the hard hitting Argentine Matthysse? Is it unfair to Zab "Super" Judah to collectively see a walkover win for Danny? Stranger things have indeed happened.
There's always Amir Khan. He doesn't have a opponent just yet after his recent victory over Carlos Molina. Khan has been around the light welterweight division for more than just a while and he would be made to work even harder in a showdown with Matthysse than he did in his December 2010 epic with Marcos Maidana. His Argentine counterpart in Lucas has the same mean and ruthless side to him. There would likely be no need to cascade the ring with boos due a lack of action.
Lucas may even care about what the boxing public thinks of him. He wants the respect even still, much like a certain Mexico City native once did. A fight between those two may not happen at all because time is not on the side of Juan Manuel Marquez. He can also crack his knuckles at the thought of a less than highway sized payday.
"The long and short of it"…Juan Manuel Marquez may want to get that saying tattooed across his back from shoulder to shoulder, because his career defining and most sweetly satisfying win was a result of the long and short of it. Case in point as is such for the Saturday night special Matthysse: a frayed long jab is then met with a shorter but more decisive cracker which then results in sheep racing for the fence in the now poached egg cranium of their vanquished foe.
We can't get ahead of ourselves in any way and be high enough to compare Mike Dallas, Jr. to Manny Pacquiao, but we still can't argue with the results. Much in the same fashion that the "Pac Man" walked right into a brick wall in the form of a Marquez counterpunch, Mike "The Silent Assassin" met the assassin's bullet when Matthysse perfectly timed his opponent's movements and then struck back with incredible results. A long jab met a short killer…first round knockout.
Make no mistake. The cat's out of the bag and there was no lightning in a bottle. Mattysse is here to stay and that should be music to our ears.
All hope may hinge upon the pending results of the post fight drug tests. Mike Dallas's trainer, Mr. Virgil Hill complained of a possible illegal substance taken by Lucas Matthysse before the fight. The Argentine's camp contends it was but vitamins and amino acid supplements. Their reasoning should fly for now. There's no such suspension for a little bit of Vitamin C.
No adios amino.