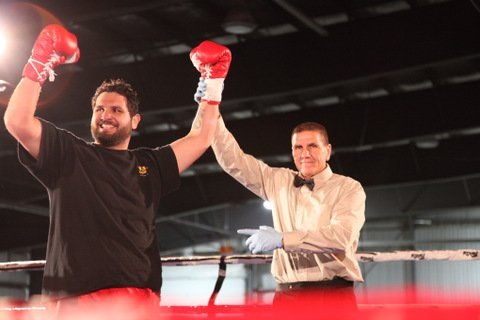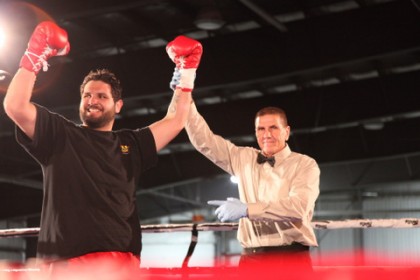 By Brian D'Ambrosio – Firm, loud and concise verbal commands come from the third man in the ring. The action peppered with strident oral cues and succinct commands such as, "Time!", "Break!", "Watch the heads!", "Stop Punching!" In the boxing ring, snappy orders address all situations. Indeed, boxers shuffle and jab to their own code.
Russ Hansen maintains order through communicating the necessary language. In a sport always on the verge of something chaotic – the true theatre of the unexpected – the referee anchors the fine line between stability and anarchy.
"My job is to make sure that the fighters keep it clean and to always think about the fighters' safety," says Russ Hansen, the face of the Montana boxing referee for decades. "No head butts, no low blows, to talk them out of the clenches. I work the fight and do what's right. I'm the only one who can look into the fighter's eyes, and that's some responsibility."
To watch Hansen operate is to watch a professional move in a direction opposite to that of the boxers. His movements in the ring are neutral, comfortable and calm. He always strives for the right distance between himself and the two boxers, staying on his toes and using pivot steps. Good position is Hansen's forte; he knows that a fight can end in a single second and one undefended punch can separate a mere knockout from something far more devastating.
"Nobody else is that close to the fighters. I'm very cautious to make sure that a fighter can defend himself and that the hands are up. I tell the fighters beforehand, 'You stumble on me and it is over'. I'll stop it without a doubt."
In his late 60s, Hansen's strong stance and quick movement reflect the peak conditioning of a spry man half his age.
"My workout is (walking) about 8 miles a day and on the weekends I try to do about 12," says Hansen, who also works approximately 100 games a year in other sports, including college basketball and high school football. "In a week I do about 56 miles. I'm committed to it. You've got to keep moving. I like to keep moving. I work hard in the ring and do what I have to do. I wouldn't do it if I wasn't at the top of my game.
Born and raised in Butte, the son of a miner, Hansen has been working the scene since he opened a boxing club shortly after returning from duty in Vietnam. He grew up around boxing clubs, boxed in the Golden Gloves and the military, and has coached and refereed statewide.
"Back in those days, if you wanted to fight, that is what Butte was all about. Think you're tough; there was always somebody tougher on the next block. Part of the culture there, and I've been around fight clubs and boxing my whole life."
Hansen handles plenty of "tough man" fights, which are much harder to govern than a professional boxing match, as most of the participants are in poor shape, get winded easily, have little or no skill, and are only in it for the novelty or viciousness.
"Tough man fights are the most difficult," says Hansen. "Most of the guys are looking for a street fight, and there are a lot of guys who really don't know the rules. It's even more important that I make sure nobody gets hurt. Professional boxers are much easier."
Hansen, who recently refereed a IBF North American Heavyweight Championship fight on a boxing card in which he kept guard over 22 rounds of boxing (a 10-rounder, 8-rounder, and 4-rounder) in one night, was once invited to become a full-time professional. He declined due to family obligations and a general disinterest in climbing the refereeing ladder.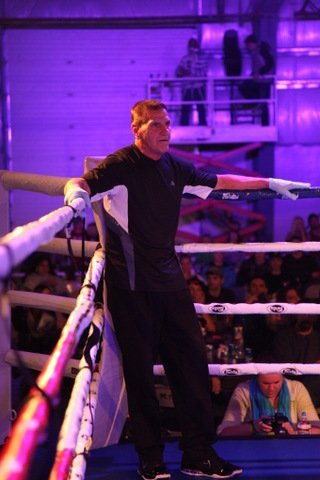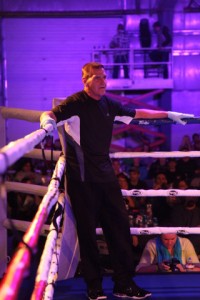 Boxing is a powerfully primal sport pushing the parameters of civilization, a beautifully brutal combination of skill, ferocity, and aggression. Hansen has seen a few spectacular knockouts in his time, including one recently in Kalispell, in which a fighter had the lights turned off in a particularly dramatic way.
"The knockout in Kalispell wasn't just a knockout, but a whiplash 'bam' sort of fall. It's not my job to go in and move fighters, but on that particular night, I grabbed his mouthpiece until the doctor got in the ring. I didn't want him to swallow that mouthpiece. I don't move a fighter or sit him up, that's not what I'm qualified for. I stop the fight when a fighter is injured, and I let the medical people take over."
Hansen is often the authoritative figure in the increasingly popular mixed martial arts fights taking place statewide.
"MMA is the last man standing," says Hansen. "No standing eight counts, which makes it easier to officiate. If I do10 fights in one night, 80 percent are going to be over in the first round. Tap out or verbally, they quit themselves. Fighters not protecting themselves or covering up, I step in. To me, it's easier."
Hansen ordinarily travels to a fight solo, leaves following the final hand-raising, and is back home in Missoula before the sun rises the next morning; whether it's Billings or Havre, or someplace in Idaho, he endures through hellacious snowfall, dark rain, and the loneliest strips of highway.
Owner of Razor's Edge hair salon in Missoula, Hansen has decorated one of its walls with photos of familiar faces in Montana boxing. Compelled by the sport's adrenaline and atavism, on those nights when a big fight card is pending, he can't wait to turn off the business lights and stand in the midst of more action-packed pugilism.
"I love the combat part of boxing. I know I have the best seat in the house. There's nothing like it. Somebody's got to do it. I'm glad it's me."
Brian D'Ambrosio lives in Missoula, Montana.