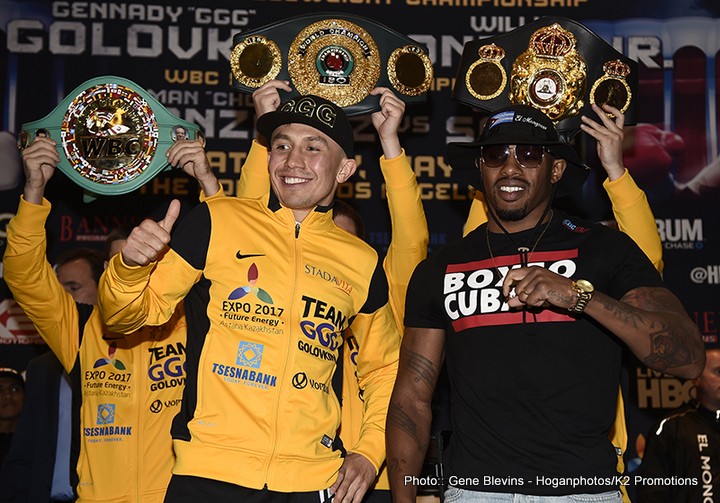 Saturday night sees slick, yet light punching Boxcino tournament winner Willie Monroe Jr (19-1, 6ko) attempt the seemingly impossible when he becomes the 33rd man to step between the ropes to face destructive puncher Gennady Golovkin.
Of the previous 32 men who took on the task – 29 failed to see the final bell.
This is going to be a massive ask for the relatively unknown American and represents a huge jump up in class from anyone he has faced before. To give you an idea for comparative purposes, Brian Vera – now due to fight Britain's Rocky Fielding – is the best, and last, name on his resume.
Monroe won a lopsided decision.
However, "The Mongoose" deserves huge props for stepping up to face Golovkin – a job WBC 160lb champion Miguel Cotto doesn't seem to fancy – and has spoken out to fighthype.com ahead of the bout to discuss the fight itself and just how he plans on solving the Golovkin riddle.
Of his Kazakh opponent, Monroe – great nephew of former Marvin Hagler conqueror Willie The Worm – said;
"He looks strong, he looks ready and looks like he's in tip-top shape. Saturday you gonna see two top athletes do what they do best."
Probed as to what makes him different to those who have fallen before him and just what will be his key to victory against Golovkin – Monroe was clear – and confident, in his assertion;
"Intellect, boxing IQ you know? – He's gonna have to match my smarts, he's gonna have to match my intelligence and if he can he's gonna give me a hard night. If he can't then I'm walking away with that title."
Asked about a game plan, he said;
"You just never know with a cat like me. I surprise my own self sometimes. You never can tell – I will just execute. I'll judge it on the fly and just execute."
This is far and away the biggest fight of the New Yorker's career. And the personable American knows it. On what the fight and crucially a win will mean to him, Jr said;
"It means everything because this is a world title shot you know – a lot of fighters never even make it to title contention, much less able to get a shot – so it means everything. This is my opportunity, a lotta guys only get one shot so I've gotta relish the opportunity and make the most of it."
From everything I have seen of Monroe Jr I think it's fair to say he is going to be in pretty serious trouble against GGG.
He likes to box on the back foot at range – and Saturday he will be up against a fighter who is masterful at cutting off the ring and backing guys up. I dread to think how long it will be before of one of Golovkin's brutal left-hooks sinks into the body beneath Monroe's southpaw right jab. The fight ends right there when it does.
He hasn't the power to earn Golovkin's respect and will have no choice but to get on his bike and run.
Until that is, Golovkin hunts him down and hurts him.
A few quid on a Monroe Jr points win will net you big returns – and could well be worth a punt – if you like burning your money.
I can only see this going one way, but wish the affable American fighter every success – at least he had the balls to take the fight, eh Miguel?
Thanks for reading
All boxing related stuff is on my twitter @Undilutedpoison