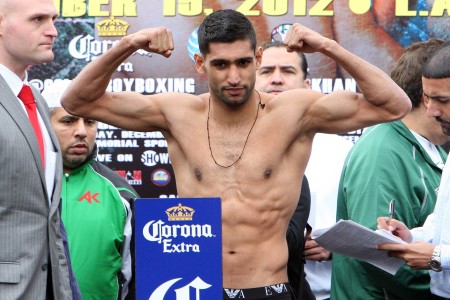 It's pretty fair to say that Britain's former 140lb world champion Amir Khan comes in for more than his fair share of stick – particularly over the fact that for the last two years he has (some say desperately and at the expense of his credibility) been pursuing a mega-money fight with P4P king Floyd Mayweather.
That and his not fighting domestic rival – IBF 147lb champion Kell Brook in a UK super-fight this Summer. Oh – and the fact that his next opponent is light hitting American Chris Algieri in a much maligned and ridiculed fight on the 29th.
Are you getting the idea?
If Khan's interview with BBC radio's 5live today is anything to go by, then it looks like he might have the last laugh after all.
Possibly.
At first ostensibly ruled out of Floyd's September date due to Ramadan, Khan u-turned to say that this year's earlier finish of the Islamic festival WILL leave him enough time to train for the mega-fight in September after all – and that the fight now has "more than a 50% chance" of happening later in the year.
He said;
"There is a lot of talk of the September fight when Mayweather will be in the ring again, and yeah – a lot of people have been speaking to me and saying – you could be the next guy"
With the two fighters sharing the influential Al Haymon as adviser, Khan is positive but in no doubt that Haymon's representation does NOT guarantee the fight with Mayweather. Only one man makes Floyd's decisions.
"He (Haymon) thinks it could happen. It's all about putting in good performances. I'm not going to chase the fight like I used to chase it. I'll keep on fighting, keep on ticking over and if it comes, it comes."
Khan has repeatedly said that his youth and speed will be telling factors against the 48-0 defensive genius, re-affirming that belief today;
"I think it's my youth, explosiveness, speed, power and definitely movement. But it's not only that. It's all about timing and accuracy as well. I think that's where Manny Pacquiao went wrong. He had the skills but he didn't have the accuracy."
Confirming that he can indeed work around the Ramadan situation (which ends July 14) if the fight does happen, Khan said;
"It would be mid-September if it happens so I think that gives me enough time to do my Ramadan fasting and everything and then get into a training camp for 9 or 10 weeks."
Of how realistic the clash really is, and the 50% chance it does happen he concluded with the following message.
"I think it could be better (chance) than that. Obviously my team have been very quiet. We have just told Al Haymon and his team that we don't want to talk about the Mayweather thing – or when anyone asks us questions we keep quiet saying we don't want to know – to keep away from the Mayweather questions and focus on Chris Algieri. But I really think it can happen."
He wants to keep away from Mayweather questions but then talks extensively about it in an interview!
You gotta love Amir Khan!
The Algieri fight is on May 29th as part of Al Haymon's Premier Boxing Champions. Paulie Malignaggi also returns to the ring on the undercard against unheralded Danny O'Connor.
Thanks for reading as always
Twitter @Undilutedpoison