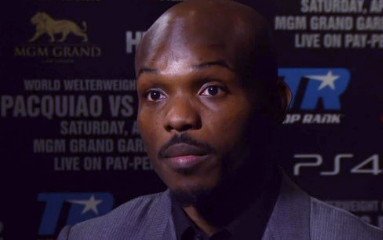 Timothy Bradley and Manny Pacquiao didn't exactly put on a spectacular show the first time they fought. It was a pretty boring fight actually, and it followed the same predictably dull pattern round after round for the most part. Bradley would typically out hustle Pacquiao for the first 2 minutes of a round, before Pacquiao finished strongly over the last minute. The Filipino generally landed enough crippling lefts that he was winning the rounds, despite looking unusually lethargic during the early portions of most rounds. Nothing particularly exciting happened at any point during the fight, though.
Even though Pacquiao seemed to do enough to comfortably win, the judges saw differently and awarded it to Bradley. Everyone was amazed by the outcome. Fans were shocked, Pacquiao was perplexed, the commentators were annoyed, Freddie Roach was perturbed, Bob Arum was outraged, and even Bradley himself seemed surprised beyond words, with an expression that more closely resembled that of a big money lottery winner than of one who believed he earned a deserved victory. By most accounts this was viewed as a "robbery", some going so far to call it one of the worst in history.
This time around lots of people think we may be in for the reverse scenario, where Bradley deserves to win and the fight is awarded to Pacquiao. If something like this happened, it wouldn't be the most shocking thing. Pacquiao is still the big money star here, as Bradley has never generated much fan appeal and isn't particularly marketable. At the same time Pacquiao isn't the fighter he once was. He's on the downside of his career and may be riding on fumes at this point. He's not a shot fighter, but he's probably not a true P4P talent any more. Pacquiao simply has too many miles on the odometer, and that's not good for his style which relies on physical tools that are no longer available. The truth is Pacquiao has mediocre speed these days and less than spectacular power. On paper Bradley should have a field day with Pacquiao in this rematch, especially if he learned from his mistakes last time and he's careful with his pivots.
An early big KO win for Manny Pacquiao might be the best thing for boxing right now, but Pacquiao hasn't scored a KO like that in almost 5 years. It's not likely to happen against someone like Bradley who's tough as nails. Pacquiao will have a shot to win a decision against Bradley if he's landing his big left and if he starts rounds faster than he did last time. But if Pacquiao is going to win this rematch, I think it will be a narrow points win in a fight that Bradley probably deserves to win, because right now I see Bradley as a much better boxer than the version of Pacquiao who faced Marquez and (especially!) Rios in his past two fights. That Pacquiao wasn't so good, and he'll probably never even be that good again. Meanwhile Timothy Bradley keeps getting better and smarter with each new fight.
https://www.youtube.com/watch?v=WBUVQT8aM7Y