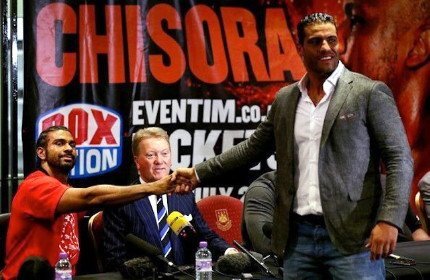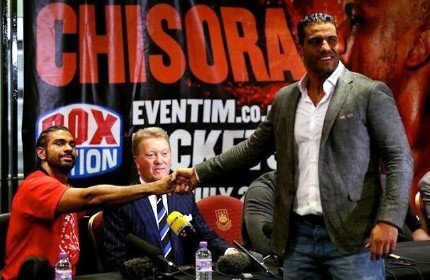 Exclusive interview by Dan Emicus
Having pursued kickboxing initially, what made you to want to switch to boxing?
"I started kickboxing because I liked combat sports. But I didn't do it for a long time because it felt so easy to reach all my goals. I became German Champion and European Champion. There was no real hard competition. It didn't feel like a big challenge to me. But I like challenges. I thought that in boxing it's harder to get to the top. You can't become European Champion in two years in boxing. And of course, it's nearly impossible to make a living out of kickboxing while the best boxers in the world make good money. So that definitely contributed to the decision, too."
From amateur kickboxing straight into professional boxing, how did you find the transition between two different combat sports? Most boxers with an ex-kickboxing background find it difficult to un-learn certain habits, such as engaging their opponents squarely, but you've never seemed to have such issues?
"Actually I had a couple of amateur fights. Only very few but I became West German Amateur Champion in boxing before turning pro. What helped me a lot was the fact that I had excellent trainers from the beginning. I started boxing under the guidance of Uli Wegner at Sauerland Event in Berlin. Later I worked with Fritz Sdunek. So basically the best trainers in Germany helped me to adjust to boxing and professional boxing. In addition to that combat sports just come sort of natural to me. I would say I got some talent."
At one point very early on in your career you were inactive for 2 years between 2006 and 2008. Why was this?
"That was a tough time and I don't really like to speak about it. There were some issues in Berlin with other fighters involved. I was the least experienced and – at that moment – least marketable guy. So when some of the guys with bigger names and more experience got into trouble they decided to blame me for something they had done. I became sort of a sacrificial lamb. During that time I really felt left alone and I missed the support from Sauerland and some of the guys I considered friends. But I got through it. Then I drew my consequences and changed stables. I moved from Berlin to Hamburg and started working with Universum. That turned out to be a very good move. I had a great time with Universum. So in the end everything turned out to go extremely well. Still the road to get there was very rocky… But that seems to be one of the motives in my life."
Remarkably, you were not being paid for your professional fights for a while. What was the reason for this? At what point did the situation change (if indeed it has)?
"At a certain point I realized that Universum was on the downgrade. Their TV deal was not renewed, they parted ways with their former general manager Peter Hanraths and head coach Fritz Sdunek, Felix Sturm and some other big names were leaving and finally Klaus Peter Kohl decided to sell his company. I realized quite early that things would never be the same and decided to leave, too. Because I was disappointed from Sauerland and Universum was basically dying I found that there was no place to go. I tried to work something out with my friend Felix Sturm who started to build up his own promotion but that didn't work out because we had different understandings of the business. So I decided to build up my own promotion, too, and founded "Diamond Boy Promotion". Now when you are a boxer and your own promoter, things are great as long as you have a TV deal and big money. But I didn't have no TV. So I couldn't make money but had to pay for everything by myself. It was another rocky road and I am very glad and thankful that I got the chance to fight Vitali Klitschko in Moscow because with that fight I finally started making some money after investing a lot."
Against Vitali Klitschko, you started the fight defensively before gradually showing more urgency. Did you feel that you had a good chance of getting to Vitali in the second half of the fight? Also, with hindsight, how would you rate your overall performance on the night? Were you satisfied with how you did, or do you feel as though you never really had a chance to get going due to the premature cut stoppage?
"You know, I had a very simple game plan. My main idea was to start slowly and increase the pace with every round. I still believe Vitali is the best heavyweight boxer in the world – even better than his brother – but he is aging. Nobody can stop this. So I thought it would be okay to lose some of the early rounds and wait for my chance when he is tiring. I expected the fight to go for the full 12 rounds and I was even prepared for 15, 20 or 30 rounds. That's why I started slowly. It's hard to say if I would have beaten him or not. The problem is that we all couldn't find out because of some bogus decision by Klitschko's family doctor who saved the day for him. So I'm not saying I would have certainly beaten him. But I feel that the chance to show myself and the world how the fight would have ended was stolen from me. Yes, I was bleeding. But it was not the worst cut in my career and certainly not bad enough to force the stoppage. If I had known that the fight would only last four rounds I would have fought a completely different fight and started chasing him from the opening bell – like I did it with Konstantin Airich in December. I can start faster than what I showed against Vitali. But that was part of the plan. Now all I can do is hope for Vitali to give me another shot. After all he knows what it feels like if a championship chance is taken away from you because of a cut…"
There was a big difference between how you started the fight and how you ended it. You were backing Vitali up and started landing some good shots. Did the gameplan change by that point, were you getting concerned about Vitali building up too much of a lead, or were you getting worried about the cut and trying to make it a different fight before the cut could come into the equation?
"As I said before it was the general plan to increase the pace from round to round. That's what I was starting to do. And I would have done it even more if the fight had only lasted longer. Do I know what the result would have been? No. But do I think I would have had a chance? Of course. No fighter steps into a ring thinking he cannot win a fight. If you are convinced that you will lose it's not even worth trying!"
Next up for you is a WBC Silver International title defense against Yaku Saglam [28-1 – 25 KOs] in a month from now. Ruslan Chagaev pulled out, Firat Arslan said no, but now you have stepped in as the opponent. What kind of fight are you expecting from Saglam? Also, how is your training going?
"As we see from the examples of Chagaev and Arslan, Saglam is an avoided fighter. That's because he got punching power. He's surely not the best technical boxer in the world. But he is a fighter. He comes to fight and everytime he enters the ring he's got bad intentions. He's trying to knock people out. Lots of fighters don't want to take that risk. But I like challenges and I'm not ducking anybody. So I accepted to fight him. It will surely be a war and a brawl. We will go in there, both trying to stop the other guy. And we both know that the other guy is trying the same thing. I guess it should be an entertaining fight for the fans to watch. My preparation is going well and I will be in top shape again."
You've had a few exchanges with Deontay Wilder on Twitter recently. Are you hopeful that Wilder may eventually step up and facing an opponent such as yourself? Do you rate Wilder?
"Actually when I started answering to his tweets I didn't even know who he was. I had never heard of him or seen anything from him. I though he was just another big mouth which I needed to shut up. Then I checked his record and noticed why I hadn't heard of him. He only fought bums so far. I mean, I know how this business works and that you got to build up a record and got to face a journeyman here and there in your career. But the build up of that guy is just plain ridiculous. He's 27-0 and hasn't fought anybody with a pulse? Give me a break. Of course, it looks good to have 27 wins and all by KO but nobody who knows how to read a record will ever take that guy seriously. He should start fighting real opponents. But I have to say that I don't know him. It may very well not be his own fault but the fault of his handlers and his promoter. As I say I know how this business works. When you sign exclusive deals you got to do what your handlers say. So I don't know if he's to blame. But judging from his record I would say that there is little to no chance that he would actually fight a guy like me – at least not until I'm 43 years old and have a record of 48-29 or something like that…"
If you are unable to get a shot at Vitali before he retires and David Haye walks away from the sport as well, what's the plan for 2013 and beyond?
"My main goal and my dream is to not only fight for the WBC World Championship again, not only to win the title and become WBC World Heavyweight Champion – but to beat Vitali Klitschko for that title. I want to become the best and I want to get there by beating and dethroning the best. It would be too bad if Vitali ended his career without at least giving me a second chance. As far as David Haye is concerned: I always said that I see him rather as a stepping stone to get to Vitali. It is not my goal or dream to fight Haye. He's worthless to me – unless I get a guaranteed shot at Vitali through him. So yes, I would fight Haye right away in an eliminator. But if Vitali retires, Haye is just one of the guys out there. He's no superstar like Vitali and he's certainly not the guy you have to beat to claim that you're the best. If Vitali retires, I will just face whoever is out there. Maybe I get a shot at his brother. Why not? They have my number. I'm ready to go."
What are your thoughts on the upcoming WBC 8 man World Cup tournament? What do you think of the format?
"I think it's a great idea and it is an honor for me that the WBC asked me to participate. The WBC and especially president Don Jose Sulaiman are working very hard every day for the sake of boxing. I know that it is people like him or the other WBC staff who give fighters like me the chance to fight for glory. So I really appreciate their effort and when they ask me to compete in a tournament I am ready to go. As I said before I'm always looking for challenges. The WBC World Cup sounds like a great challenge. And to be the first ever heavyweight fighter to win it would be great. So I just hope that there are other good fighters entering the tournament. Maybe Deontay Wilder finally grows some balls and accepts the challenge."
How do you see the heavyweight division shaping up when the era of the Klitschko brothers ends? In addition to yourself, which prospects do you feel will be contesting world titles by that point?
"To be honest I don't care too much about others. Since turning pro I have never backed down from any challenge but fought everybody who was thrown at me. I will continue to do so. When the Klitschkos retire they will leave huge void. Nobody knows what will happen. But I know for fact that I will still be there."
For your fans, critics and for the many who might not have ever had a chance to see you in action prior to your fight with Klitschko, what message do you have?
"I want to thank everybody who supported me over the years and urge all boxing fans to keep an eye on the 'Diamond Boy' Manuel Charr. Finally, my most favorite quote is from Mahatma Gandhi: 'First they ignore you, then they laugh at you, then they fight you, and then you win.' It has always been like that in my life."