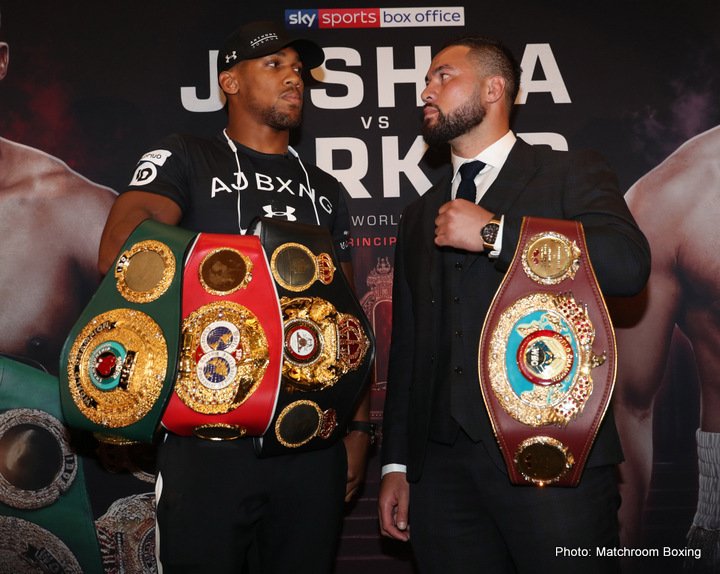 It seems a long time since we were last treated to a memorable slice of world heavyweight title fight action, but at last we are heading towards not one but two potential thrillers: Deontay Wilder against Luis Ortiz on March 3, and Anthony Joshua against Joseph Parker on March 31.
Both fights are big – AJ Vs. Parker being a three-belt unification clash – and both WBC champ Wilder and WBA/IBF champ Joshua are predicting KO wins. But who has the tougher, riskier assignment: Joshua or Wilder?
On the one hand, Joshua is fighting a fellow champion in Parker, a young and unbeaten champion at that. On the other hand, Wilder is facing a dangerous puncher, an unbeaten southpaw puncher at that. Parker is faster than Ortiz, yet most fans will tell you the Cuban slugger hits a whole lot harder than the New Zealander.
Both Wilder and Joshua are fighting, if not at home (Wilder, from Tuscaloosa has fought in New York many times before and will have the lion's share of the fans on his side when he rumbles with Ortiz) then in comfortable surroundings and this could prove to be a factor. Wilder, though, wants a KO, he craves one; he will not settle for anything else. Will this make the oft-wild "Bronze Bomber" an easier target, with Ortiz being able to look for a powerful counter?
Parker figures to fight a smart fight against Joshua, possibly adopting a game-plan that sees him taking "muscled" and "stamina-suspect" Joshua into the late rounds and then, when the big Brit is fatigued, taking him out. Wilder-Ortiz promises to be bombs away for as long as it lasts (and Wilder says it won't go beyond three-rounds), while Joshua-Parker could well turn into a battle of attrition, a who wants it more affair that goes all 12.
In short, both fights will be very interesting to watch, and Joshua faces the tougher, longer night. Wilder gets credit for once again agreeing to fight Ortiz (this after the Cuban tested positive for an illegal substance last November), while both AJ and Parker get credit for doing the right thing in attempting to unify (three of) the titles.
Rest assured, the drought of big heavyweight title fight action will come to an end soon.